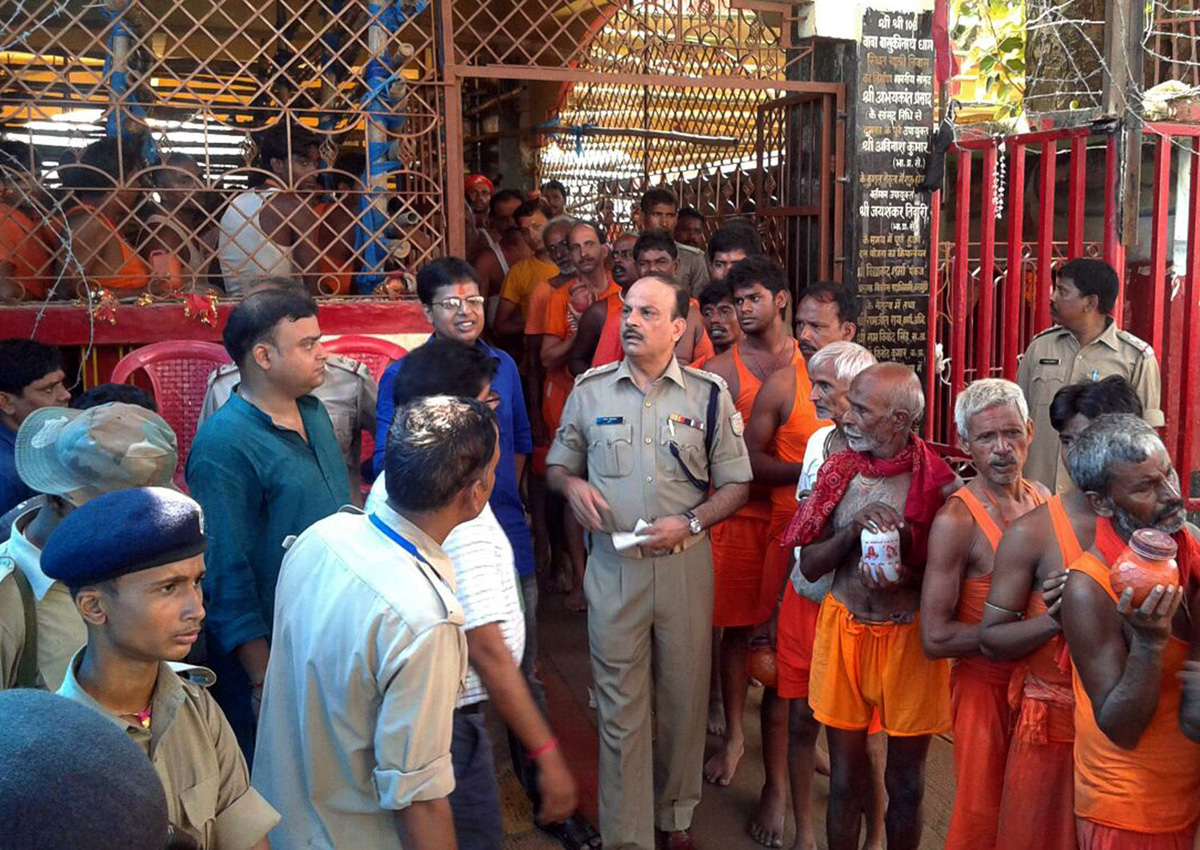 NEW DELHI - A stampede outside a Hindu temple killed at least 10 pilgrims in eastern India early on Monday after a surge in the kilometres-long queue of up to 150,000 people.
Police said devotees rushed towards the Baidyanath Jyotirlinga temple complex in Jharkhand state after news circulated that the doors were opening.
Those sleeping in the enormous queue were trampled in the crush after first prayers between 4:00 and 4:30am, said SN Pradhan, additional director general of police in Jharkhand.
Pilgrims had massed overnight for Monday, considered an auspicious date to visit the complex, which includes a main temple and 21 smaller ones devoted to Shiva, the god of destruction.
"The first prayer ceremony is conducted by the temple priests and then the doors of the temple are opened for the devotees," Pradhan said.
"Many tried to rush to the head of the queue which led to chaos and as some of them fell, the devotees got trampled," Pradhan said.
"Ten people including one female devotee are now confirmed dead. Another 15 to 20 people have received injuries," he said.
Pradhan said the queue was more than six kilometres (four miles) long because it was Monday and it is the Hindu holy month of Shravan when devotees flock to temples around the country.
"Our initial estimates are that there were around 100,000 to 150,000 devotees there," Pradhan added.
Television footage showed pilgrims being taken on stretchers into a hospital while others were bandaged outside.
Stampedes are not uncommon at India's religious festivals, where police and volunteer stewards are often overwhelmed by the sheer size of the crowds.
A stampede on the banks of a holy river killed at least 27 pilgrims last month in Rajahmundry, on the border of the southern twin states of Andhra Pradesh and Telangana.
Nishikant Dubey, a lawmaker whose constituency includes the temple, said there were not enough facilities to manage the crowds despite the fact it has long drawn thousands of pilgrims.
Dubey said it appeared the stampede occurred somewhere in the middle of the queue, with devotees anxious to get inside after walking long distances on foot as part of their pilgrimage.
"From my understanding, by the time many people reach the city, some after having walked over 60 miles on foot, many are very restless while having to stand in such a long queue," Dubey, an MP from the ruling Bharatiya Janata Party (BJP), told AFP.