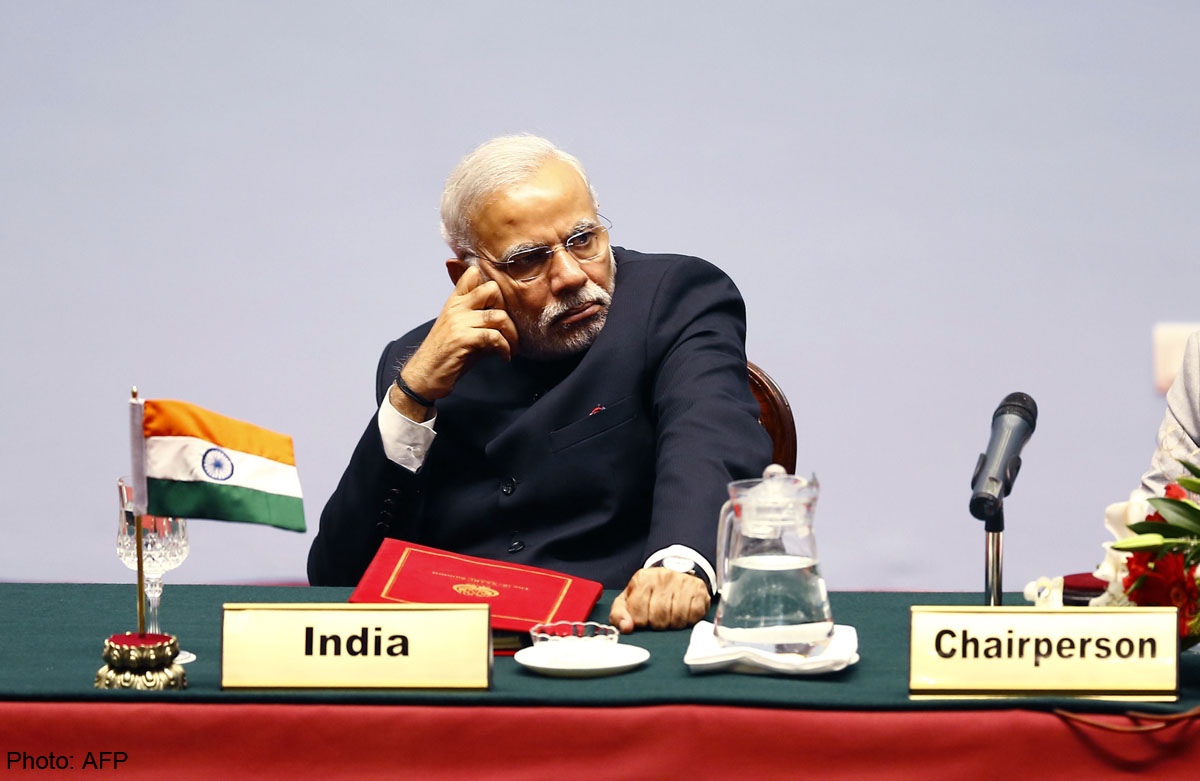 SINGAPORE - Every December, the editors of The Straits Times pick an Asian whose work or actions has significantly impacted his own society or the wider Asian continent in the 12 months past.
Last year, the Asian of the Year award was shared by President Xi Jinping of China and Prime Minister Shinzo Abe of Japan. The inaugural award, in 2012, went to Prime Minister Thein Sein of Myanmar.
For 2014, the editors picked Narendra Damodardas Modi, India's development-focused prime minister who fashioned an impressive victory for his Bharatiya Janata Party in the national election that ended in May.
Mr Modi, 64 years old, is the first Indian prime minister to be born after the nation's independence from colonial rule in 1947.
Despite being relatively new to the job, he has already made a mark on Asia, reaching out to neighbours and receiving national leaders including Xi Jinping of China and Tony Abbott of Australia. He also has had a highly successful visit to Japan for a summit with Prime Minister Shinzo Abe.
In January, he will receive President Barack Obama of the US, the first time that a US leader will be the chief guest at the Republic Day celebrations of India.
The Straits Times editors' choice of Mr Modi as the Asian of the Year was based on several factors.
Politically and socially, he has energised India with his stirring calls for a development focus and "toilets before temples".
On the economy, his call for a Make in India campaign, if pursued to its logical conclusion with a friendlier investment climate and less rigid labour norms, could help fire up the growth engines of the US$2 trillion (S$2.6 trillion) economy and provide welcome ballast to the region when China, the No. 1 Asian economy, is slowing and Japan, the No. 2, is in recession.
In their citation, the ST editors said: "Economists project that as early as next year, India could pick up the growth baton from China. Given its huge market, its travellers who fill up hotel rooms and cruise ship cabins from Singapore to Sydney, its hunger for capital goods and commodities , a resurgent India will be a boon for the region and the world.
"As much for his performance as a growth-focused provincial administrator as for the promise of what is to come for India under his leadership, The Straits Times declares Prime Minister Narendra Modi Asian of the Year for 2014."
Mr Warren Fernandez, Editor of The Straits Times, said: "Last year, when we named President Xi and Prime Minister Abe as joint winners, we recognised the two leaders' commitments to fulfil national aspirations. At the same time, the award came with the call to both leaders to work together to lower tensions between their two nations and to consider a summit meeting. We were gratified to see that the two finally shook hands and sat down together in November."
For the same reason, Mr Fernandez added, the award to Mr Modi is as much a recognition of his record as a strong administrator who has propelled his home state, Gujarat, to global attention, as for the promise of re-energising larger India.
"Mr Modi has got India and the world excited about his country's prospects again. He has given his people a renewed sense of direction and purpose, and there are hopeful signs that he is minded to using his strong mandate to good effect in one of Asia's major powers. We wish him and India every success," he said.