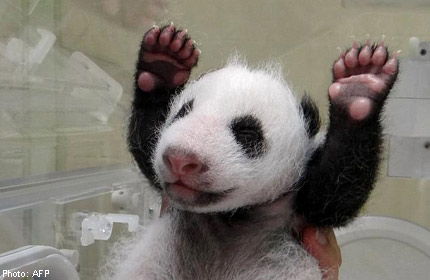 TAIPEI - A bluetooth speaker, some fine sand and black-and-white felt cloth. Oh, don't forget the panda poo. That was all it took to make a faux panda cub good enough to hoodwink a mother.
Called Fangzai, or Little Fake, the stuffed toy spent a few weeks standing in for Yuanzai, the real cub born on July 6 to Yuan Yuan, the resident female panda at Taipei Zoo.
Yuanzai, whose name means Yuan Yuan's Child, had been taken away from her mother shortly after birth as she was found to have a slight injury in the groin. The zoo authorities feared that Yuan Yuan, a 120kg first-time mum, might inadvertently hurt her tiny offspring, which weighed just 183.4g on delivery. That would be a disaster, considering that it took four years to impregnate Yuan Yuan artificially with the sperm of her partner Tuan Tuan.
The bears had arrived in December 2008 from China as a gift to Taiwan, which Beijing regards as part of its territory despite decades of separate rule. "Tuan yuan" means reunion in Chinese.
While Yuanzai was kept in an incubator and fed with milk hand-collected from her mother by keepers, the zoo had to find a way to keep Yuan Yuan in a maternal mood to keep her milk flowing and to prepare her for the eventual return of her daughter.
At first, they simply stuffed black-and-white felt cloth with fine sand, smeared it with the poo of Yuanzai, and handed it to Yuan Yuan. After some sniffing, Yuan Yuan tossed the toy aside.
Help then came in the form of Associate Professor Chou Cheng-ying, a mechatronics engineering expert from the National Taiwan University. She suggested a simple solution: add a Bluetooth speaker to Fangzai, record Yuanzai's shrill cries with a mobile phone, then transmit the sounds to the toy.
"The zoo wanted something that bore more resemblance to the real baby, so we suggested adding the baby's cries. And it worked quite well although at first Yuan Yuan was very anxious when the toy started 'crying'," Prof Chou told The Straits Times. But the nine-year-old bear - a survivor of the 2008 Sichuan earthquake - gradually got used to it and even picked up the toy with her mouth to cradle it in her arms - just like she would the real baby.
Various improvements followed. Sand was progressively added to the toy to simulate the rapid growth of Yuanzai. Once, keepers even put a silicone pouch containing a raw egg in it to gauge how gentle Yuan Yuan is with her "baby". The egg emerged with yolk intact.
Finally, just before Chinese Valentine's Day on Aug 13, keepers felt confident enough to reunite mother and daughter in Yuan Yuan's enclosure. At first, Yuan Yuan was awkward around her child and struggled to pick her up with her mouth. Hours of trial and error later, mum and baby "finally found the right way to hug each other", says the caption of a video of the reunion released by the zoo.
Yuanzai's arrival has excited many Taiwanese and has increased sales of panda-related products at the zoo by 20 per cent. A naming contest for the cub has attracted some 5,400 entries since it was launched on Aug 4. The zoo will also install a "panda cam" by October, Taipei mayor Hau Lung-pin announced this week.
The only one unperturbed by the fuss appears to be Tuan Tuan, the papa bear, who has been kept away from Yuan Yuan's enclosure so mother and baby can rest without being disturbed. The new father maintains his routine of meeting zoo visitors at his air-conditioned enclosure, and seems to miss nothing. Meanwhile, Yuan Yuan now spends her days tending to her newborn, which has grown to about 2.3kg.
When a typhoon hit Taipei earlier this week, Yuanzai was photographed cradled in her mother's arms. "During the last typhoon, I was still in the incubator and cared for by aunty and uncle keepers. This time I can hide in mummy's arms!" so "says" the cub on the official Facebook page of Taipei Zoo.
The star even has her own bed of bamboo leaves and brings her mother rushing to her side as soon as she starts yelping. Yuan Yuan has been observed eating Yuanzai's poo - an act of maternal love among pandas as this prevents predators from detecting the whereabouts of their cubs.
With Yuanzai back in the care of her mum, this means a robot panda designed by Prof Chou's team, complete with motorised head and limbs, as a replacement for Fangzai, has become a (black and) white elephant. But it may yet come in handy.
Yuan Yuan is expected to have more babies in future, says the zoo, but not before she is done rearing Yuanzai, which will take 18 months.
seokhwai@sph.com.sg

Get a copy of The Straits Times or go to straitstimes.com for more stories.