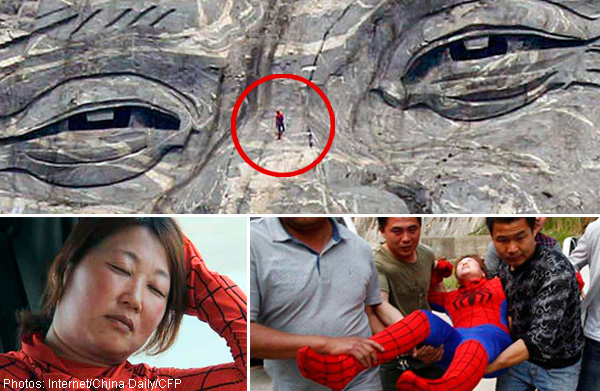 SHANDONG - She reaches dizzying heights every time she does a job.
Ms Ge Lian Xue, 44, is a cleaner, and a specialist at that. She cleans skyscrapers for a living.
On Sunday, she was given a special task - clean the world's largest mountain statue, Chinese news reports said.
And for that special job, she even put on a special costume - a Spider-Man lookalike costume - giving her the nickname "Spider-Woman".
She was tasked to clean the face of Shou Xing, the ancient Chinese God of longevity, reported China news website guancha.cn.
The statue is carved into a peak in the Mengshan mountains, east of China's Shandong province.
Mengshan is considered sacred and is famous for its spectacular scenery and rich flora and fauna.
Its main peak is the second highest in the province.
The 218m-tall and 200m-wide statue was being cleaned for a ceremony on Saturday.
Ms Ge has been a cleaner for 14 years, but began scaling skyscrapers only in 2006.
And hiring her didn't come cheap. The Global Times reported that she was paid about 10,000 yuan (S$2,000) a day for this job.
Six hours into her aerial assignment, Ms Ge began to feel unwell.
Four workers from the same cleaning company as Ms Ge brought her down and carried her to an ambulance.
She was unconscious during the whole time.
Ms Ge later said she felt giddy as she was not used to the strong wind and low temperatures, as well as the fatigue from working non-stop.
There were a number of tourists in the area when the cleaning was going on.
A representative of Guimeng Scenic Spot, which Mengshan Mountain is a part of, said it had put out an advertisement for a "Spider-Man janitor" on its official Sina Weibo account on April 16.
The advertisement said the job had to be performed "at your own risk".
Said the representative: "Dressing up as Spider-Man is for the entertainment of the tourists, plus it does not obstruct the cleaning."
He confirmed that they had communicated with the cleaning company for assurance that the costume would not affect the cleaner.
Cleaning work at the Shou Xing statue was stopped for the day, but the representative said: "We hope to finish before April 26, so now we have to hurry up and hire more cleaners."
This article was published on April 24 in The New Paper.
Get The New Paper for more stories.