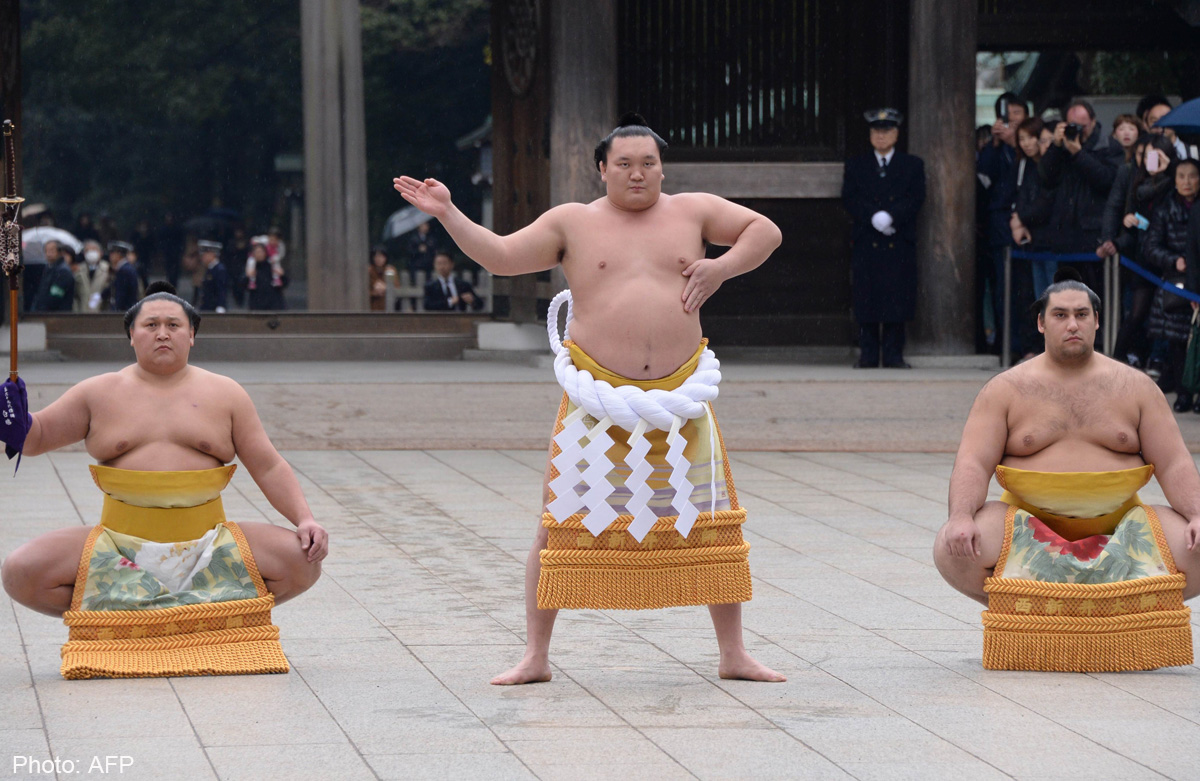 TOKYO - Sumo's two grand champions, all but naked in a chilly winter drizzle, performed a pre-match ritual at a grand shrine in Tokyo Wednesday as a traditional New Year offering to Shinto gods.
Some 2,800 visitors watched the two Mongolian behemoths pound the ground with their feet and flex their muscles in the front yard of the main sanctuary at Meiji Shrine.
The two top-ranked "yokozuna" wrestlers, who go by the ring names of Hakuho and Harumafuji, were the latest - and largest - of the millions of New Year pilgrims to the shrine dedicated to Emperor Meiji, the great grandfather of reigning Emperor Akihito.
About 3.2 million people prayed at the shine in the first three days of the New Year, a common practice at shrines across Japan where people wish for good fortune over the coming 12 months.
During each of two-minute rituals performed by the man-mountain wrestlers, spectators shouted "Yoi-sho (alley-oop)" in unison to cheer on their power-packed moves.
The rite, known as dohyo-iri (ring-entering ceremony), is performed at the start of each day in sumo's top-division tournament.
It has also become a New Year fixture at Meiji Shrine after the holy place was built in 1920 with the dohyo-iri rite used in a ceremony to purify its construction ground, a shrine official said.
The rite has been also periodically featured at high-profile shrines across the country, making explicit the links between the sport and the Shinto tradition in which it is steeped.
"I was able to finish my dohyo-iri with all my heart," said 29-year-old Harumafuji, a grand champion for more than two years, whose real name is Davaanyam Byambadorj.
"I want to fix up my injury and do my best," the Mongolian told reporters in Japanese, referring to a pain in his left ankle in the run-up to the first of the year's six tournaments, which opens in Tokyo this Sunday.
Hakuho, 28, has set his sights high for the New Year after winning 27 tournaments in his 13-year career which has included six-and-a-half years as yokozuna.
He is aiming to break the record of 32 career tournament wins set by the late yokozuna Taiho.
"Each and every win will bring me closer to the awesome record," said Hakuho, who was born as Monkhbatyn Davaajargal.
"But I am a bit scared because if I think too big it might create some kind of problem for me," said the wrestler, who, like many of his fellow grapplers, is superstitious.
"I should really stay cool and will aim for 30 wins first of all."