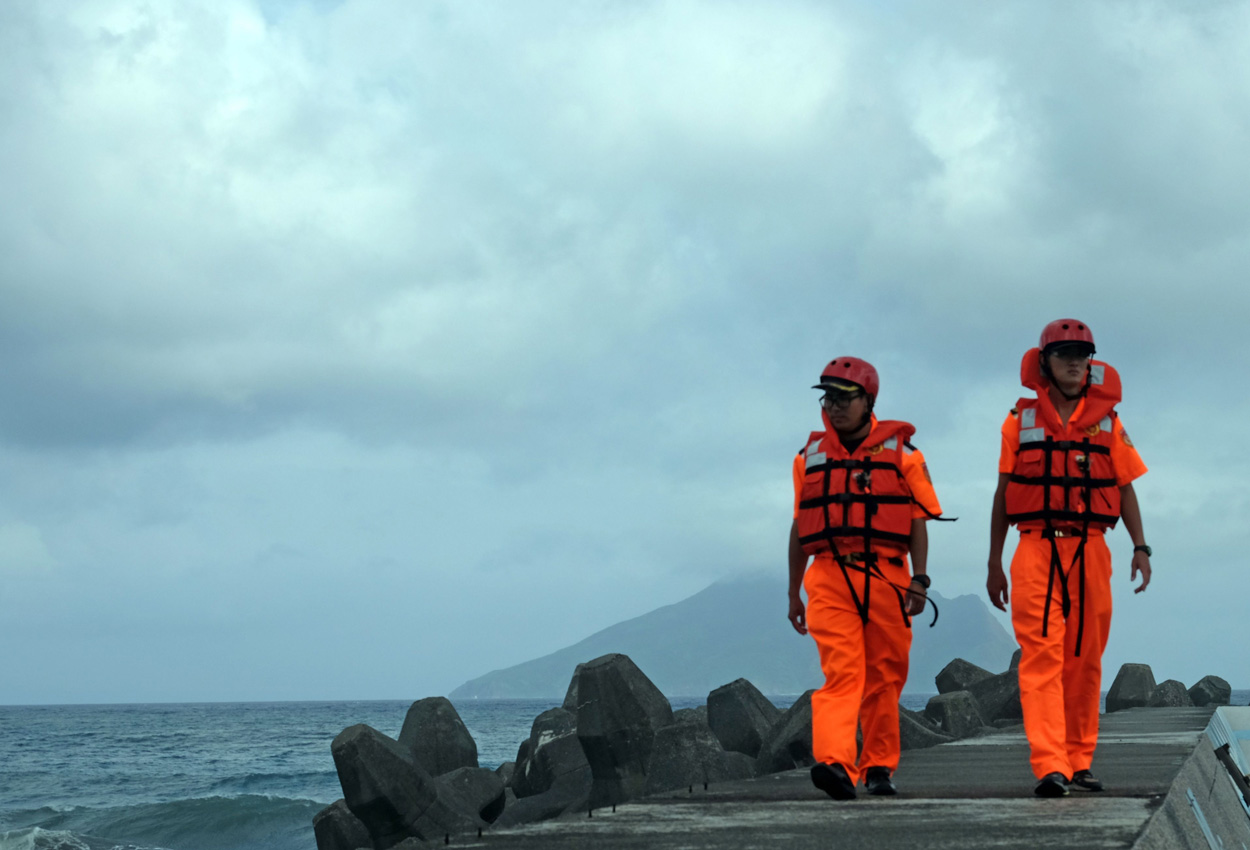 Northern and Eastern Taiwan should brace for strong winds and heavy rainfall brought on by Typhoon Megi throughout today, according to the Central Weather Bureau (CWB).
The bureau said effects from Typhoon Megi were set to be at their most intense in Taiwan throughout today and Wednesday.
As of 5:30 a.m. Monday, Megi was centred 490 kilometers east-southeast of Hualien on Taiwan's east coast, moving in a west-northwesterly direction at 21 kilometers per hour.
Megi is expected to make landfall between Hualien and Taitung with torrential rainfall and winds. Eastern Taiwan is expected to take the brunt of the incoming storm, according to CWB.
Huge waves were recorded off the coasts of Su'ao, Hualien and Taitung, the CWB reported, with many ranging as high as 3 or 4 meters tall.
Hurricane-force winds, which hit Level 12 on the Beaufort scale, were recorded at Orchid Island yesterday.
Violent winds also swept through Taitung County's Green Island Monday night as Megi neared Taiwan.
The bureau forecast strong winds ranging from Level 6 to 11 in parts of Northern Taiwan (Keelung, Taipei, New Taipei, Taoyuan Hsinchu City and Hsinchu County) and Eastern Taiwan (Yilan, Hualien and Taitung) for most of today.
If Megi moves along its predicted path into the Taiwan Strait after landfall, southwesterly winds caused by the typhoon were set to dump torrential rainfall on parts of southwestern Taiwan, the bureau forecast.
A land warning for Megi was issued Monday morning.
Nationwide government agencies and military troops are on standby to deliver disaster relief.
The Taiwan Water Corporation (TWC) urged the public to store up water ahead of the typhoon and to cut back on running water usage in its aftermath, as the storm was expected to leave water supplies highly turbid for days.
The TWC has set up an emergency task force in response to the typhoon. The company urged the public to shut down water pumps in case of an outage to prevent the overheating of pump motors.
Produce prices have risen in anticipation of the typhoon, despite an increase in supply.
The price of cabbages, for example, have risen by as much as 14.1 per cent.
Public Transportation Updates
The Taiwan High Speed Rail announced that all bullet train services would be suspended on Tuesday.
The Taiwan Railways Administration announced that all trains were suspended Tuesday with the exception of local train services.
Two domestic flights between Taitung and Orchid Island scheduled for today have been cancelled.
International flights operated by United Airlines have been rescheduled to depart from Taiwan earlier than scheduled.
China Southern Airlines has cancelled 12 flights, while Xiamen Airlines has cancelled five flights between Taiwan and mainland China today.
Japan Airlines has bumped up the departure times of two flights, while 22 flights by budget carrier Tigerair were either cancelled, suspended or rescheduled. Peach Aviation has cancelled 14 flights originally scheduled to depart today.
International flights between Taipei and Hong Kong, Osaka, Fukuoka, Seoul, Kaohsiung and Hong Kong have been cancelled today.
Today's international flights from Kaohsiung to Hong Kong, as well as from Taipei to the cities of Hong Kong, Osaka, Fukuoka and Seoul have been cancelled.
Three flights from Osaka, Fukuoka and Seoul slated to arrive in Taipei on Wednesday have also been cancelled.
The eastern section of the Southern Cross-Island Highway between the 153K and 200K mark will be sealed off in case of landslides and falling rocks.
Alishan Forest Railway services between Chiayi and Fenchihu are also suspended today and tomorrow.