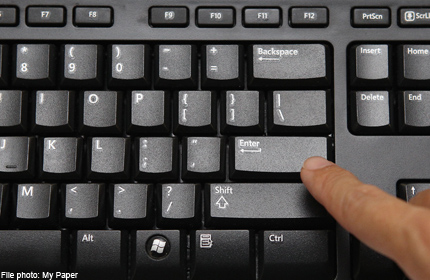 TAIPEI - In order to prevent enterprises from hiring writers who disseminate false product reviews or untruthful advertisements online, the Free Trade Commission (FTC) ruled that both these writers and the companies who hire them may face penalties in the future.
The FTC recently fined Samsung NT$10 million (S$420,000) for hiring students to fabricate product reviews of Samsung's products and attack products made by HTC.
To prevent similar incidents from happening again, the FTC has made amendments to the Free Trade Act to penalise writers who write false product reviews or untruthful advertisements. Fines of up to NT$25 million may be levied on the writers.
Under the amendment, Internet writers hired by Samsung would have been fined. However, the FTC will not penalise the writers involved in the case, as most of them were students who received little compensation from Samsung. The highest compensation received by the students was about NT$10,000, the FTC said.
In order to convict Samsung, the FTC invoked Article 24 of the Free Trade Act, which stipulates that no enterprise shall engage in any deceptive or obviously unfair conduct that may affect trading.
FTC Chairman Wu Shiow-ming said that the commission devote an entire department to the investigation of Samsung. A total of 4,000 webpages and 20,000 to 30,000 online messages were checked by the commission, Wu said.