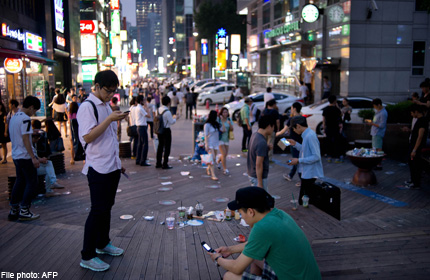 TAIPEI - Yahoo Kimo, one of Taiwan's leading Internet firms, yesterday published a report on emerging trends in electronic commerce observed in the region, during a media event.
The report, referred to as a "purple paper," provided numerous illuminating findings on growing trends in behaviour observed among users of the company's online shopping platform. Most notably, Yahoo Kimo found that in comparison to conventional users who access its Web-based stores through conventional PC devices, shoppers using mobile devices such as tablet computers and smartphones are more likely to make repeated purchases of higher priced items routinely.
According to the company, the majority of mobile shoppers have been found to visit its Web-based stores on a daily basis. In addition, the number of mobile shoppers who routinely make monthly purchases greater than NT$10,000 (S$420) outstripped shoppers who use conventional PC devices by 10 per cent. The company's findings fly in the face of the image of consumers being hesitant to complete purchases with their mobile devices, preferring to conduct the process via their PCs.
In contrast to the 49.5 per cent and 32.1 per cent of shoppers who conduct purchases on smartphones and tablets respectively, users who make purchases exclusively via their PCs are on the decline, receding to 42.7 per cent this year.
The company stated that among its customers, women are the more prolific shoppers than men, by a margin of 31 per cent. The company stated that women are more decisive shoppers than men, and more likely to make spontaneous purchases. Male shoppers are more sensitive to price, and are less inclined to make purchases before promotional discounts are rendered, said the company. The most popular items for male shoppers are consumer electronics, while female shoppers favour apparel, according to the company.
In addition, the company stated that among users of its shopping platform, access via Google's Android devices are on the rise, growing by 73.8 per cent this year, eclipsing the 36 per cent growth posted by users of Apple's iOS devices.
The company stated that in April, access through mobile devices represented 19.7 per cent of traffic to its shopping platform. Moreover, shopping transactions conducted through tablets and smartphones grew by 274 per cent and 478 per cent respectively this year, with overall transaction count growing threefold overall.
In an effort to bolster its commanding presence among Taiwan's Web-based shopping, the company announced plans to ramp up development of its Web and mobile stores, allocating more than 50 per cent of resources to mobile-related endeavours. The firm also stated that a new iteration of its mobile shopping website, in addition to an APP will be released towards the end of this year.