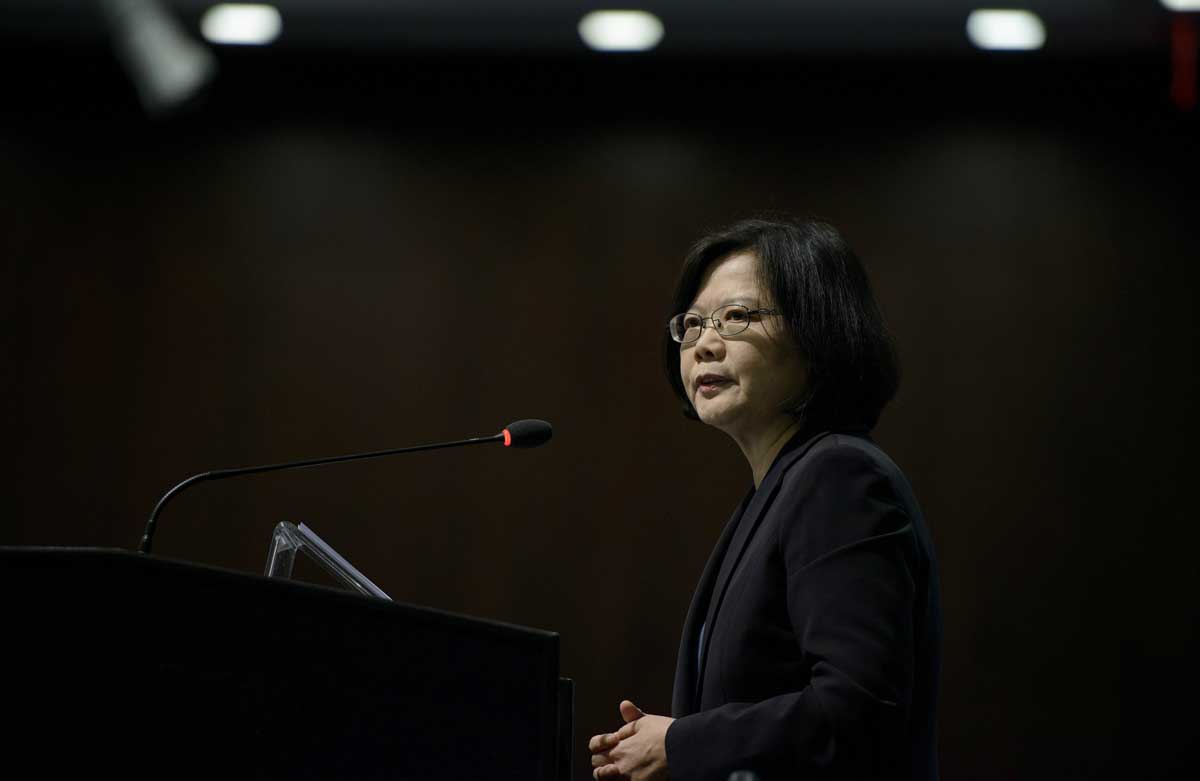 TAIPEI, Taiwan - Democratic Progressive Party (DPP) Chairwoman and 2016 presidential contender Tsai Ing-wen was featured in the cover story of the Asia edition of Time Magazine published yesterday, calling Tsai the potential leader in the "only Chinese democracy."
In Time's article, reporter Emily Rauhala, who is based in Beijing, accompanies Tsai, the DPP chairwoman, from breakfast time (in which Tsai shows off her culinary skills by preparing a meal from locally sourced ingredients) to her various campaign stops throughout the day. Time portrayed Tsai as "the early frontrunner" in the 2016 presidential election with a "proudly, defiantly, Taiwan-centric" policy outlook in which she calls for a new model that weans the island's high-tech economy from its dependence on China.
Aside from noting Tsai's unlikely rise as the DPP's standard bearer following a series of electoral defeats, the DPP chairwoman's personal branding as a calculated thinker was seen as having limited resonance initially until her emotional concession speech in 2012 after the presidential election loss to incumbent Ma Ying-jeou galvanized supporters when asked them "not to lose heart." Tsai who described herself as "quite adventurous" was also shown to have a witty sense of humour.
Challenge in Economic Policy Formulation
However, just as Tsai has been criticised by her opponents and earlier by influential US academics with ties to policymakers for the vagueness in her proposed cross-strait policy, the report also acknowledged that Tsai faced challenges in formulating a new economic model that includes the corporate world without going against the more traditional DPP China-skeptic support base.
"Our challenge is to produce something that is sensible to both sides without being considered as a traitor to the friends we used to be with when we were an opposition party," Tsai said in the article, while seeming to refer to the DPP's status as opposition party in the past tense.
The Time story however does allude to the potential salience of Tsai's more conservative attitude toward the role of China's labour-intensive economy on Taiwan's innovation-fueled economy that is nevertheless dependent on lower labour costs with growing disaffection of the island's youth as symbolized in last year's Sunflower Movement.
Tsai in answering questions from local media with regard to the high-profile Time feature said that her intention was to "allow the international community to understand how the people of Taiwan want to protect democratic values." She added that she was very pleased that the magazine chose to highlight the value of Taiwan's democratic values on its cover.
Tsai Not a Strong Opponent: Hung
Deputy Legislative Speaker and likely Kuomintang presidential candidate Hung Hsiu-chu told Time that she did not believe Tsai to be a "strong opponent." As Tsai's most likely opponent in the race, Hung also reiterated criticism toward the DPP chairwoman's definition of the "status quo" in relations between Taiwan and China.
Referring to yesterday's publication featuring Tsai, Hung said that it was "very good," though she questioned Tsai's "new model" for Taiwan, saying that a nation's leader needed more substantive ideas rather than "constructing sentences full of adjectives only."