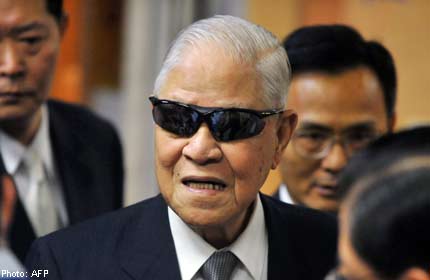 TAIPEI - Taiwan's ex-leader Lee Teng-hui was cleared on Friday on charges of embezzling state funds during his presidency between 1988 and 2000 due to insufficient evidence, a court said.
Lee was indicted in 2011 for allegedly embezzling US$7.79 million from the government's diplomatic slush funds while in office to help set up a private think-tank.
Lee was found not guilty due to lack of evidence since he did not sign several related official documents implicating the misuse of funds, the Taipei district court said in a statement.
"I was confident about the case, there was nothing. I believed in my innocence and I have committed no crimes," Lee told told reporters.
Lee became the second former Taiwanese president to face graft charges, and his successor Chen Shui-bian is currently serving a 20-year jail term on multiple graft convictions.
Ninety-year-old Lee still enjoys support from the island's pro-independence camp and has been a vocal critic of the government's China-friendly policies.
Lee has flatly rejected the graft accusations, claiming they were "invented" by the government to persecute a high-profile critic, prompting President Ma Ying-jeou to deny meddling in his graft case.
Lee irked Beijing during his presidency by promoting a separate identity for Taiwan. Beijing fired missiles near the island in 1995 and 1996, triggering a US decision to send two carrier groups to the area.
Taiwan and China split in 1949 after a civil war but Beijing still sees the self-ruled island as part of its territory awaiting reunification, by force if necessary.
However, tensions have eased markedly in recent years since Ma came to power in 2008.