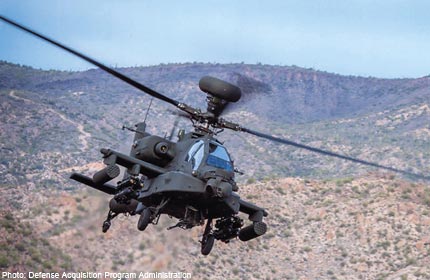 TAIPEI - The R.O.C. armed forces' first batch of six Apache attack helicopters have been assembled and successfully underwent test flight, the Army said yesterday.
Taiwan received six AH-64Es from the United States on Monday. The helicopters were shipped to southern Kaohsiung Harbor.
The Army said yesterday the six helicopters have already been assembled by army personnel and have successfully undergone required ground tests and flight tests.
Two of the helicopters were flown to an Army Aviation Special Forces base in southern Tainan on Tuesday, the Army said. The Army is scheduled to hold a live demonstration of the choppers today to showcase the attack choppers' combat capability in front of local media.
The six AH-64Es are the first batch of 30 of the advanced attack helicopters purchased by Taiwan from the US, the military said.
The US$2 billion deal for 30 Apache helicopters was announced by former US President George W. Bush in 2008, with aircraft manufacturer Boeing taking orders in October 2000.
Taiwan is the world's first co