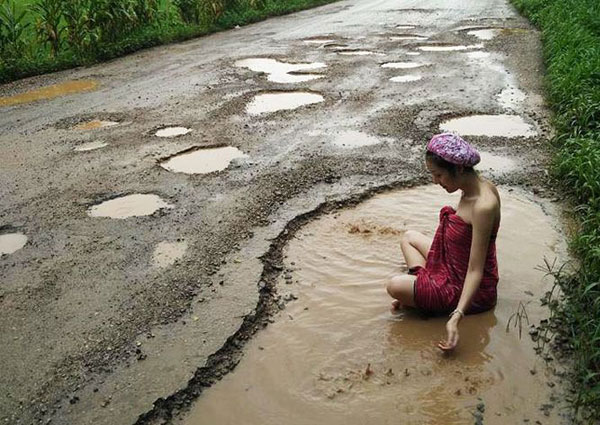 BANGKOK - How does one draw attention to roads which need to be badly fixed?
For some Thai women, the answer is taking a bath in the offending potholes, according to a report by the BBC.
Bangkok-based model Palm was frustrated with the conditions of the roads en route to her relatives' place in the Mae Ramat district in Thailand's Tak province.
She decided to take things into her own hands by donning a shower cap and taking a "protest bath" in one of the potholes.
The tactic seemed to be effective. According to reports, the governor of Tak Province ordered the relevant agencies to repair the road without delay, and new photos posted on Facebook appeared to confirm that those repairs were underway.
Photos of Palm's action spread rapidly across social media in the country, inspiring others to follow suit - in their bathing suit, pail in hand - to draw public attention to the conditions of their local roads.
Elsewhere in north-east Thailand, a group of grandmothers in Khon Kaen province also staged a bathe-in, and were seen smiling and enjoying themselves. They complained that the roads had not been repaired for the past 30 years. Following the protest, they were told the roads would be fixed after the rainy season.
The BBC also reported on a 76-year-old foreigner in Thailand who did more than just staging a protest.
Retired German engineer Peter Goman won huge admiration on social media after his Thai wife, Kusuma Namwong, posted pictures of him repairing roads in Buriram province on Facebook.
"Motorcyclists would occasionally fall into the holes, and the people in the houses would rush to them," Kusuma reportedly said.
<iframe width="100%" height="355" src="https://www.youtube.com/embed/ox_moD6j-w8" frameborder="0" allowfullscreen></iframe>
On top of fixing the road, the couple also contributed to the cost of the materials from their own pockets, along with other volunteers, reported the BBC.
Individuals in other countries who face the same problem with roads have also responded with creative ways.
In the United Kingdom, Steven Wheen has been filling potholes with miniature garden displays for the past six years, posting his artistic creations on Twitter using the moniker "the pothole gardener".

This article was first published on Oct 2, 2016.
Get a copy of The Straits Times or go to straitstimes.com for more stories.