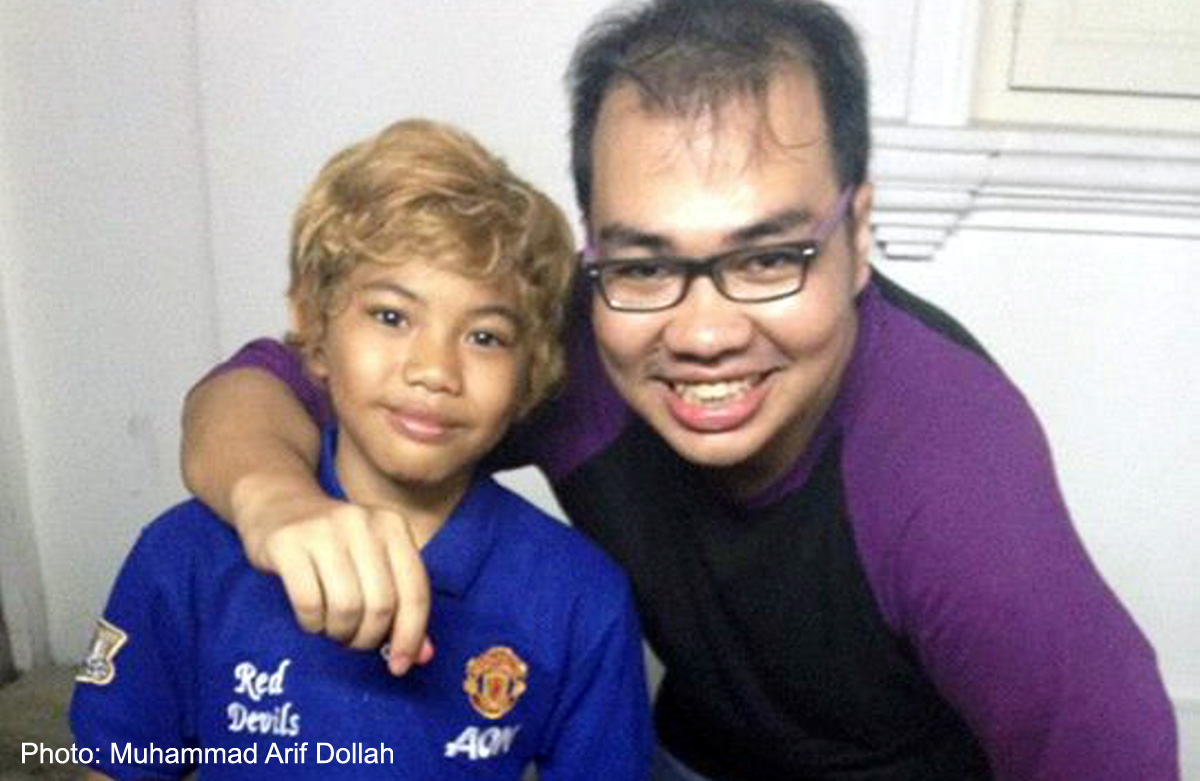 Mr Usup Supardi simmered with anger and disappointment when his stepson, teenage Indonesian singer Tegar Septian, claimed he had been sexually harassed by his Singaporean former manager.
"I was so upset. I found it hard to believe at first," Mr Usup, 33, told local media at a Sultan Gate restaurant yesterday.
His wife, Ratna Dwisasi, 32, had shed tears of sadness following her son's shocking confession to the family in early February.
Last month, Tegar made regional headlines after he alleged in a press conference that he had been sexually harassed by ex-manager Arif Dollah between last November and January while they were in Malaysia and Singapore.
Tegar told Indonesian media he was made to sleep in just his underwear and Arif would do the same when they shared a bed in Malaysia.
He also alleged that Mr Arif had asked him to kiss him and take showers together.
Still, Mr Usup said he bears no grudges against the man who also allegedly took several of Tegar's belongings including a laptop, guitar, GoPro camera and passport.
Like his stepfather, 13-year-old Tegar also said he has no ill feelings towards Mr Arif.
"I think of Arif and how this incident might affect his career. I don't hate him or seek revenge, I just want him to return my things and it will all be over," said Tegar at the press conference.
His stepfather aside, Tegar was also accompanied by representatives from his Indonesian label Harpa Records, a local representative, and local singer Sufie Rashid.
Sufie, 24, has accused Mr Arif of sexually abusing him more than 10 years ago.
Both Sufie and Tegar had filed police reports here separately on the alleged incidents.
In response to a query by The New Paper yesterday, police confirmed that two reports were lodged and a 29-year-old male Singaporean has been arrested.
Investigations are ongoing.
Tegar also filed two police reports in Indonesia last month - one for the alleged theft and the other for alleged abuse.
Tegar's stepfather and Harpa Records also sought assistance from the country's National Commission for Child Protection.
Mr Arif was described as a responsible manager who was diligent in taking care of Tegar and his needs since he became the boy's manager in February last year.
'FELT WEIRD'
Everything went smoothly until mid-2014, when Tegar claimed things were not quite right and "felt weird".
A warning sign came when Tegar said he was persuaded by Mr Arif not to return home despite multiple pleas.
It was also alleged that Mr Arif prevented Tegar from calling his parents.
Tegar told the media yesterday it took him months to pluck up the courage to tell his mother about the alleged incidents because he treated Mr Arif like his own brother. But he said he knew it was the right thing to do.
Now, Tegar and his family just want to move on with their lives.
Harpa Records owner Handoko Kusumo said: "Tegar is the eldest of four children. His family have been a great source of support... for him. In this, he finds strength."
Tegar is also now free of personal managers - wherever he goes, he is accompanied by a parent and a representative from Harpa Records.
"I have forgiven him," he said simply.
Mr Handoko also said that all parties involved do not "feel revenge towards him (Mr Arif)".
"We just want the matter to pass and his things, which he got with his hard-earned money, to be returned," he said.
Tegar has a big project to look forward to this year.
His rise to fame from a village busker in Subang, West Java, to a popular teen star will be made into a movie soon.
While details are scant, Mr Handoko revealed: "Filming will begin in May and end in July or August.
"We don't think this incident will be mentioned... perhaps just as a backstory, we don't know yet."
ashikinr@sph.com.sg

This article was first published on Apr 2, 2015.
Get The New Paper for more stories.