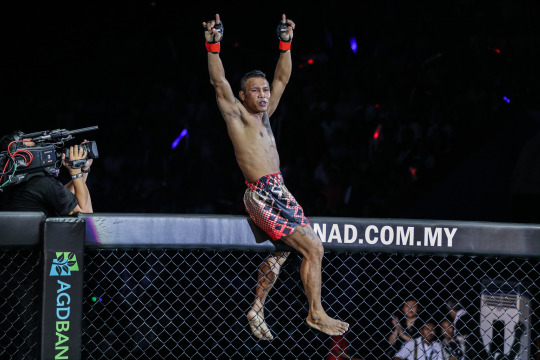 Tha Pyay Nyo had plenty of fans rooting for him on Friday, 30 June, during his bantamweight contest at ONE: LIGHT OF A NATION inside the Thuwunna Indoor Stadium in Yangon, Myanmar.
Instead of bringing his countrymen to a simple roar with a win, the 24-year-old brought the crowd to its feet with a quick knockout win over ONE newcomer Htet Aung Oo. All he needed was 16 seconds.
It was about as rough of a welcome to the organization as Htet Aung Oo could have ever received, as the debuting and game competitor was felled by his more experienced opponent.
Tha Pyay Nyo, the 2015 ONE Myanmar Featherweight Tournament Champion, stormed forward aggressively from the opening bell. Before long, he had Htet Aung Oo moving straight backward.
He marched forward quickly with his feet, and shot powerful strikes to the head of Htet Aung Oo, overwhelming him with movement before the blows could even do real damage.
Soon, however, they did. Tha Pyay Nyo delivered a right hand flush to the jaw, which dropped his 28-year-old opponent to the canvas. That is all the referee needed to see before promptly stopping the bout.
Tha Pyay Nyo continues his impressive rise up the bantamweight ranks, as he improves his overall mark to 4-0 and maintains a perfect finishing rate of four knockouts. 
Htet Aung Oo, a Gold Belt Champion in the Myanmar martial art of Lethwei, will go back to the drawing board in an effort to build upon his new career.