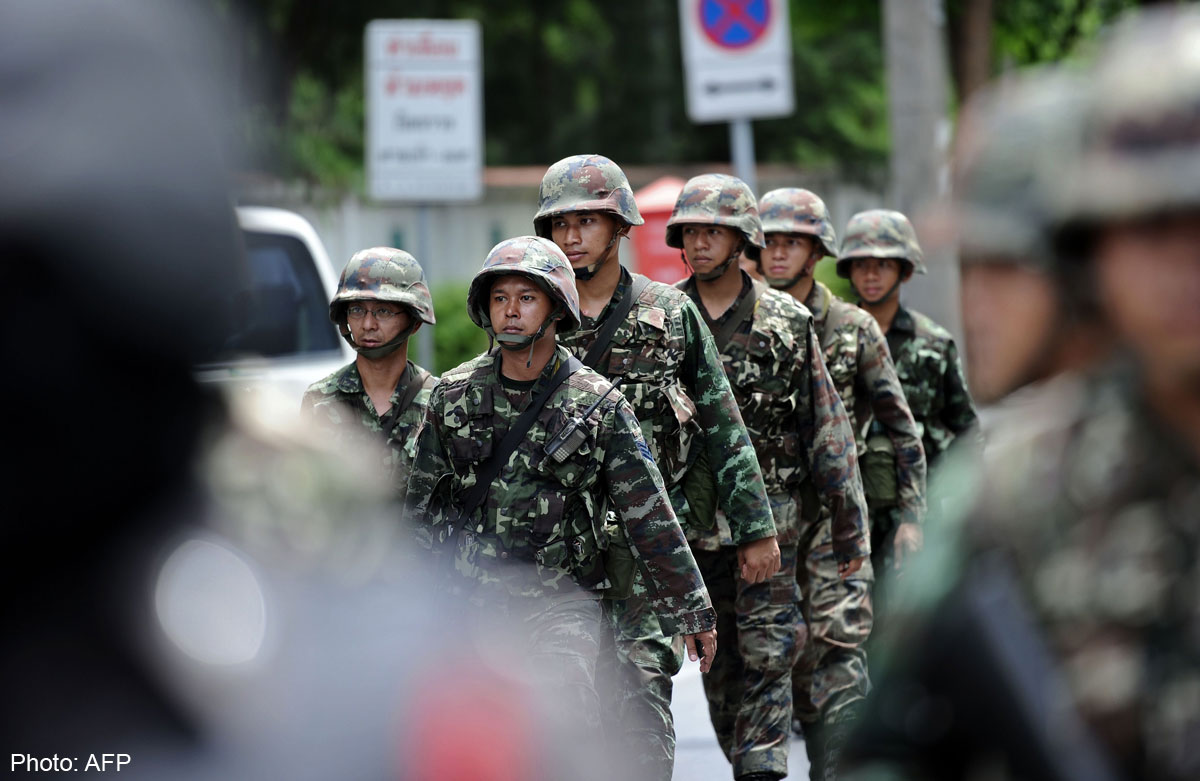 In late July, Dr Yukti Mukdawijitra, an anthropologist in Thailand's Thammasat University, quietly left the country. Officially, he was headed to the United States as a visiting scholar. In reality, he was on the run.
The military, which had thrown out the caretaker civilian government in May, had summoned and temporarily detained hundreds of people, including many critical of the coup and the law against defaming the monarchy. Having transgressed on both counts, he feared he would be one of the next.
Five months on, he tears up recounting those anxious moments before he boarded the plane.
"I don't feel any safer," says the visiting assistant professor at the University of Wisconsin-Madison over a Skype video interview, despite the fact that he has not yet been summoned. "Many things can still happen."
Thailand's latest coup has created a covey of exiles scattered across the world.
Many fled because they opposed the coup and refused to answer the junta's summons, risking arrest.
Some were accused of defaming the monarchy, which carries a maximum jail sentence of 15 years in Thailand. Some have had their passports revoked. Yet others, like Dr Yukti, are staying away for now because they fear being arrested and tried in a military court for their political views.
According to an International Crisis Group (ICG) report, the military summoned for detention at least 630 people between May 23 and Nov 7, and arrested 291. The majority were individuals aligned with the erstwhile ruling Peau Thai party, or its "red shirt" supporters, while 172 were academics, journalists, radio disc jockeys and activists.
At least nine people have had their passports revoked, said the ICG. One of them is Associate Professor Pavin Chachavalpongpun, an outspoken critic of the junta based in Kyoto University.
Prof Pavin, who has lived and worked abroad for more than a decade, but up until recently travelled regularly to Thailand, refused to return after being summoned.
He says: "When I saw my name on the list, I thought it was a joke… later on, I realised it was very serious."
Six months after the coup, the military government has kept a firm grip on power and a tight lid on dissent with martial law. It regularly tells the media to "cooperate" by holding off news that would - in its view - ignite confrontations witnessed during the past decade of on-off political unrest.
Meanwhile, drafters are drawing up Thailand's 20th Constitution amid anxiety over the health of King Bhumibol Adulyadej, who on Friday cancelled a public appearance for his 87th birthday upon the advice of his doctors.
The Thai Lawyers for Human Rights group notes that the police are expediting lese majeste cases after the coup.
"I know it would be a long time before I get to go home," says Prof Pavin. He has applied for refugee status in Japan.
Other fugitives interviewed were seeking asylum in their host countries: Former interior minister Charupong Ruangsuwan, 68, a founder of the anti-coup Organisation of Free Thais for Human Rights and Democracy (FT-HD), fled with his family to the US, and is now waiting for his application to be processed. Outspoken TV journalist Jom Petpradab, 51, is doing the same.
Red-shirt activist Kritsuda Khunasen, 28, who claimed she was tortured by the Thai military while under detention, is seeking refuge in a European country.
Asked about their condition, the exiles say they are stressed about their finances, and feel isolated and frustrated about the unfolding situation back home.
Mr Jom says he needs sleeping pills every night as his tourist visa is about to expire. He left all his assets in Thailand to a friend whom "I pray I can trust", to take care of his two young nephews there.
"I try to spend as little as I can as I don't know what will happen," he says, adding that he gets a very limited monthly support from "democracy supporters".
Asked if those supporters included Thaksin Shinawatra, the wealthy ousted premier whom critics accuse of bankrolling the red-shirt movement, he laughs.
"I've never met him" or obtained support from him, he says. "If you happen to meet him, tell him I have many questions I think the Thai people would like to ask."
Similarly, Mr Charupong denies being aided by Thaksin. He spends most of his time trying to muster support for the FT-HD, which has been petering out from international consciousness as foreign governments gradually come around to working with the government led by coup-maker Prayuth Chan-ocha.
His assets in Thailand were frozen but he maintains a stoic front. "My life is much better than (that of) many Thais who have to live under the junta, my former colleagues in the Cabinet in particular," he says. "They can't speak or move."
Many key former Cabinet members remain under close surveillance in Thailand and are required to seek permission before they travel abroad.
Over in Europe, Ms Kritsuda stays in a transit centre and struggles with the local language. She takes comfort in the solidarity she feels with her fellow asylum seekers.
"There are many people here who fled from war-torn countries in Africa and the Middle East. Many of them who fled alone were desperate," she says. "I am not the only who suffered."
Sometimes, the alienation comes from unintended sources. Prof Pavin notes how some former associates have been distancing themselves from him for fear of incurring the ire of the Thai authorities.
"That is the most bitter thing," he says, but adds that he has come to terms with it. He has hunkered down to focus on academic writing, and even plans an allegorical book on Thai politics.
Like many others, he is settling in for the long wait - until he can return home.
tanhy@sph.com.sg
This article was first published on Dec 08, 2014. Get a copy of The Straits Times or go to straitstimes.com for more stories.