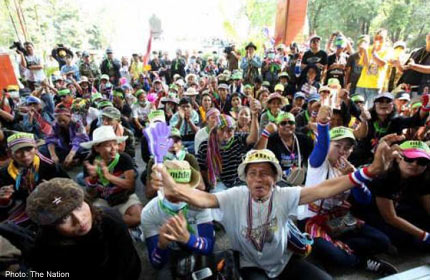 THAILAND'S constitutional court on Wednesday rejected a request to rule on the legality of the Feb 2 general election, in a setback to the opposition Democrat Party. The decision will do little, however, to ease the political impasse as re-runs of parts of the poll are planned for late April.
The court said there was not enough evidence to suggest the election violated the charter, as alleged by the Democrats, who boycotted it. They are demanding the removal of the caretaker government of Prime Minister Yingluck Shinawatra, whose Puea Thai party is poised to be returned to power.
Preparations for the poll were disrupted most severely in the capital Bangkok and southern Thailand - where protesters as well as the Democrats draw most of their support.

Not only did the protesters, who call themselves the People's Democratic Reform Committee (PDRC), block candidates from registering, they also surrounded polling stations to prevent voting and disrupted the delivery of ballot papers. Voting was disrupted in one of 10 polling stations nationwide, and under half of eligible voters cast their ballot.
Protesters are continuing their blockades of key Bangkok intersections, and plan another major demonstration from tomorrow to Sunday.
Analysts say the court decision helped keep the country from plunging into greater turmoil, but left the door open for future similar attempts.
"It's not gone for good," commentator Verapat Pariyawong told The Straits Times. "It's theoretically possible that the election can still be annulled."
A state of emergency is in place in Bangkok. Protest leaders move around freely despite arrest warrants for at least 19 of them, including frontman and former Democrat legislator Suthep Thaugsuban. But on Monday, police arrested Sonthiyarn Cheunruethainaitham, a former managing director of a news company. He has been called the "second most important figure" in the protest.
The crisis is part of a larger, eight-year-long battle between groups loosely opposed to and others allied to Ms Yingluck's brother and former prime minister Thaksin Shinawatra, who lives abroad to evade a jail sentence after his ouster in a 2006 coup. He is accused of massive corruption but remains popular with Thailand's rural masses, which swept the Puea Thai to victory in 2011.
Ms Yingluck's administration is trying to raise some 120 billion baht (S$4.6 billion) to make overdue payments to farmers under a rice-purchase scheme. Several banks, under pressure from protesters and unsure of the administration's legal status, have declined to extend loans for this scheme.
Protesters, meanwhile, have raised funds to help farmers gathered in Bangkok to demand their money. Protest spokesman Akanat Promphan said the PDRC would not stand in the way of banks wanting to grant such loans. "We would not obstruct them," he told The Straits Times. "But we would object to it."
tanhy@sph.com.sg

Get a copy of The Straits Times or go to straitstimes.com for more stories.