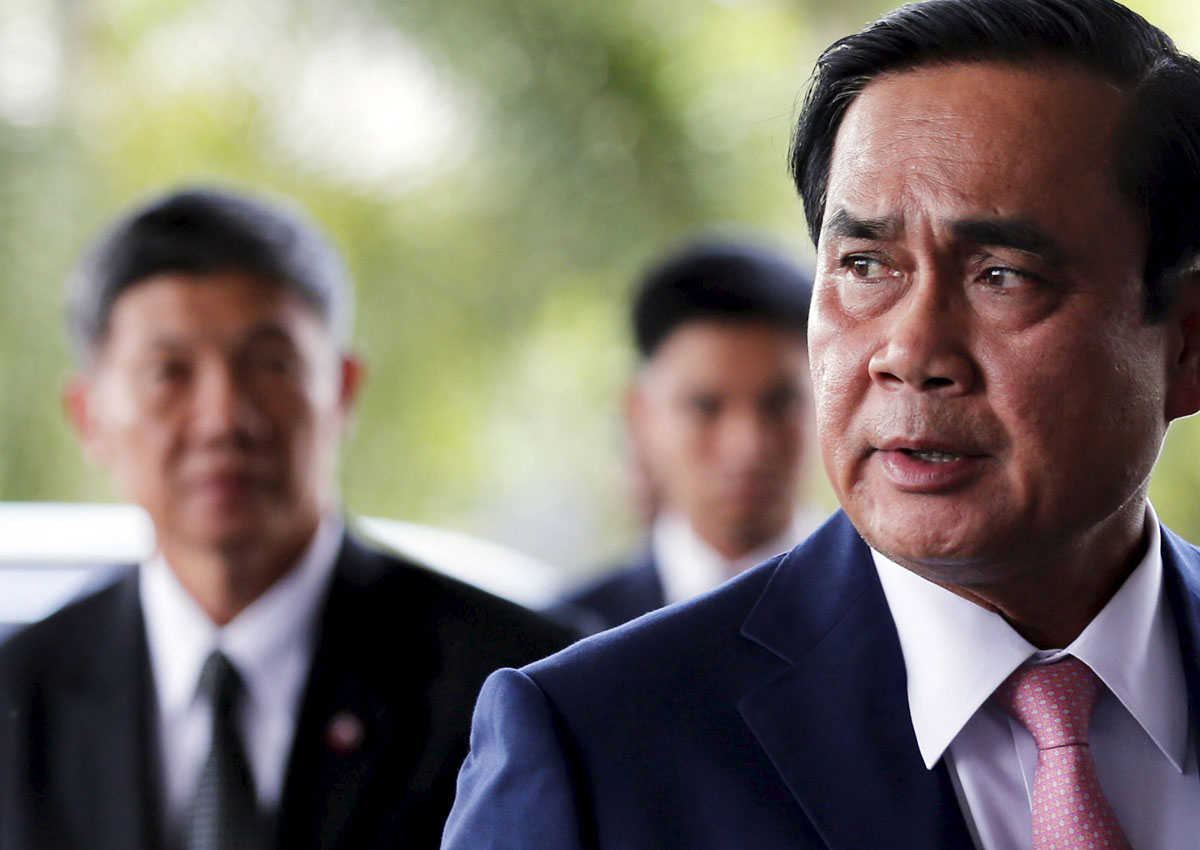 Dozens of student activists arrested while trying to protest against alleged army corruption were detained for their own safety, Thailand's junta chief said Tuesday, as the military struggles to contain a snowballing graft scandal.
Soldiers and police held the 35 students on Monday before they could rally outside a multi-million-dollar park built by the military under construction contracts allegedly riddled with kickbacks and inflated costs.
On Sunday soldiers decoupled the train carriage the student activists were travelling in and closed down Rajabhakti Park in Hua Hin for "maintenance".
The students were released late Monday with rights groups decrying their detentions as the latest act in a crackdown that has blanketed the kingdom since last year's coup.
But junta chief Prayut Chan-O-Cha defended his soldiers' actions.
"You know why you were not allowed to go to the Rajabhakti Park? Because there were people waiting to beat you," General Prayut told reporters.
"If we let them go, they would have been beaten - if they died or were injured, the government would have been blamed again," he added.
Local TV footage showed a group of ultra-nationalist demonstrators had gathered where the students were stopped by the military on Monday, some of whom hurled angry insults.
But the soldiers made no attempt to arrest that crowd, choosing to detain the students instead.
In heated scenes some of the crowd called the students "monitor lizards" - an extreme insult in Thailand.
Public gatherings of more than five people are banned under junta-ruled Thailand but some protests, particularly from supporters, have been allowed to go ahead.
Last month a group of ultra-nationalists, led by a firebrand monk, demonstrated outside the US embassy in Bangkok against remarks by Washington's envoy criticising lengthy jail sentences handed down under Thailand's draconian royal defamation law.
Thailand's generals seized power last year partially justifying their takeover as a necessary move to curb endemic corruption among the kingdom's civilian politicians.
Rajabhakti Park was built as a tribute to Thailand's monarchy by the royalist military, but it has become engulfed in a graft scandal that has undermined those anti-corruption pledges.
The park's construction, overseen by General Udomdej Sitabutr, a former army chief and the junta's deputy defence minister, has been dogged by allegations in local media and among opposition groups that kickbacks were demanded for various building contracts.
Last week two leading opposition figures were also arrested by soldiers after trying to visit the park, which boasts seven enormous bronze statues of famous Thai kings, each costing well over $1 million.
Indicative of the extreme sensitivity of the case, the army has brought a sedition charge - carrying up to seven years in jail - against a woman who raised the graft allegation on her Facebook page.
The junta intially denied all allegations of graft in the park project but has launched a second probe under mounting public pressure.