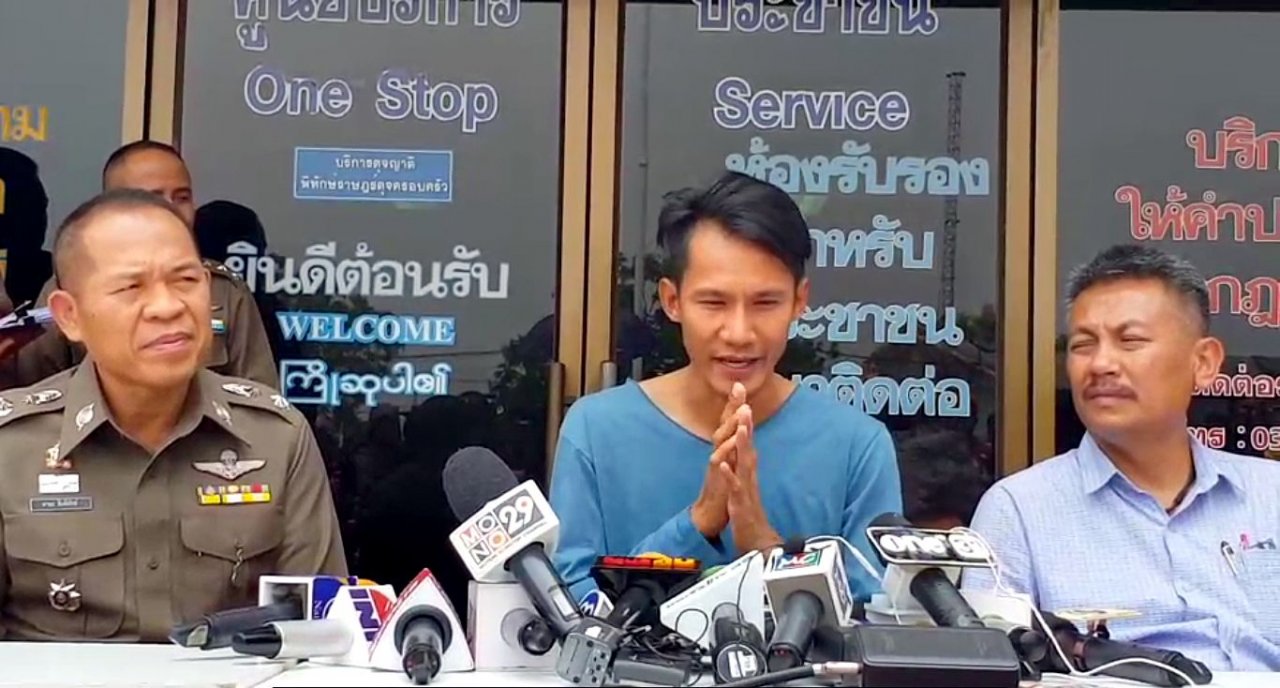 Thanawat Kamhaengpon – or Pete – was last week praised as the most honest of lottery vendors after he reportedly honoured a customer's purchase of a ticket that won a first prize of Bt90 million (S$3.78 million), even though it had merely been bought through the Line messaging app.
If true, that meant he still had the winning ticket in his possession and could have claimed the prize himself. 
On Monday, however, the 35-year-old was branded a swindler after it was found that neither the "winning" ticket nor his lucky customer even existed. 
Police on Monday laid three charges against Thanawat: fraud, violation of the Computer Crime Act and selling overpriced tickets.
In one instant, the man known around Thailand last week as "Pete, the most honest lottery vendor" has become "Pete the cheat".
When the truth came out that his claims were bogus, netizens called it a slap n their face and some even went so far as to say he had destroyed their faith in humanity.
Thanawat on Monday made a tearful public apology, saying he initially wanted to have fun with his friends by posing a photo of him holding a ticket that was photoshopped to match the winning numbers.
He said he did not know how the photo had gone public.
"What started out as fun got out of all proportion and beyond my expectations," he said weeping.
However his remorse was in stark contrast to how he acted just days ago. Then, he joyfully proclaimed that a customer had bought the winning tickets from him just before the lottery was drawn on September 1 via the Line app. The customer had not bought one ticket, but 15, he insisted.
He repeatedly confirmed the story in interviews to the media that flocked to his booth in a petrol station in Samut Sakhon province.
At that time, Thanawat claimed that as the draw was about to take place he still had some spare tickets in his possession. Therefore, he said he had asked his regular clients via the Line app whether they wanted some. One responded, he said, declaring he wanted the ticket which contained the numbers 734510. He then paid Bt1,800 for the 15 tickets, meaning he'd paid Bt120 for each one, even though the real cost should only be Bt80.
At the time, he refused to name the winning customer, saying he had to protect his identity to guard his privacy and safety.
He even appeared on television and repeated his claim, saying he had already handed over the tickets to the grateful client, who had given him a reward of Bt100,000 for his honesty. Some netizens, however, expressed doubts about the yarn, saying the number 7 looked like it had been photoshopped. When it emerged that some other people had claimed the first prize from the September draw, implying it was not possible that Thanawat's customer would win Bt90 million, he claimed that he felt guilty throughout about lying to people.
"I was so confused about my claims and felt guilty that a large number of people flocked to my booth after the news spread to buy lotteries," he said.
Many people believe that they will win the lottery if they buy tickets from vendors who have previously sold winning tickets.
A television news report had shown big crowds thronging to Thanawat's booth to buy tickets from him. In turn, Thanawat was seen grinning from ear to ear … and not showing any of the guilt he expressed on Monday.