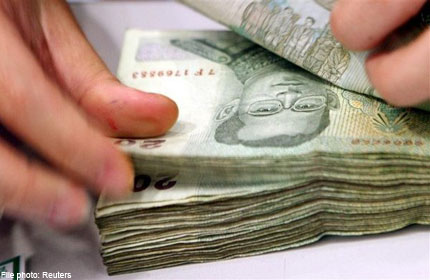 THAILAND - Thailand's financial authorities yesterday sought to quash public fears over the economy entering recession, saying that prospects in the latter half of the year are positive and quarterly performance should be better than in the previous two periods.
The economy showed consecutive quarter-on-quarter contractions in the first half of the year, which is technically deemed to be a recession.
Weak economic data, aside from signs of political instability and fears over the pull-back of quantitative easing in the US, encouraged foreign investors to dump Thai shares yesterday.
The Stock Exchange of Thailand Index lost another 1.98 per cent to close at 1,370.86 points, after a 3.27-per-cent drop on Monday. Foreign net-sells yesterday were as high as Bt11.4 billion, taking the year-to-date amount to nearly Bt101 billion.
The baht also weakened sharply against the US dollar.
While Finance Minister Kittiratt Na-Ranong insisted that the economy had not yet entered recession, Bank of Thailand Governor Prasarn Trairatvorakul sought to soothe the markets, saying he expected gross domestic product to expand quarter on quarter in the July to September period.
Prasarn said he was also optimistic that the economy would expand in the second half, as a pick-up in the global economy should boost export demand, while the government's stimulus measures should boost domestic spending.
Ekniti Nitithanprapas, deputy director-general of the Fiscal Policy Office, said the 2.8-per-cent year-on-year growth rate in the second quarter should be the lowest quarterly figure for the economy this year.
He foresees an improvement in the latter half, pending recoveries in the US, China and Indochina. GDP unexpectedly shrank 0.3 per cent in the three months through June from the previous quarter, when it contracted by a revised 1.7 per cent.
Economic houses have revised down their economic-growth forecasts following the National Economic and Social Development Board's downward adjustment on Monday. Kittiratt told the Cabinet yesterday there was still time to boost the economy.
He will soon have a brainstorming session on government spending projects with the Comptroller General's Office and the Budget Bureau. Meanwhile, the 2014 budget bill should win parliamentary approval next week.
The baht opened weaker yesterday at 31.53 per US dollar, and fell further to 31.66 - the lowest level since June 20.