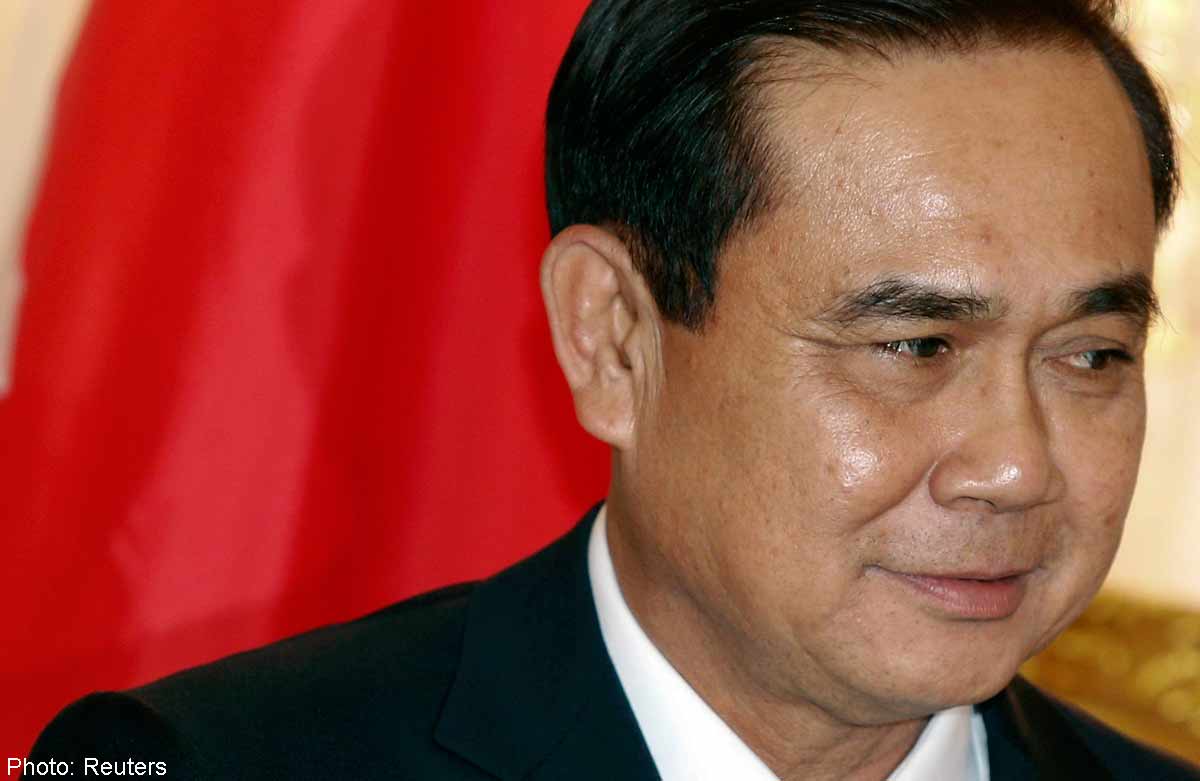 THE PRIME minister has called on the conflicting sides to bury the hatchet and reconcile in honour of His Majesty the King, who turned 87 on Friday.
He warned that if the conflicts continued, it would be difficult for true democracy to be restored.
"I would like to use the auspicious occasion of His Majesty's birthday to call on all sectors to reconcile and find a common ground where everyone can stand and walk in the same direction," Prime Minister Prayut Chan-o-cha said.
"There is no need for us to waste any more time. We must push for reform and elections."
He was speaking on his recorded weekly TV programme "Returning Happiness to People in the Country", which was broadcast yesterday morning.
"We must cease all the conflicts, put our differences behind [us], and accept the core principle of reconciliation," he said.
"We must accept one another and stop taking uncompromising sides and restore civility amidst having a difference of opinions. If everyone can do all of what I said, the country will never have to go through a political crisis again," he added.
Prayut said his government would make sure that Thailand's reform process was progressing without interruptions.
For him, the reform process should focus on the lack of good governance and corruption. He said past mistakes should be avoided by the country learning its lesson from years of problems.
Access for handicapped
The PM said he had instructed all government facilities to be accessible to the physically challenged and those who required support equipment.
Prayut said all government facilities must ensure social equality was upheld and fundamental rights were protected.
"These facilities and services include mass transit, public restrooms, and other places that need ramps for people who travel in wheelchairs," he said.
"These ramps must not be too steep, so they can help themselves. Ramps must also connect places in the facility, so that people in wheelchairs can have equal access to things they need."
Universal design
He said Koh Kret, one of the most famous tourism sites in Nonthaburi, had been developed as a pilot project for the creation of the Universal Design Community Mode.
The project was initiated through the Ministry of Social Development and Human Security, the Ministry of Tourism and Sports, the Ministry of Transport, Chulalongkorn University, Pak Kret Municipality, and Pak Kret residents.
He said the Koh Kret model "is to promote convenience and safety for the handicapped and those who require support equipment to go about their daily life". That includes the elderly, recovering patients, the young, pregnant women and even ladies in high heels and short skirts.
"They will be able to leave home and carry out activities conveniently and safely, be able to roam freely and independently without requiring the assistance of those around them," Prayut said.
More work permits
Prayut said his government was offering more facilities to foreign investors, by doubling the number of work permits al-lowed at the regional headquarters of foreign companies from five to 10.
The relevant regulations of the Ministry of Labour's Department of Employment had been amended.
"This has been achieved by amending the section on the approval of work by aliens, specifically the section on aliens working in regional operation headquarters," he said.
Prayut said investors could apply for more than 10 permits "as appropriate to the nature of the business".
He said if a regional headquarters paid a certain level of income tax over the past year, the government would also give special consideration regarding any request for work permits.
"We are also working to reduce the work-permit issuing time to one working day. Channels for urgent reporting of workers, which may last no more than five days, have been added," Prayut said.
Rubber City project
The prime minister said the Songkhla Provincial Administration was collaborating with Malaysia's Kedah state to implement the Rubber City project.
He said a "rubber city" would be built at the Southern Region Industrial Estate in Ban Chalung in Songkhla's Hat Yai district in order to boost the rubber-processing industry and hopefully increase the value of rubber products and spur employment.
"We are also looking into methods to raise the rubber price," Prayut said.