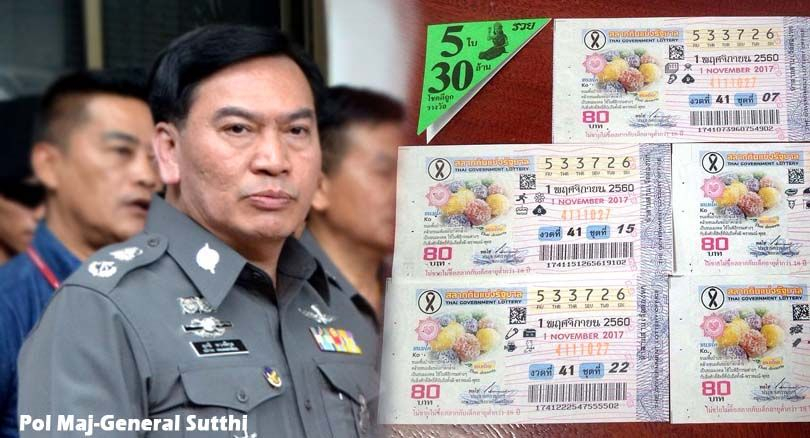 Kanchanaburi's police chief has been transferred out of his post over a lottery-cheating scandal, giving weight to widespread speculation that some state officials had allegedly colluded in the plot to grab the Bt30-million (S$1.2 million) prize from the legitimate winner.
These speculations, which reportedly rely on some inside information, have portrayed Kanchanaburi's police commander Pol Maj-General Sutthi Puangpikul as an alleged key accomplice in the plot since at least November 28 last year.
Sutthi was seen as taking sides with Preecha Kraikruan, a teacher who claimed to have bought five winning lottery tickets but accidentally dropped them at a market in Kanchanaburi. Preecha has accused retired police lieutenant Charoon Wimul of cashing in on the tickets he had dropped.
Charoon said Sutthi had instructed him to negotiate with Preecha at Sutthi's home.
After the negotiations failed, the teacher brought several witnesses, including a lottery vendor, whom he has long been familiar with, and a court official.
Sources revealed yesterday that this court official came forward after a senior policeman from the Muang Kanchanaburi Police Station met her at the Kanchanaburi Provincial Court to ask for the order to freeze Charoon's bank account.
National Police Office Inspector-General Pol General Suchat Theerasawat, who signed the order to transfer Sutthi, yesterday warned media against releasing state documents that might be confidential, which would be a violation of the law.
The transfer order for Sutthi was issued on Wednesday purportedly to facilitate the Crime Suppression Division's transparent investigation into the Bt30-million lottery controversy in which he's embroiled.
Suchat hinted that the probe would likely lead to disciplinary probes or even investigations by the Public Sector Anti-Corruption Commission or National Anti-Corruption Commission.
"The probe should conclude within one week," he said.
An informed source, meanwhile, said Pol Captain Jirayut Chatcharinkul, a deputy inspector at Muang Kanchanaburi Police Station, will now be treated as a witness as he had spoken up about irregularities he had come across during his efforts to investigate who the real ticket owner was.
Jirayut said Sutti and his direct supervisor had verbally told him to change Preecha's and his witnesses' statements in the investigation report several times.
He also reported that he was told not to bother about sending the lottery plastic wrap presented by Charoon for examination related to the case.
A police friend of Jirayut was worried as the police captain was reportedly under a lot of stress and could not be reached as of press time. National Police Commissioner Pol General Chakthip Chaijinda is set to hold a press conference on the high-profile lottery dispute next Wednesday.