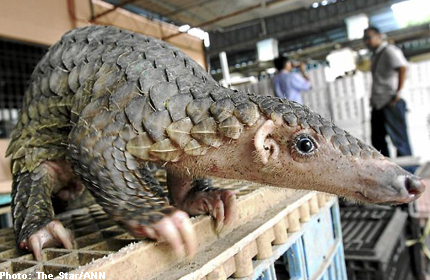 BANGKOK - Thai police Tuesday said they had seized almost 200 live protected pangolins, which are prized in China and Vietnam as an exotic meal and for use in traditional medicine.
The animals - known as "scaly anteaters" - were discovered on Monday in two pick-up trucks that were stopped by highway police in the province of Udon Thani in the country's northeast.
The drivers fled the scene, abandoning their vehicles, Udon Thani police chief Boonlue Kobangyang said.
The animals are believed to have been destined for China or Vietnam, via Laos. They will be returned to a nearby Thai national park where they are thought to have been captured.
Trade in pangolins is banned by the Convention on International Trade in Endangered Species (CITES).
The small mammals are nearly entirely covered with scales, made of keratin - the same protein that makes up human hair. The scales are sought after in Vietnam and China as a remedy for allergies and to help male potency.