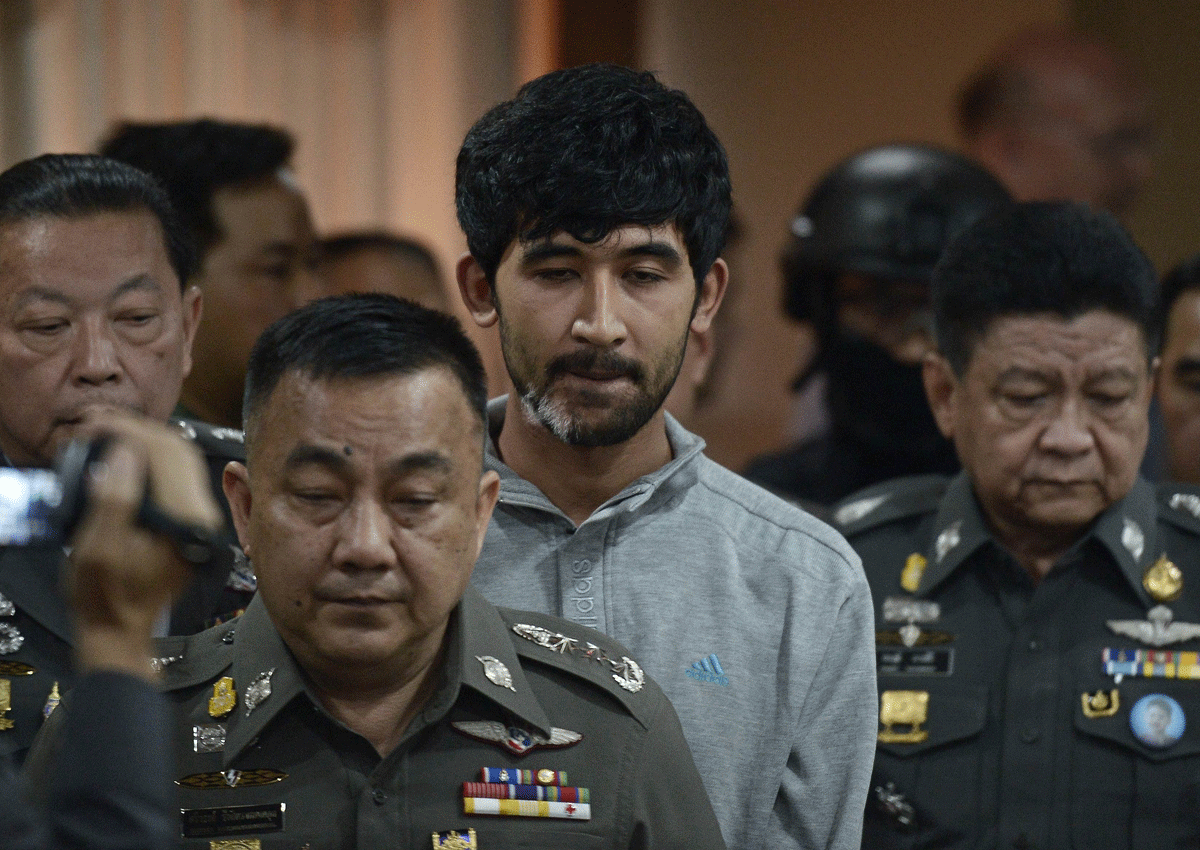 The official report into the August 17 Erawan Shrine bombing, which also encompasses the Sathorn Pier bombing the following day, has been submitted to the chief military prosecutor by Pol Lt-General Srivara Rangsibrahmanakul, acting deputy police chief.
Srivara along with police officers from four precincts - Lumpini, Yannawa, Nong Chok and Min Buri - handed over the case report in 40 files comprising almost 10,000 pages to chief military prosecutor Maj-General Wittaya Poungpan-ngam.
Pol Maj-General Chayapol Chatchaidech, chief of the Metropolitan Police Bureau's Division 6, had earlier said that police would charge Yusufu Mierili and Bilan Muhammad with conspiracy to commit premeditated murders, conspiracy to commit attempted murders and conspiracy to manufacture explosives that killed and seriously wounded others.
The duo also face charges of conspiracy to cause property damage, conspiracy to posses unauthorised explosives, conspiracy to carry explosives to a public place without a sound reason, and conspiracy to possess weapons without permission.
The pair are being detained at the temporary detention facility at the 11th Army Circle's Infantry Battalion in Bangkok.
Srivara said the court would be asked to allow a sixth detention period for Muhammad and a fifth for Mierili on Oct 30.
He said Muhammad's nationality had not yet been confirmed.
He said additional charges, such as terrorism, had yet to be filed against the suspects. He said the chief military prosecutor also instructed that the same interpreter who had been used all along be used going forward. Police are in the process of hunting down the other suspects in the case, Srivara said.
Investigators issued arrest warrants for 17 suspects, including Mierili and Muhammad. Among them was Abudustar Abdulrahman, or Izan, who fled the country one day after the shrine bombing and was considered the mastermind behind the attack.
The shrine bombing killed 20 people and injured more than 100 others. The pier bombing occurred on August 18 and caused no injuries.
Muhammad was arrested at an apartment in the Nong Chok area of Bangkok on August 29, and Mierili was arrested in early September near the Thai-Cambodian border in Sa Kaew province.