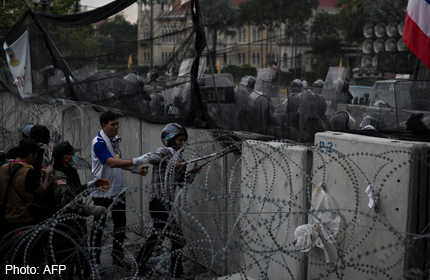 BANGKOK- Thai police yesterday used tear gas and water cannon to repel thousands of protesters from government buildings for the first time since demonstrations erupted a month ago, as mobs forced Prime Minister Yingluck Shinawatra to make a hasty exit from a police complex.
The government urged people to stay indoors overnight - but stopped short of declaring a curfew - after weekend violence between protesters and pro-government "red shirt" supporters left at least four people dead and scores injured. The red shirts, who had mustered tens of thousands in a Bangkok stadium, called off their rally yesterday morning to avoid further bloodshed.
Yesterday, at least three major shopping centres in downtown Bangkok, as well as shops and the odd petrol station, stayed shut as swelling crowds of abuse-chanting protesters caused fears of renewed political violence, which has not occurred in Thailand since 2010.
Protest leader Suthep Thaugsuban had vowed to seize several ministries as well as the highly symbolic Government House, where the Prime Minister's Office is located, by yesterday.
Anti-government mobs marched to at least three free-to- air TV stations in Bangkok, including Thai PBS, an independent broadcaster, reported the Associated Press. The same afternoon, four out of Thailand's six free-to- air channels broadcast the protest leader's speech live.
In his speech, Mr Suthep, a former opposition Democrat lawmaker turned self-styled leader of the movement to overthrow the "Thaksin regime", called on all civil servants and workers of state enterprises to stop work today.
Thaksin Shinawatra, Ms Yingluck's brother, was Thailand's prime minister until he was deposed in a 2006 coup. He is widely seen to control the country from abroad, where he lives to avoid a jail sentence for corruption. The party had pushed for a Bill that would grant Thaksin amnesty, but was forced to retreat when thousands flooded the streets to protest against it.
Deputy Prime Minister Pracha Promnok last night went on TV flanked by four other ministers to declare that government agencies will open as usual today.
He claimed that security forces had been attacked by small bombs and "third parties" had been involved in the violence last Saturday. He urged people to stay indoors between 10pm last night and 5am today.
Meanwhile, three journalist associations issued a statement demanding an end to media harassment.
Army commander Prayuth Chan-ocha - who said last week that the army would not take sides - urged the police not to use force and also called on protesters to avert violence, according to army spokesman Winthai Suvaree.

Get a copy of The Straits Times or go to straitstimes.com for more stories.