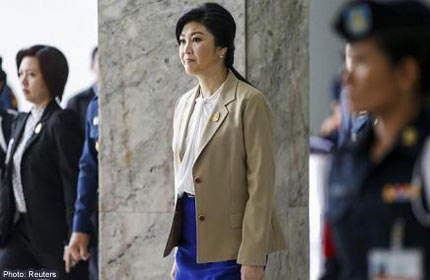 THAILAND'S Election Commission yesterday approved overdue payments of 712 million baht (S$27.7million) to rice farmers, in a reprieve for the caretaker government that has been rocked by the increasing economic cost of street protests.
Latest trade figures show Thai exports last month dropped 1.98 per cent from a year earlier, while imports plunged by 15.5 per cent, the biggest drop in more than four years.
The figures were released by the Ministry of Commerce after two grenade attacks near anti-government rally sites over the weekend killed four people - including three children - raising fears of more violence this week in the capital and beyond.
Early yesterday morning, an explosive and gun attack at Bangkok's Lumpini Park, one of the areas protesters have occupied, injured two people.
At least 20 people in all have died and more than 700 have been injured during the four-month-long campaign to oust the administration of caretaker Premier Yingluck Shinawatra. Protesters and their powerful backers want Ms Yingluck to resign and make way for a "people's council", and have refused to budge on their demand despite repeated calls by the Premier to negotiate.
The hardening stance on both sides prompted army chief Prayuth Chan-ocha to reject calls for military intervention on Monday and instead call for cooler heads to save the country from collapse.
A state of emergency is in place in Bangkok and surrounding districts, but a civil court ruling last week stripped security officials of most of their powers to disperse protesters.
For several weeks now, protesters have blockaded key intersections in the capital and intimidated civil servants into stopping work. They have also pressured banks and state enterprises into refraining from giving aid to the government in its rice pledging scheme, a two-year-old initiative of the Puea Thai party-led government.
But the programme, which lets farmers sell their rice to the government at about 50 per cent above market prices, has now run into funding problems and the government owes rice farmers more than 100 billion baht.
Angry rice farmers have come to the capital to demand payment and a convoy of farmers on tractors, who were reportedly planning to protest at Suvarnabhumi Airport, turned back at the last minute after the government promised to pay them this week.
The budget disbursements have to be approved by the Election Commission because the Feb2 election was disrupted by protesters and is yet incomplete.
Ms Yingluck meanwhile, attended a Cabinet meeting in Bangkok yesterday at the air force headquarters, where some farmers turned up to demand their money.
She is scheduled to head to the northern provinces of Chiang Mai and Chiang Rai for the rest of the week, to inspect the drought situation, an aide said.
Meanwhile, the capital remains tense as security officials warned of more attacks. A national security council representative told The Straits Times: "It's still quite risky and violence can happen at any time." Chulalongkorn University political scientist Naruemon Thabchumpon condemned efforts by both pro- and anti-government supporters to blame the other side for the latest casualties. "Society needs to show that regardless of what side they are on, they disagree with the violence," she said.
tanhy@sph.com.sg
Get a copy of The Straits Times or go to straitstimes.com for more stories.