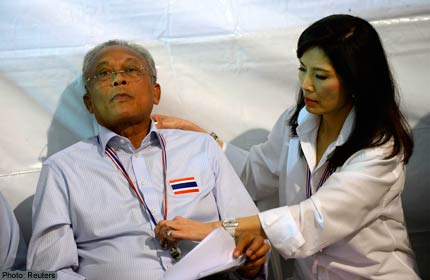 BANGKOK - The leader of mass opposition protests that have shaken the Thai capital called Friday for a last-ditch effort to topple the government, vowing to surrender to the authorities if the action fails.
With turnout dwindling after more than a month of rolling rallies, the former deputy premier spearheading the movement gave the first indication that he might concede defeat unless enough people join the protest on Monday, describing it as "judgment day".
"If the people do not come out, I will surrender to go to jail. I will not fight anymore," Suthep Thaugsuban said in a speech to supporters. "Live or die, lose or win -- we will know on Monday December 9."
The kingdom remains on edge following several days of street clashes between police using tear gas, water cannon and rubber bullets against rock-throwing demonstrators seeking to overthrow Prime Minister Yingluck Shinawatra and curb the political influence of her brother Thaksin.
Yingluck 's office said she had cancelled two planned trips overseas next week to Russia and to the opening ceremony of the Southeast Asian Games in Myanmar to monitor the unrest, which has left five people dead and more than 200 injured in Bangkok.
The protesters, a mix of royalists, middle class and other Thaksin opponents -- sometimes numbering in their tens of thousands -- want to suspend the country's democracy in favour of an unelected "people's council".
Suthep, a former deputy premier who now faces an arrest warrant for insurrection, has pledged to rid Thailand of what he calls the "Thaksin regime".
Demonstrators and police in Bangkok have observed a temporary truce since Wednesday for the 86th birthday of King Bhumibol Adulyadej, who is treated as a near-deity by many Thais.
Suthep told supporters to rest for the rest of the weekend and to take to the streets again on Monday to march on the government headquarters.
The government on Tuesday abruptly ordered police to avoid confrontation with protesters, briefly allowing them into the police and Government House in a surprise move that sharply reduced tensions in the capital.
But demonstrators have refused to end their occupation of the finance ministry and a key government complex on the outskirts of Bangkok.
Thailand has been periodically rocked by sometimes bloody unrest since Thaksin, a billionaire tycoon-turned-premier, was deposed by royalist generals in a coup seven years ago.
He went into exile in 2008 to avoid jail for a corruption conviction which he says was politically motivated, but critics say he still controls his sister behind the scenes.
Thailand's political conflict broadly pits a Bangkok-based middle class and royalist elite backed by the military against rural and working-class voters loyal to Thaksin.
The recent protests were triggered by an amnesty bill, since abandoned by Yingluck's ruling party, which opponents feared would have cleared the way for his return.
They are the biggest and deadliest street demonstrations since 2010, when dozens of people were killed in a crackdown on mass pro-Thaksin rallies in Bangkok.
The king did not specifically mention the recent unrest at a formal ceremony Thursday attended by dignitaries, including the embattled premier, but he said the country "has been peaceful for a long time because everybody worked together".
"Every Thai should be aware of this and should perform their role for the benefit of the country, which is the stability and security of the country," he said in the speech broadcast on all television channels.
While numbers have fallen sharply since an estimated 180,000 people joined an opposition rally on November 24, demonstrators have besieged or stormed high profile buildings in what some observers believe is an attempt to provoke a military coup.
One of the protesters' own security guards suffered a gunshot wound to his hand on Thursday outside the finance ministry -- an attack denounced by the rally organisers as an act of intimidation.
Police however said his attackers could be motorcycle racing gangs angered by checkpoints set up by the demonstrators near the ministry.