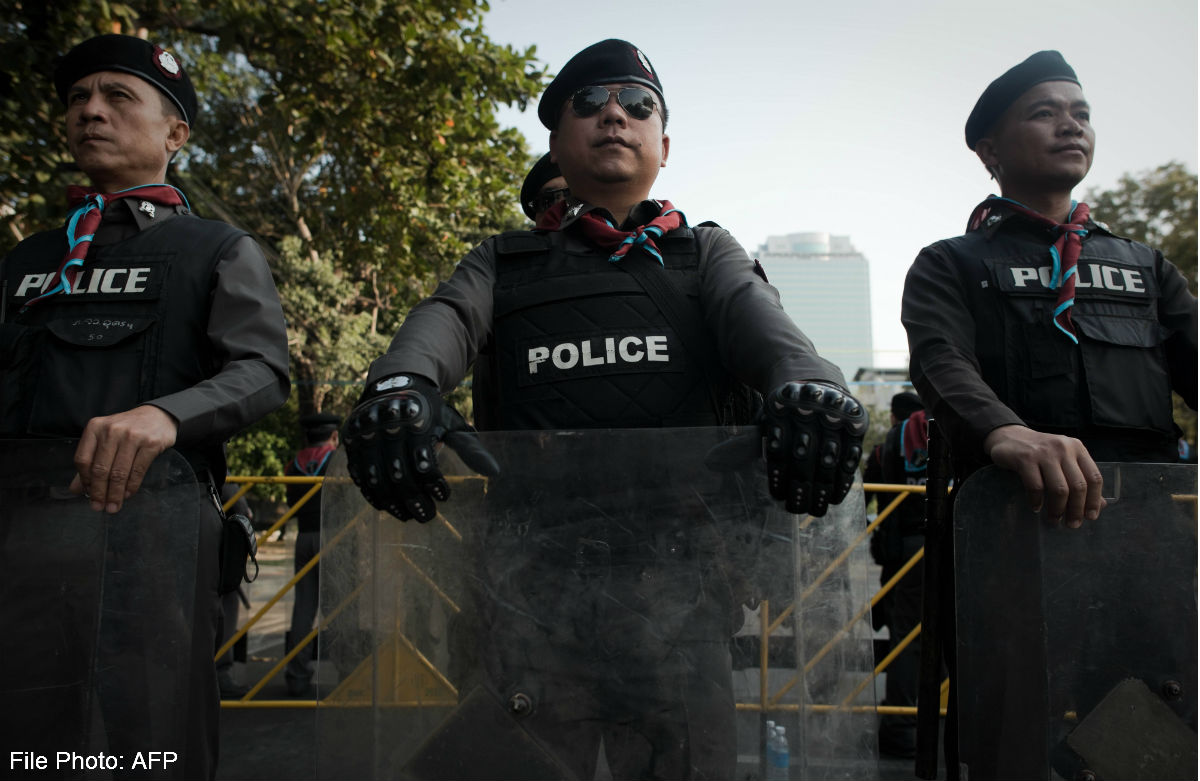 THAILAND - More than 50 police yesterday searched anti-government leader Sonthiyarn Chuenruethainaitham's house in Samphran in Nakhon Pathom.
They seized two bullet-proof vests, a communication radio and documents - amid complaints from his family that police overstepped their authority and arrogantly ill-treated them.
Sonthiyarn's wife, Thiwa, 53, refused to put her signature on the search warrant but recorded it instead on a camera before police took Sonthiyarn's driver and his aide Worapoj Chaidej for questioning at Phokaew police station.
Daruni Chuenruethainaitham, Sonthiyarn's sister said that police over-reacted and abused their power even though they presented a search warrant approved by Nakhon Pathom Provincial Court. She said heavily armed police climbed over the wall to the house without ringing the bell and were rude to them. She would file a complaint against police for their "ill-treatment".
Thiwa said she was sleeping in the early morning with her daughter when police climbed into the house. She quickly locked the house and only allowed uniformed police to enter.
Deputy national police chief Pol General Ek Angsananont said police would reject Sonthiyarn's request to be released on bail. After Friday, police would seek court approval to detain him for another 30 days for questioning but if the court disapproved of the request, Sonthiyarn would be freed.
Chatchai Pookokwai, caretaker director of T news agency, said he visited Sonthiyarn and found him to be well taken care of in police custody. The protest leader did not show signs of stress and slept well, Chatchai said.
Meanwhile, People's Democratic Reform Committee leader Suthep Thaugsuban called a tense meeting with core leaders at the back of the rally stage at their Silom base. They left the area without giving interviews.
National Security Council chief Lt-General Paradorn Pattanatabut said police would continue to round up PDRC leaders. He rejected calls from the private and business sectors to revoke the emergency decree, saying it was still necessary under present circumstances.
Democrat Party deputy leader Ongart Klampaiboon called on caretaker Prime Minister Yingluck Shinawatra to testify in court herself today over a case in which complainants allege that the government's imposition of the state of emergency will jeopardise the national economy, and that the negative consequences are heavier than the positive ones.
Police spokesman Pol Maj-General Piya Uthayo said police pressed Worapoj, Sonthiyarn's aide, with charges of illegal possession of communication radios and pressed Pramual Prachannual, Sonthiyarn's driver, with charges of possessing military equipment without permission after finding communication radios and a bullet-proof vest in the van. He complimented Nakhon Pathom police for carrying out their duty with amiable manners during the search.