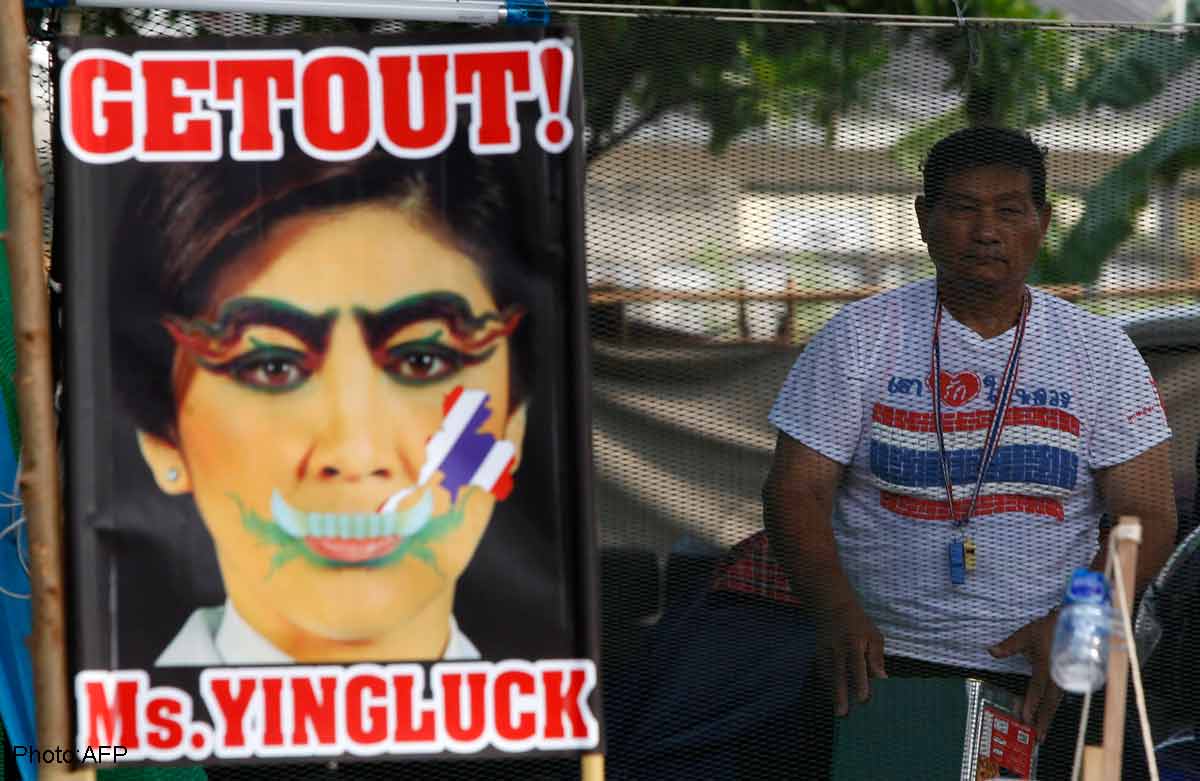 BANGKOK - Defiant Thai opposition protesters threatened to storm Prime Minister Yingluck Shinawatra's crisis headquarters Wednesday, stepping up their campaign a day after dramatic street clashes left five dead and dozens wounded.
The spike in violence has punctured hopes of an easing of a three-month political standoff in which 16 people have been killed - including both demonstrators and policemen - and hundreds injured in gunfire and grenade blasts.
The backdrop to the unrest is a nearly decade-long political rift between opponents and supporters of Yingluck's brother, fugitive former premier Thaksin Shinawatra, that has unleashed a series of rival street protests.
A convoy of trucks carrying whistle-blowing protesters set off for a defence ministry complex in a Bangkok suburb where Yingluck has held meetings over the last few weeks, after being driven out of her besieged headquarters in the government district.
"It's hard to accept that Yingluck asked her people to kill us and then she hides at the office of the permanent secretary of defence. We will storm it and find her," firebrand protest leader Suthep Thaugsuban said.
All government meetings at the building were cancelled, according to deputy government spokeswoman Sunisa Lertpakawat, who said it was unclear if Yingluck would visit the offices, which were guarded by security forces.
A spokesman for the office of the permanent secretary of defence, Major Surachart Chitjaeng, said Yingluck was expected to stay away.
"The prime minister is fully aware that if she comes it will cause of trouble for defence ministry officials as well as local people," he said.
On Tuesday, violent clashes broke out after riot police tried to clear rally sites in the capital's historic district.
Chaotic scenes ensued as explosions and gunfire shook an area of the city near the Golden Mount temple and other tourist attractions.
A policeman was shot dead and four civilians were killed, the Erawan emergency centre said in a new toll on Wednesday, while more than 60 others were injured. olice said 24 officers were among those hurt.
National Security Council chief Paradorn Pattanatabut said there was no plan to launch a new operation on Wednesday to try to clear protest areas, but he denied Tuesday's operation marked a defeat for the authorities.
"The operation was not a failure. At least we regained the energy ministry and 80 per cent of the government complex," he said, referring to a group of state offices in the north of the capital.
Demands for reform
The protesters are demanding Yingluck quit to allow an unelected prime minister to take office to introduce vaguely-defined reforms such as an end to corruption and alleged misuse of public funds to buy political influence.
In a new twist, the National Anti-Corruption Commission said Tuesday that it was pressing charges against Yingluck for neglect of duty in connection with a controversial rice subsidy scheme. If found guilty she could be removed from office.
More than seven years after royalist generals ousted Yingluck's brother Thaksin in a bloodless coup, the kingdom appears more politically divided than ever.
The billionaire tycoon-turned-politician fled overseas in 2008 to avoid jail for a corruption conviction, but his critics accuse him of pulling the strings of power from self-exile.
The opposition protesters, mainly from Bangkok and southern Thailand, have vowed to rid the country of the "Thaksin regime", but Yingluck insists the dispute should be resolved at the ballot box.
Pro-Thaksin parties have won every election for more than a decade, and Yingluck is counting on her family's traditionally strong support in the northern half of the kingdom to return her to power in a general election that was held on February 2.
The opposition boycotted the polls and the results are not expected to be known until election re-runs are held in constituencies where voting was obstructed by protesters.
Yingluck has declared a state of emergency in Bangkok and surrounding areas, but could face a new setback with a Civil Court due to rule Wednesday on the legality of the decree.