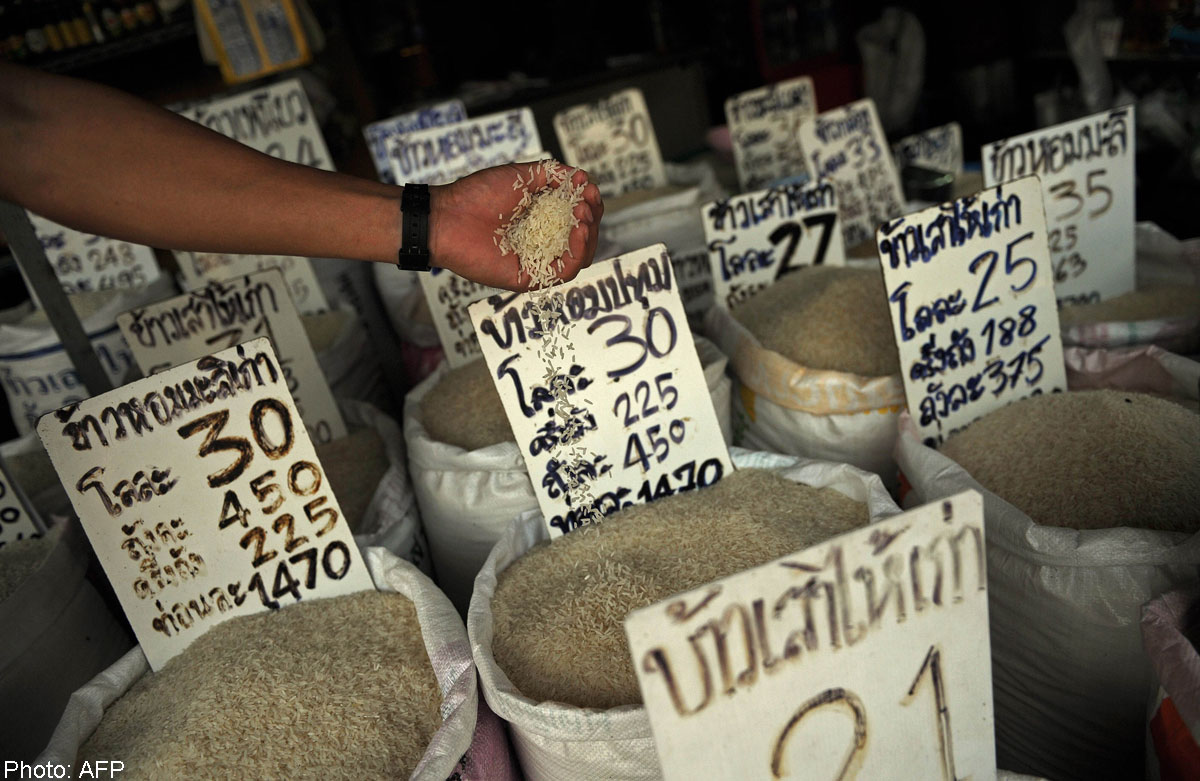 BANGKOK - Rice farmers in Thailand are stepping up pressure on the government for long overdue payments from a controversial rice subsidy scheme.
A group of farmers on Thursday brought tractors and trucks to rally outside the Commerce Ministry in Bangkok while another group from the north will submit a royal petition.
Meanwhile, rice farmers from western provinces are continuing their blockade at Rama II Road at the Wang Manao intersection in Ratchaburi's Pak Tho district, which began on Feb 1.
The populist scheme, which paid farmers above market rates for rice, has become a lightning rod for anger among anti-government protesters who say it has engendered widespread graft, punched a hole in Thai public finances and dislodged the kingdom from its position as the world's top rice exporter, AFP reported.
Defending the rice scheme, caretaker prime minister Yingluck Shinawatra told reporters on Wednesday night that "everyone is trying to help farmers", AFP reported.
"The government was trying its best to keep its monetary discipline... we all sympathise with the farmers who suffer (from late payments)," Ms Yingluck said.
Protest leader Rawee Rungreung said the farmers had to do something because they were severely affected.
The rice-growing season was approaching but farmers who normally earned money twice a year, according to seasonal rice harvests, had no money to pay for their rice-growing costs as well as household and personal expenses.
Mr Rawee insisted this was not a politically motivated move and the farmers would not completely relocate their rally from Rama II Road to the ministry. Rather, they would send some demonstrators while the rest remained at the southbound road.
He said his group would suspend their movement to gather names of the farmers affected by the scheme to submit a petition to the Bureau of Royal Household.
The farmers demanded that the caretaker government honour the pledged rice payments of at least 80 per cent of the amount stated on each farmer's rice-pledging certificate by Feb 12.
The group also wanted the caretaker government to help farmers in talking with their creditors including commercial banks and agricultural co-ops, because they did not want creditors to take away their tractors or tools.
The government blames three months of demonstrations on Bangkok's streets for derailing the scheme, with Ms Yingluck saying her administration's powers have been limited after the dissolution of parliament in December.
It has been reluctant to reveal the full cost of the scheme or the exact size of its rice stockpile.
China on Tuesday cancelled an order for 1.2 million tonnes of rice due to a corruption probe, while state-run Krung Thai Bank joined other lenders in saying it would not provide loans urgently needed to rescue the scheme.
Firebrand protest leader Suthep Thaugsuban seized on the collapse of the Chinese deal as another sign of rot at the heart of the subsidy scheme, which opponents say amounted to massive vote-buying by the Shinawatra clan in its rural base, AFP reported.
"They will take more than three years to sell 18 million tonnes of rice," he said.