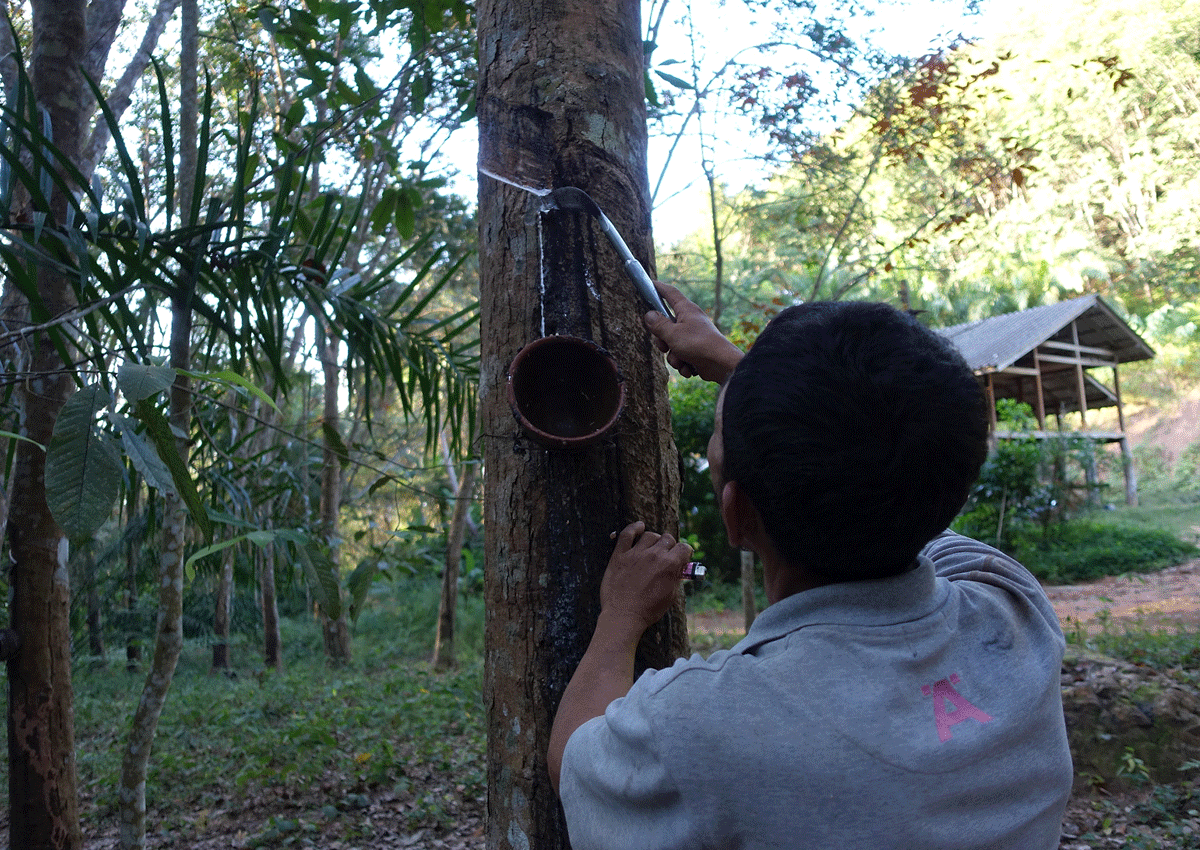 There used to be five motorcycles in Ms Chaya Tiewpanit's household but four were repossessed last year. Now, the rubber tapper from the southern province of Surat Thani is dreading something worse - that her 17-year-old son may have to drop out of school altogether.
He cannot sit his school examination because the family cannot pay the 5,600 baht (S$220) in school fees owed since last year. He refuses to go to school.
"He feels embarrassed when the teacher asks him for money," she told The Straits Times.
Plunging rubber prices are taking a toll on entire families in southern Thailand. A global glut has caused prices to hit seven-year lows recently, leaving a military government averse to handing out agricultural subsidies to grapple with increasingly restive farmers.
Earlier this week, a network of rubber farmers from southern Thailand threatened to protest if their demand for government aid was not met.
In response, the military on Monday summoned dozens of farming group leaders to a military camp in Surat Thani to listen to lectures about the global causes of the rubber glut as well as ways to develop self-sufficient farms that are resilient to external price fluctuations.
A network of rubber farmers wanted the government to push the price of unsmoked rubber sheets to 60 baht per kg. These were trading at 36.05 baht per kg yesterday, according to data from the Rubber Authority of Thailand.
Yesterday, the government, which pledged on Monday to buy rubber at a premium, decided on a price of 45 baht per kg.
The support scheme comes on top of two tranches of aid that have cost the government about 10 billion baht over the past two years, according to the Ministry of Agriculture and Cooperatives. An ongoing programme also offers low-interest loans to rubber farmers so that they can grow other crops like banana or breed livestock.
In an interview with The Straits Times, Agriculture and Cooperatives Minister Chatchai Sarikalya said Thailand was in discussions with Malaysia and Indonesia - two other major rubber producers - to see how they could collaborate to maintain a sustainable price for their farmers. Last year, the country exported more than three million tonnes of rubber.
"Vietnam, also a big rubber producer, has expressed interest in joining us," he added.
The minister asked for patience while the aid schemes take effect, saying that "they create a sustainable livelihood for the farmers in the future". He also feared that protests might be politically motivated.
"There will be someone who will use this opportunity to appear as a leader, to try to gain votes from people (in future elections)," he said.
The suggestion was strongly rejected by farmers' groups, despite the fact that Mr Suthep Thaugsuban - a former key Democrat Party executive and co-leader of the protest movement that helped to topple the previous civilian government - has spoken out for rubber farmers.
In 2013, rubber farmers in southern Thailand - a Democrat Party stronghold - blocked roads and clashed with police to wrest subsidies from the Puea Thai party-run government. They were also major supporters of the protest movement that helped to topple the Puea Thai government and usher in a military coup the subsequent year.
Mr Kittisak Viroj, chairman of the Rubber and Oil Palm Farmers Association in Surat Thani, said there was no guarantee that protests would not take place despite curbs on such gatherings.
The military government, he stressed, had the power to prop up prices because it granted itself absolute powers after the coup. The current situation was critical enough for the use of such powers, he said.
"The tappers are starving."
tanhy@sph.com.sg

This article was first published on January 15, 2016.
Get a copy of The Straits Times or go to straitstimes.com for more stories.