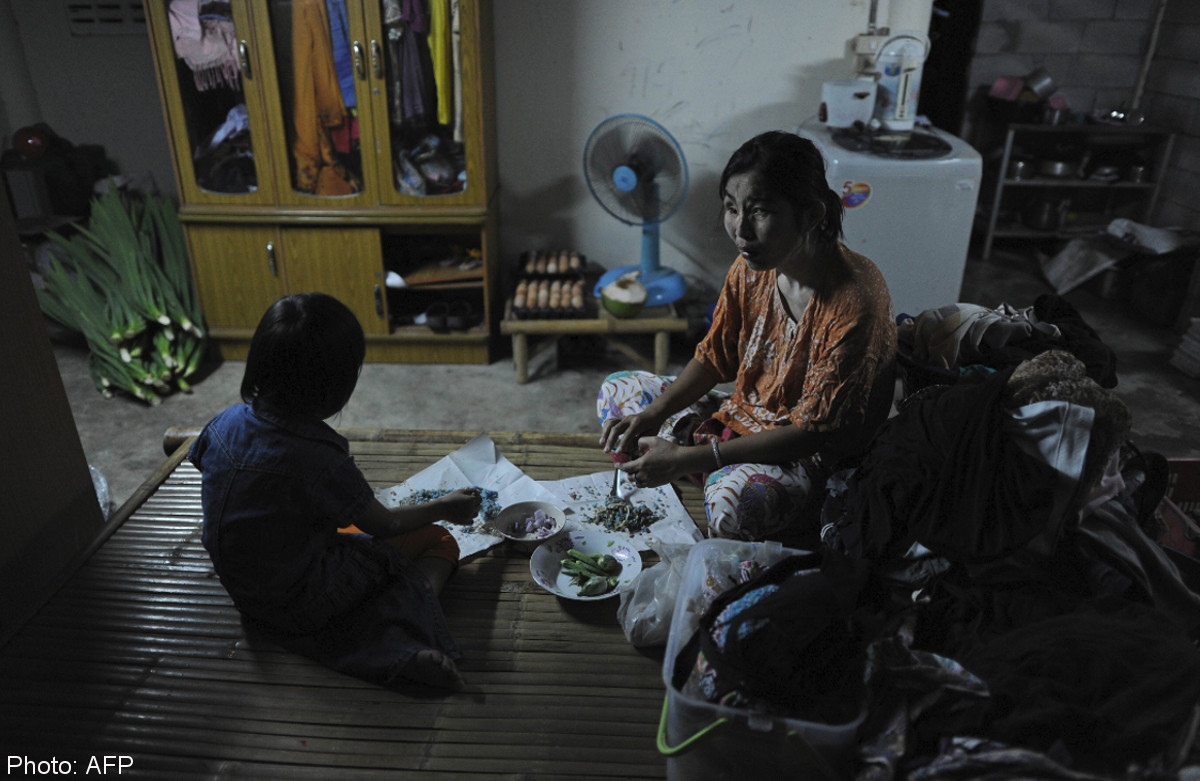 NARATHIWAT, Thailand - Widowed and blinded in one eye by vengeful rebels, Tungrudee Jaiin was left to raise four children alone in insurgency-ravaged southern Thailand, where women carry a heavy burden of a seemingly endless war.
A scar knotting her brow marks where she lost an eye to a bullet fired by suspected militants who had already gunned down her husband in a punishment killing.
It left Tungrudee among the ranks of widows in a decade-long conflict, which has seen 5,900 people killed in Thailand's Muslim-majority southernmost provinces.
The majority of the victims of this complex, vicious and highly localised war have been civilians who are squeezed between Thai security forces and ruthless insurgents seeking greater autonomy from Thailand, which annexed the deep south more than a century ago.
Around 400 of the dead are women, while authorities say there are 2,700 registered war widows after their men were killed by rebels or security forces across Narathiwat, Yala and Pattani - the flashpoints of the insurgency.
Countless other wives, sisters and daughters have been thrust into the role of family breadwinners after the man of the house was jailed, fled to avoid arrest or joined the rebel movement.
Where violence rules
In a soft voice remarkably free of rancour, Tungrudee - who converted to Islam to marry her husband - recalled the chilling events that befell her family five years ago when the rebels killed him for being a government informer.
"Two weeks later they came back and they shot me and left me to die," the 39-year-old said, pointing to her eye, abdomen and legs where the bullets struck. "Then they set fire to our home."
Her eldest son was badly burnt in the fire.
Destitute, Tungrudee and her children - now aged between four and 15 - found refuge in the army-protected "widows' village" of Rotan Batu, which has expanded in parallel with the conflict to house some 140 women and 300 children.
"Sometimes I feel weak and think how can I live without my husband? But when I see my children I think, who will take care of them without me?" said Tungrudee, whose attackers have never been caught.
She supplements her $140 monthly widows' stipend from the state by selling vegetables in a local town.
Her quiet defiance is emblematic of the strength expected of women in the face of the conflict - one that is set to rage on after political turmoil in Bangkok kicked peace talks between the government and rebel groups into limbo.
Cultural barriers
Experts say Muslim women face particular hardship in the conservative region, which is culturally distinct to the rest of predominantly Buddhist Thailand.
In the absence of their men, Muslim women are duty bound to provide for large families.
Yet women are restricted when it comes to speaking out, as politics and the insurgency are often topics controlled by the men of the house.
"Women often have no voice," said Angkhana Neelapaijit, of the Justice for Peace Foundation, a human rights organisation. "The expectation is for them to look after the family," she said.
"They may have little say over politics. For example, if their child expresses sympathy with the movement (rebellion), they cannot control them."
A recent survey by the foundation found poor education compounds the travails of women, squeezing them into low-paid work or unemployment.
Others lack sufficient literacy in Thai to navigate complex legal processes in an area where security forces routinely round up suspected rebels - and many innocents in the process.
Despite some state support women find it "almost impossible" to feed their families or fund children's education, the study said, deepening the poverty cycle.
But there are encouraging signs that women are stepping into the political space vacated by men.
Women are joining civil society groups calling for justice - in a part of Thailand where rights groups accuse both security forces and insurgents of acting with impunity.
"The role of women is getting bigger because the role of many men has been greatly diminished as they are under suspicion by the authorities, jailed or dead," said filmmaker Noi Thammasathien, who has worked extensively on women's issues in the region.
Muslim women are leading a bold cultural shift through their actions, agrees Anghkana, adding they must be better represented at stuttering peace talks. Her own husband is feared dead after being abducted in 2004 while bringing legal cases of torture against Thai authorities.
More than 50 people have been killed since the start of the year, including two Buddhist women shot dead and then set on fire in separate incidents less than a week apart.
With prospects for peace remote, the widows of Rotan Batu are resigned to welcoming more to the village.
Bonded by a shared grief that crosses religious lines, the women trade jokes as they carry out their daily tasks in the sprawling commune of vegetable plots and workshops, studded by modest bungalows.
"Women suffer a lot here," said Mariyah Nibosu, as she carefully shaped a clay pot for sale in a workshop in the village. "But we are strong. We have to feed our children by ourselves. We have to survive."