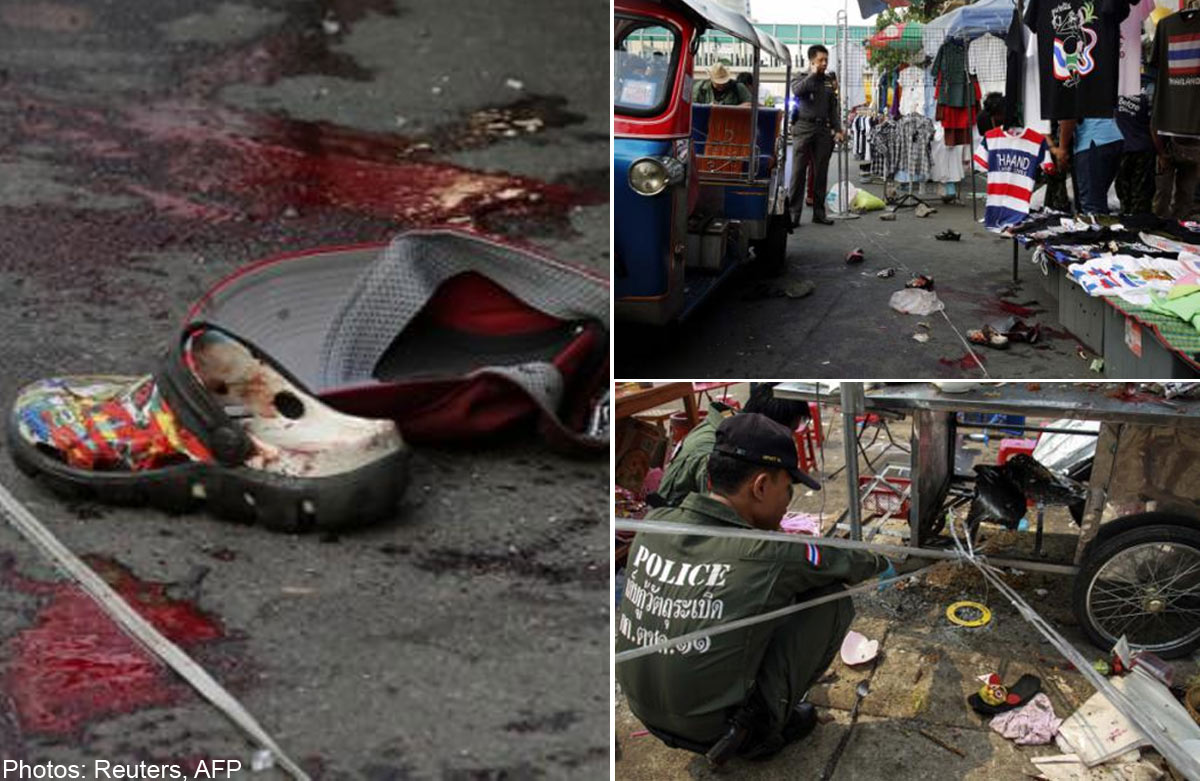 BANGKOK - A six-year-old girl died early Monday from wounds sustained during a grenade attack on a busy Bangkok shopping area, hospital officials said, taking the number of children killed in Thai political violence over the weekend to three.
The attacks, which appear to mark an escalation of unrest in nearly four months of political crisis, earned condemnation from UN chief Ban Ki-moon while Prime Minister Yingluck Shinawatra labelled them "terrorist acts".
The girl's four-year-old brother also died after the grenade struck on Sunday afternoon as shoppers mingled with anti-government protesters at a rally in one of Bangkok's main commercial areas.
A woman was the third victim of the grenade, which police believe was fired from an M79 shoulder-held launcher into the crowd, near bustling street stalls, several hotels and one of the capital's biggest shopping malls.
"A six-year-old girl has died, she underwent surgery but died today (Monday)," the Ramathibodi Hospital said in a statement, adding that the boy was four rather than 12 as previously reported.
"They were siblings," a hospital official told AFP.
A five-year-old girl was gunned down in a drive-by shooting at an anti-government rally in eastern Trat province late Saturday.
Thailand has seen months of anti-government rallies aimed at ousting Yingluck's administration and curbing the influence of her brother Thaksin, a former premier who lives in exile to avoid a jail term for corruption.
The protests have been met with sporadic gun and grenade attacks - mainly in Bangkok - by unknown attackers, but fears of wider unrest are mounting after the death toll nearly doubled last week.
UN chief worried
Twenty people have now died and more than 700 people have been wounded in violence linked to demonstrations.
It is the worst unrest since the Thaksin-allied "Red Shirt" protests against a Democrat-led government in 2010 sparked clashes and a bloody military crackdown that left more than 90 people dead.
In a posting on her official Facebook page late Sunday, Yingluck denounced the weekend's attacks as "terrorist acts for political gain", stating the children's deaths "were particularly saddening and disturbing".
A spokesman for the UN secretary general said Ban condemned the escalation of violence in Thailand over the past week, in particular armed attacks against protesters and children, and called for an end to violence "from any quarter".
Last Tuesday a daylight gunbattle in Bangkok's historic heart, close to the main tourist district, left five people dead - including a policeman - as security forces tried to clear a protest site.
Both sides of the political divide blame each other for the violence. Protest leader Suthep Thaugsuban, who as deputy premier at the time oversaw the 2010 crackdown on the Red Shirts, said the government carried responsibility for the weekend violence.
They were "the actions of followers of Thaksin's regime", Suthep told a rally late Sunday, urging protesters to hold new rallies Monday at Shinawatra-linked businesses in Bangkok.
The kingdom has been bitterly split since a military coup ousted Thaksin as prime minister in 2006.