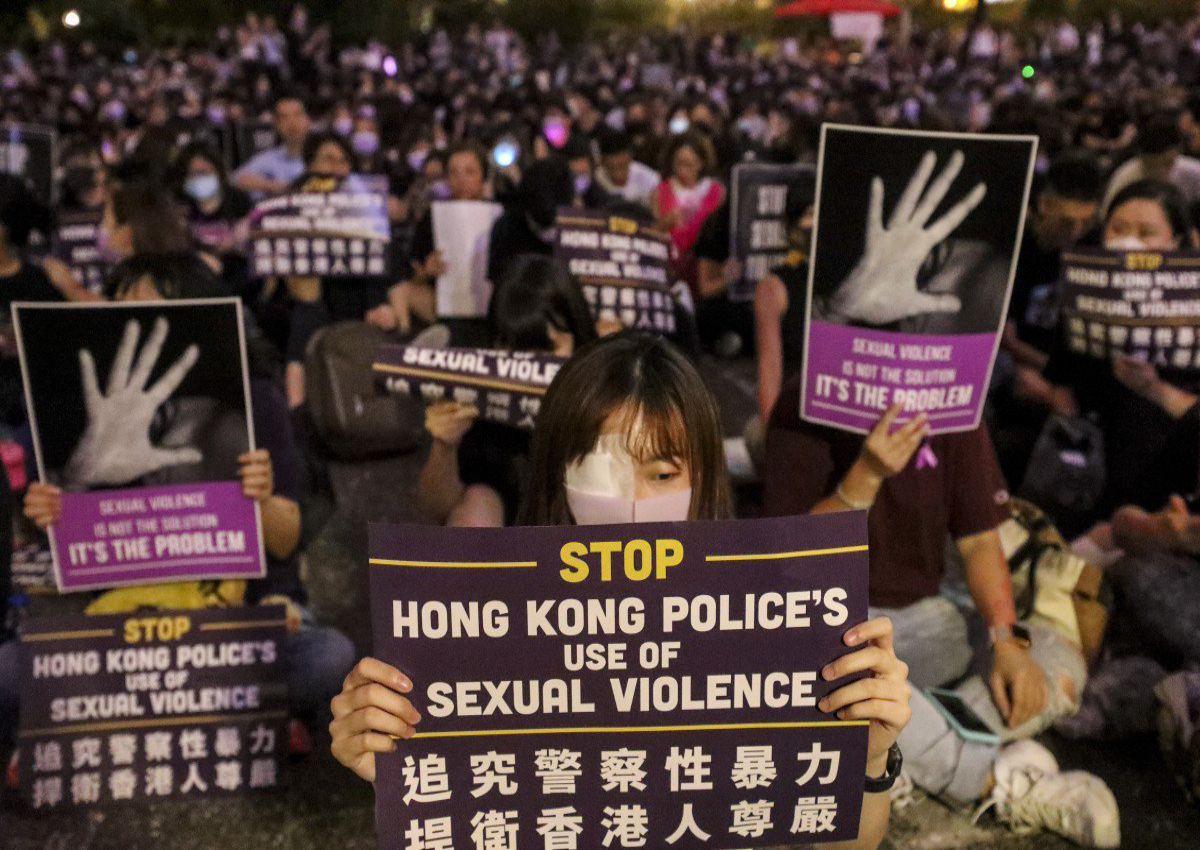 Thousands gathered at Chater Garden on Wednesday to demand answers from Hong Kong police over alleged instances of sexual violence during extradition bill protests.
"In the name of law enforcement, police are using sexual violence as an instrument of intimidation," said Linda Wong, spokeswoman for the Women's Coalition on Equal Opportunities, the organiser of the event.
"The coalition resolutely demands the police force seriously investigate and make accountable acts of sexual violence committed by officers during the anti-extradition bill protests."
Wong cited two cases involving female protesters this month.
The coalition estimated that the rally was attended by 30,000 people. The police said 11,500 people took part in the rally at its peak. Many members of the crowd carried purple ribbons and shone purple lights to show support for the victims, as well as displaying messages echoing the #MeToo movement.
A survey launched on August 21 by the Association Concerning Sexual Violence Against Women found that 46 out of 221 respondents reported having experienced sexual violence since the protest movement started in June.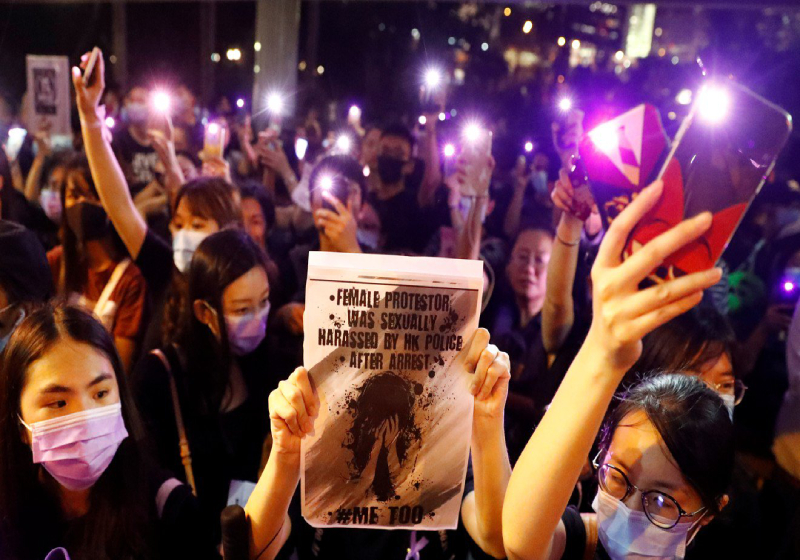 Half of the 46 blamed police or other law enforcement officers, and eight said they had suffered abuse while in detention facilities.
The most emotional speech of the night came from a protester who recently accused police of conducting a humiliating and unnecessary strip-search.
"I will show to the government that we are not afraid. The more you suppress us, the stronger we stand," she said.
The female protester, who broke into tears several times, received a huge ovation as thousands chanted "Add Oil", a common protest slogan. She accused the police of lying and abusing their power. Police officials denied the allegations and on Tuesday claimed to have video footage to disprove the woman's account.
Eight protesters shared experiences of sexual violence with the audience.
A woman who had her underwear exposed when she was being dragged away by police during a Tin Shui Wai protest earlier this month said she was insulted by officers, including being called a prostitute.
"I told them I was wearing a dress and asked them to let me walk. But, of course, they played deaf," she said.
"I am not ashamed of talking about what happened that night, because I did not make any mistakes. I am not a weakling. I don't need people to sympathise with me."
At a subsequent press briefing, Senior Superintendent Yolanda Yu Hoi-kwan said officers had not behaved inappropriately, and blamed the woman for putting up a fight and resisting arrest.
Connie Chiu, 20, a university student, said she decided to join the rally because she had witnessed mistreatment of protesters in the past weeks. "I have seen female protesters being searched and touched by male police officers," she said.
Another protester, Sammy Ho, a 25-year-old office clerk, said she was "shocked and angered by recent allegations of sexual assault against protesters."
Lifeguard Zack Tang, 23, said it was important to raise awareness about the problem, which affects both genders.
"No human being should be subject to such treatment," he said.
Chief Superintendent John Tse Chun-chung said at a daily press briefing hours before the rally that there were strict guidelines protecting the rights and well-being of detainees. He said anyone who had been arrested could approach any police officer to raise concerns, and complaints could be submitted through an existing mechanism.
On August 22, a woman who had been arrested by the police said she had suffered from depression since her detention at a police station, where she said she was subjected to a strip-search by two female officers.
The police this week said officers had found records and CCTV footage that showed the woman was not asked to remove all her clothing.
Lawmaker Tanya Chan, who had helped the protester, described the police comments as "dropping stones" on the victim.
A number of images have emerged on social media mentioning the global #MeToo movement, which has given a voice to victims sexual harassment and abuse. One online post listed six other alleged cases - involving women and men - that protesters described as instances of police use of sexual violence in Hong Kong.
This article was first published in South China Morning Post.