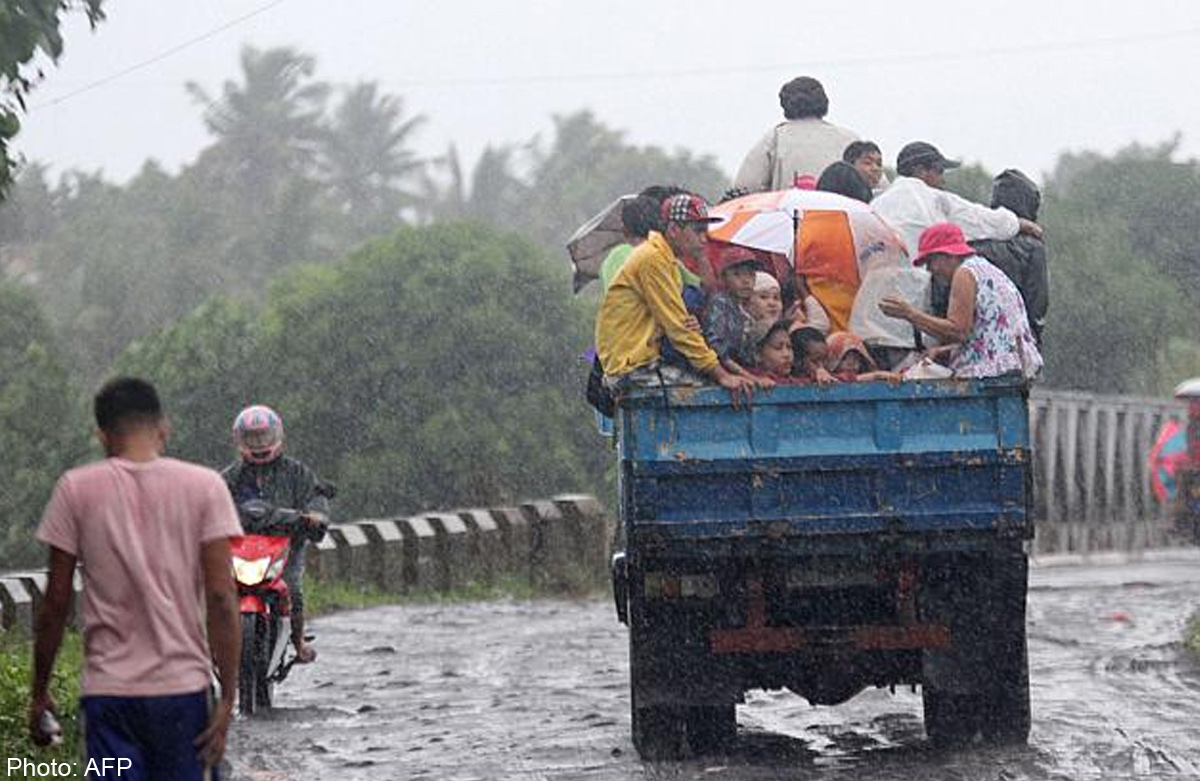 MANILA - Thousands of people in the Philippines fled from their homes on Tuesday as the strongest typhoon to hit the country this year made landfall, toppling trees and cutting power as it made its way straight towards the capital, Manila.
Parts of the Philippines are still recovering from Typhoon Haiyan, one of the biggest cyclones known to have made landfall anywhere, which killed more than 6,100 people last year - many in tsunami-like sea surges - and left millions homeless.
Typhoon Rammasun, with gusts of up to 160kmh and sustained winds of 130kmh near its centre, hit land over Rapu-Rapu island in the eastern province of Albay, the weather bureau said.
It is expected to cross the main Luzon island, with the eye of the storm likely to be over the capital before noon on Wednesday (equal to noon in Singapore).
"The wind is very strong, we are really being battered," Mr Joey Salceda, governor of coconut- and rice-growing Albay province said in a TV interview, adding that he expected high economic losses rather than casualties.
The province ordered the evacuation of low-lying and coastal areas, as well as villages at risk of landslides.
Tropical Storm Risk upgraded Rammasun to a category-three typhoon, on a scale of one to five of which five is the most severe. It is expected to bring moderate to intense rainfall of up to 20mm per hour within its 500km radius.
It is the strongest storm to threaten the country since Haiyan - a category-five "super typhoon" - wiped out nearly everything in its path when it crossed over the central Philippines in November.
Rammasun is expected to bring storm surges of up to 3m in coastal villages, the weather bureau said.
The storm will be the first in about four years to score a direct hit on Manila and storm surges are also likely in Manila Bay.
Disaster officials said at least 300,000 people had fled their homes in Albay province alone, and almost 6,000 ferry passengers were stranded in ports after the coast guard suspended voyages.
About 40 provinces, cities and municipalities on Luzon island, including the capital, suspended all schools and colleges. Thirty domestic and international flights were cancelled, said Mr Alexander Pama, head of the national disaster agency.
Albay and Camarines Sur provinces declared a state of calamity, officials said, which will allow the release of funds for relief efforts.
President Benigno Aquino said the armed forces were on full alert. "I reiterate, the objective has to be: minimise the casualties and the hardship of our people," Mr Aquino said.
The storm will pass north of Eastern Samar and Leyte, the provinces worst hit by Haiyan, where some residents are still living in tents due to slow recovery efforts. Those areas may see heavy rain and strong winds.
Governor Miguel Villafuerte of Camarines Sur said he had asked the army to help with mandatory evacuations.
But despite all the warnings, many residents were reluctant to leave home. "We are prepared for the worst," said 67-year-old Rosemarie Poblete of Tobaco City in Albay, whose family of four lives near a river swollen by heavy rain early on Tuesday.
"We bought extra food and candles and are ready for any emergency," she told Reuters