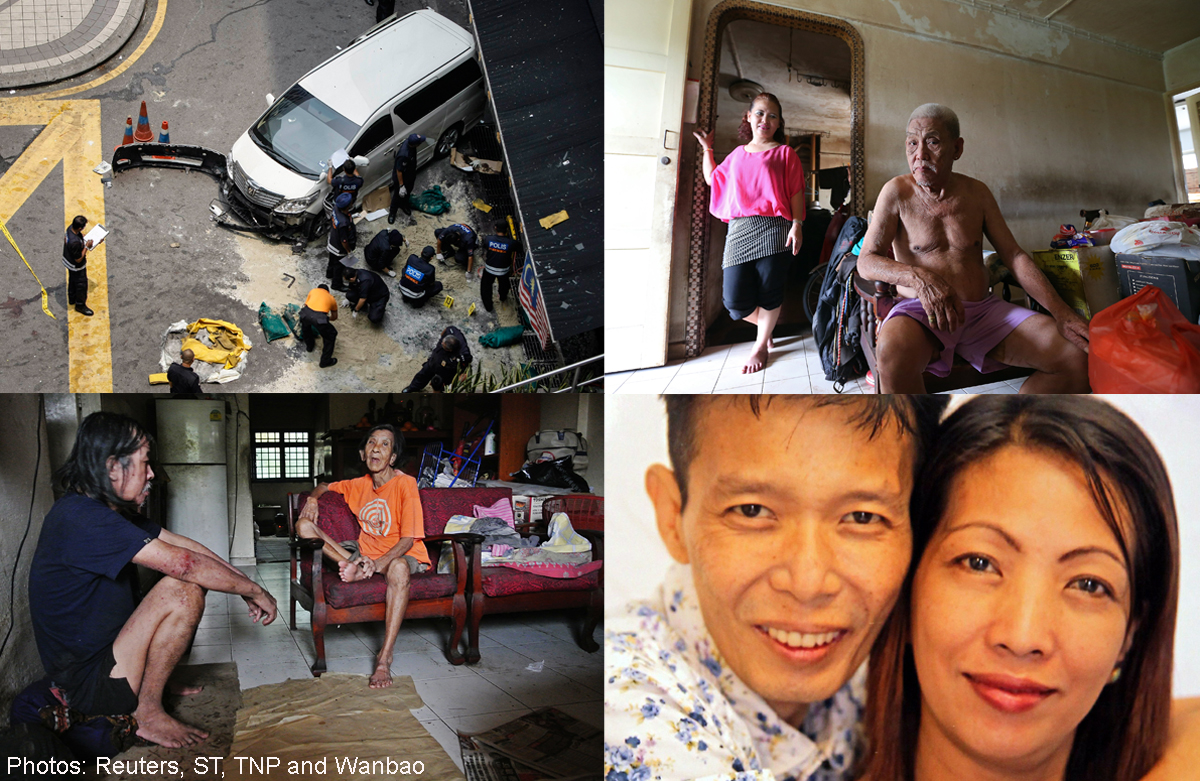 Grenade blast in Kuala Lumpur
A rare grenade blast rocked the Malaysian capital, killing one person and injuring 12, including one Singaporean.
Mr Wong Kim Teng, 67, was visiting the Bukit Bintang shopping district around 4.30am when the grenade went off.
It is an oft-visited area in Kuala Lumpur, with many tourists visiting its large malls and staying at the hotels there.
Mr Wong was walking to his car outside a Kuala Lumpur karaoke club when the grenade exploded.He said then: "It was like thunder.
And suddenly, I saw blood all over me."
It is believed that the target was a man known as Ah Hai, the "Godfather" of a gang, who was reportedly in the club at the time.
A second grenade was thrown at him, but it failed to explode and he was unhurt.
After the incident, Kuala Lumpur police launched a manhunt for Ah Hai, cracking down on several nightclubs.
She cleans faeces off elderly man
People walked quickly past 76-year-old Tan Soy Yong, who had soiled his trousers and had faeces smeared all over his body at a Toa Payoh FairPrice supermarket.
But bedsheet promoter Madam Noriza A. Mansor, 49, stayed to help Mr Tan and his wheelchair-bound wife, Madam Lee Bee Yian, 76.
Madam Noriza bought him a new pair of shorts, grabbed a box of tissue paper and cleaned him up with a pail of water before sending him and his wife home in a taxi.
It was an act of kindness that resonated with TNP readers, many of whom wrote in to offer Mr Tan help.
We caught up with Madam Noriza, who spoke to us over the phone amid a busy schedule selling bedsheets over the holiday season.
GRATITUDE
"Everywhere I go to work, whether it is NTUC (FairPrice), Robinsons or Metro, random people come up to me and hug me, saying 'Thank you'," said Madam Noriza.
Her good deed did not just end there on the day she met Mr Tan.
She has been visiting him and the family every week to help them clean up their Potong Pasir flat, which was once cluttered with junk.
Said Madam Noriza: "Social workers have been going to clean his flat every month too. You see his flat now, it's so nice!"
Mum sleeps next to dead daughter for 4 days
With 2014 coming to an end, The New Paper looks back at the biggest news stories in the past year. Today, we look at the stories that shook the month of October.
More than two months have passed since her daughter was found dead in the bedroom they shared.
But thanks to help she has received since then, Madam Yap Bie Keow, 81, is well taken care of, said her neighbour of more than a decade.
"She's doing so well now," said Madam Nekmah Mahadi, 45, last week.
Since The New Paper reported on the death of her 55-year-old daughter, Miss Cheng Ah Moy, many people have turned up at Madam Yap's door to offer money, support and even furniture.
A group of doctors came forward to help the retiree, who is suffering from cataracts in her eyes and movement disability.
On Oct 15, Madam Yap's daughter had not woken up to eat, drink or move for four days.
DID NOTHING
Most people would have sounded an alarm, but Madam Yap did not, even though they shared a bedroom.
It was only when Madam Nekmah called on her and entered her flat that they discover that Miss Cheng had died on her bed.
The body had given off a stench and the flat was in an unkempt state.
Madam Yap's son, Mr Cheng Ah Jee, 60, had also lived in the two-room rental flat at Bedok South Road.
Both had not suspected that there was anything wrong with Miss Cheng.
After her body was discovered, a grieving Madam Yap told TNP: "I thought (my daughter) was just being lazy."
Madam Nekmah said that her neighbour has got past the grief and is working hard at putting their lives back together.
She told TNP: "With so many people helping, her flat is much neater and tidier. I make it a point to help clean her flat daily, but she's starting to tell me to come less often so that they can learn to be responsible for themselves."
Both Madam Yap and Mr Cheng have been placed in a ComCare assistance scheme, said a spokesman for the Ministry of Social and Family Development.
Under these schemes, they get grant money and vouchers to help them cope.
"It's heartening to see them improve as I've been a neighbour for so long. I'll still keep watch over them," said Madam Nekmah.
'I know his last moments were happy'
Their dream was to get hitched at the Registry of Marriages at Fort Canning.
After that, they would move to the Philippines to live out the rest of their days with their son.
Instead, Mr Joseph Koh, 45, wed his Filipino wife, Mrs Edna Koh, 44, at his bedside at Singapore General Hospital on Oct 14.
Mr Koh donned his military parade uniform from his time in the commandos, and Mrs Koh wore a white dress that they bought together in the Philippines.
He died of pancreatic cancer eight days later.
More than 30 people crowded the room to watch the ceremony.
And thousands of netizens also watched, as a video of them exchanging rings and making vows of eternal happiness was circulated on the Internet.
At his wake, Mrs Koh told The New Paper: "At least I know his last moments were happy."
Today, she and their two-year-old son Jovan are living in the Philippines, fulfilling the dream she had shared with her late husband.

This article was first published on Dec 29, 2014.
Get The New Paper for more stories.