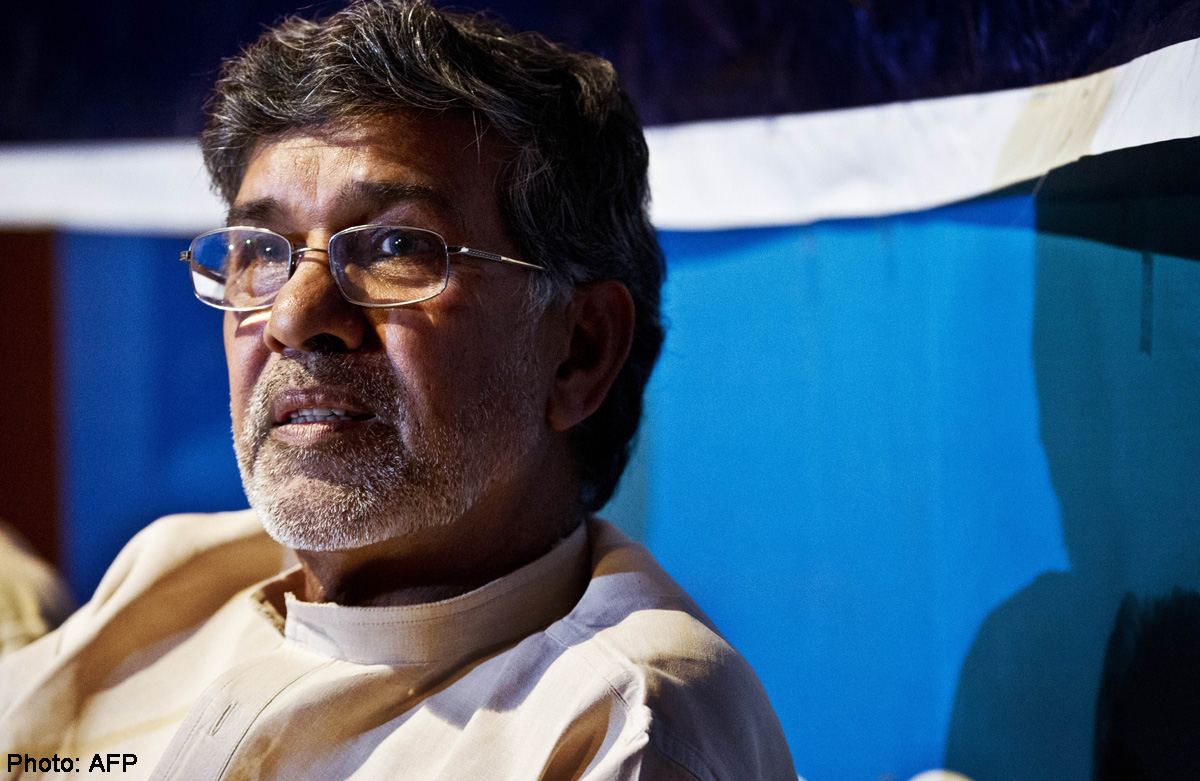 On the day that Indian child-rights activist Kailash Satyarthi was awarded the Nobel Peace Prize jointly with Pakistani teenager Malala Yousafzai, 14-year-old Shakeel was at work.
Working for a company that provides portable lights for weddings, he has to carry the lights, which look like mini chandeliers and weigh about 5kg each, while walking alongside the groom, who is on horseback. It is a Hindu wedding tradition in northern India that the groom travels the last mile to the wedding venue on a horse.
"It's a good job. It is much better than serving tea," said Shakeel, who can earn up to 3,000 rupees (S$62) a month during the wedding season, which peaks in December.
Despite Indian laws that ban children under the age of 14 from taking on hazardous work, children as young as five years old can be found working in mines, farms and factories that make anything from garments to bangles. Still others work as domestic helpers or help serve food at small roadside eateries, which is also considered hazardous work.
In 2001, there were 12.6 million working children, according to government figures. By 2010, the figure for the five- to 14-year age group was revised downwards to about 4.3 million, or less than 2 per cent of the child population.
Child activists believe the numbers are much higher and also point to newer forms of child labour that have emerged in the past decade.
"The form has changed. Previously, large numbers of children worked in registered and unregistered factories," said Mr Bhuwan Ribhu, 35, a lawyer and son of the 60-year-old Nobel laureate, Mr Satyarthi.
"That has shifted slightly towards agriculture and domestic labour, where new cases are being brought to light," he added.
Though awareness about child labour has gone up, it has still not stopped middle-class families from employing minors, often on the justification that they are providing these children from poor families with food and shelter in exchange for work.
It is not uncommon to see a well-dressed family out shopping in a mall, followed closely behind by the children's nanny, who looks underage.
The demand for domestic workers has been fuelled by an expanding middle class over a decade of fast-paced economic growth that has widened the rich-poor gap.
As a result, an underground network of gangs, placement agencies and agents providing a steady supply of underage domestic workers from the poorest areas to the bigger cities is flourishing.
"It is like fruit from Jammu and Kashmir is shipped to Delhi to be sold.
"Similarly, children are being taken from poor areas to be sold in Delhi to placement agencies," said Ms Anuradha Singh, an anti-trafficking police officer from Jharkhand, a poor state and source of child labour. Poverty- stricken families are talked into letting their child go to work in the bigger cities for just a few thousand rupees.
"In the poor areas, there is no awareness. People don't even think it is wrong for a child to work," she said.
"But the problem also lies in the attitude of the people who hire the children," added Ms Singh, who recently arrested a placement agent for child trafficking.
Child-rights activists have been demanding that placement agencies be regulated because they are the major perpetrators of the child labour problem.
Mr Satyarthi's Nobel peace award is expected to sharpen focus on child labour issues and has, in fact, already energised those in the field.
"This is really a win-win situation, especially for activists working on children's issues and those on child trafficking and missing children," said Mr Rishi Kant of Shakti Vahini, a Delhi-based non- government organisation.
"Since the award was announced, the media has focused on the issue of child labour. This is building pressure on the government to create better laws to protect children. This will strengthen child protection," he added.
For the past two years, legislation has been pending in Parliament to introduce a blanket ban on workers who are under the age of 14. Current laws allow children under 14 years old to do light work, such as handicraft, as long as they are also in school.
Activists are now hoping there will be some movement when Parliament sits in December.
Mr Shailesh Rai, programmes director at Amnesty International India, said "real change will also need a reduction in the social acceptance of child labour".
Mr Satyarthi has said he believes child labour can be eradicated in India in his lifetime.
For one thing, children are no longer employed as openly in factories and businesses.
These days, the news media regularly carries reports of children being rescued from factories and homes.
Disparate efforts are also taking place at the state level. In Delhi, for instance, the number of child labourers rescued went up from 709 in 2012 to 808 last year.
Mr Sachin Golwalkar, programme director at ChildFund India, also believes that India's child labour problem can be solved if there is political will.
"We are nowhere near eradicating child labour but if there is political consciousness, together with an intensive drive integrating child protection with better education facilities and social security schemes for poor families, we can get there in 10 years," he said.
Rescued child miner sets his sights on medical school
Manan Ansari studies life sciences at Delhi University and is working hard to get into a medical college.
The 18-year-old first-year student has come a long way since he was rescued as a child miner a decade ago.
Born into a poor family in the state of Jharkhand, Manan was only six when he started working at a mine, together with his parents and three elder brothers. Every day, he collected mica, which is used to make electrical equipment, earning between 10 and 30 rupees (21 and 62 Singapore cents).
He was eight when he was rescued by Bachpan Bachao Andolan (BBA), the organisation set up by child-rights activist and this year's joint Nobel Peace laureate, Mr Kailash Satyarthi.
After convincing the boy's parents that he deserved a better future, the BBA took him to its rehabilitation ashram in western Rajasthan state, where Manan completed his education. He applied for and got into university on his own.
"My parents are so proud of me and now they keep telling me I have to study," said Manan, whose parents and brothers still work as miners, earning 4,000 to 5,000 rupees a month.
He is reminded of how his life could have been so different when he visits his family during the summer holidays.
"I study and attend classes regularly," said Manan, who obtained a good score of 72 per cent in his school leaving examination.
"Only I can understand the kind of conditions I have struggled from. Nobody knows the importance of an education more than me. It is like a hungry person who knows the importance of food," he added.
Manan remains among the biggest successes of the BBA.
He was invited to speak on child rights at the International Labour Organisation conference in Geneva in 2009 and was on the jury of the International Child Film Festival in 2010.
The young man remains grateful to Mr Satyarthi for giving him the opportunity to secure a better future.
"I used to have nightmares about the mines. Now... I have been dreaming about the Nobel prize," said the young man. "I am so happy for bayasahib," he added, referring to Mr Satyarthi as he is known in the BBA.
gnirmala@sph.com.sg

This article was first published on Oct 22, 2014.
Get a copy of The Straits Times or go to straitstimes.com for more stories.