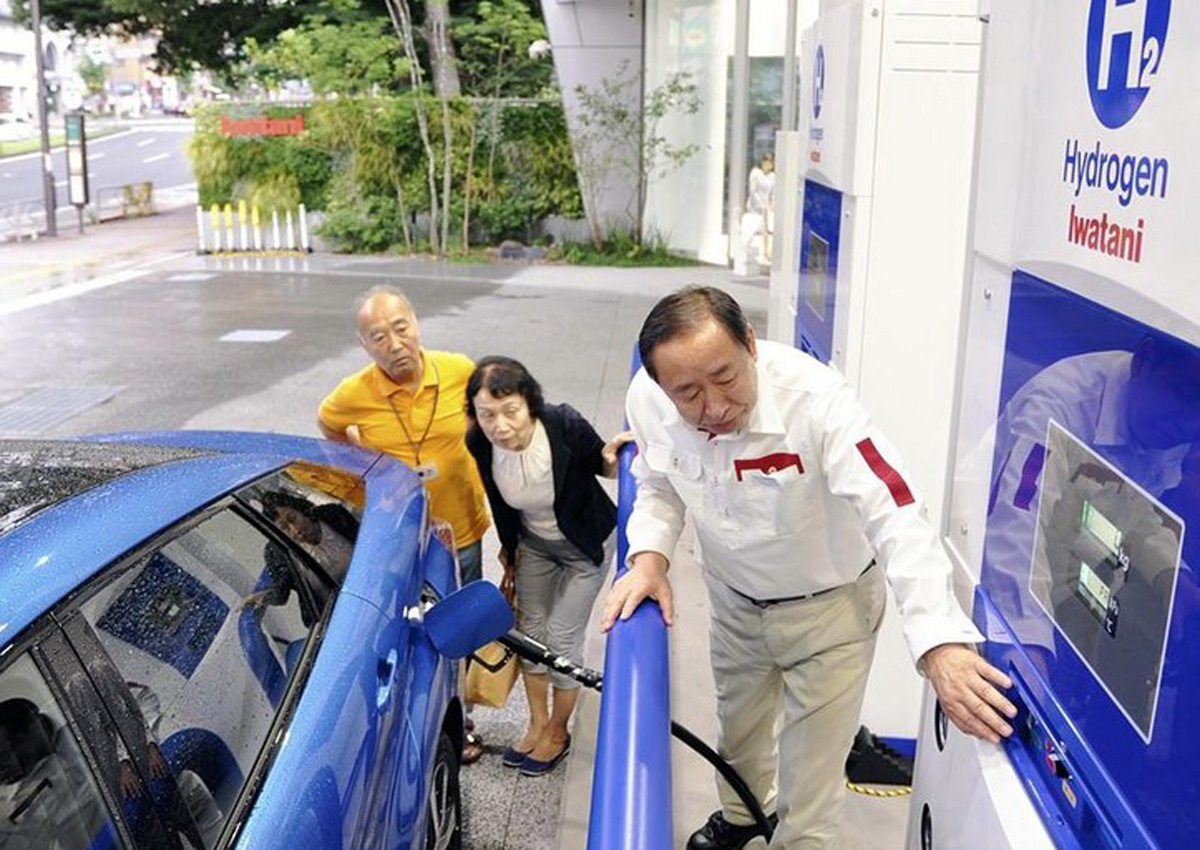 The tailpipe of the car was producing not dark exhaust gas, but the constant drip-drop of clear water.
"Is this water drinkable?" a homemaker in her late 60s asked, putting her hand in front of the car's drain pipe during a test-drive event for Toyota Motor Corp.'s hydrogen-powered Mirai model. The woman and her husband came to the event from Chuo Ward, Tokyo. Her eyes were twinkling.
The event is held for only seven pairs of customers each Friday at a showroom equipped with a hydrogen station in Tokyo's Minato Ward.
It is so popular that vacancies for the next month are all filled within several days of the start of the test drive application period.
The couple applied to the event because their car was due to be inspected this August and they thought it would be a good opportunity to "investigate buying a hydrogen-powered car."
They seemed impressed by the comfortable ride and the cleanliness, both of which were beyond their expectations.
"We are a little concerned by the small number of hydrogen stations available," they said. "It will be great if [hydrogen cars] become common vehicles a few years from now."
A fuel cell generates electricity by a chemical reaction between hydrogen fuel and oxygen in the air. The reaction does not produce carbon dioxide - only water.
The government and relevant organisations are aiming to promote hydrogen vehicles and hydrogen power generation, both using fuel cells. They intend to make the 2020 Tokyo Olympic and Paralympic Games a showcase for a hydrogen society.
The Tokyo metropolitan government aims to increase the number of hydrogen vehicles on Tokyo's streets to 6,000 in five years - about 300 times the current number. It also aims to open 35 hydrogen stations around Tokyo so that a driver can reach any one of them in 15 minutes.
To realise those goals, the metropolitan government plans to invest a total of ¥45.2 billion in the form of subsidies and other initiatives.
There is also a plan to use hydrogen buses for the bus rapid transit system that will connect central Tokyo with the seaside area where the Olympic venues are concentrated.
The Land, Infrastructure, Transport and Tourism Ministry, the Environment Ministry and others are boosting their efforts to develop "hydrogen ships" as well. Such ships are expected to be used as water buses, that will carry tourists and visitors to the venues during the Olympic period, and as yakatabune, old-fashioned pleasure boats.
The Olympic village to be built in Tokyo's Harumi district is planned to use fuel cells as power sources for hot water, air conditioning, lighting and other purposes.
There is also a plan to install fuel cells in the new National Stadium so that it can serve as "the biggest shelter in the world" during a natural disaster.
"I hope the day will come when people will recall, 'It was at the Tokyo Olympics when we started using hydrogen as fuel,'" said an official from the Tokyo metropolitan government.
However, how and where to produce the hydrogen and how to transport it are major problems. A metropolitan government official said, "Japan will only lose trust if hydrogen is not supplied in a stable manner and results in frequent blackouts."
Toshiba Corp. is one of the companies working hard on the development of hydrogen technology.
It built the Hydrogen Energy Research & Development Center in Fuchu, Tokyo, in April. The facility contains a rocket-like hydrogen tank about 1.5 meters in diameter and about 10 meters long.
The centre aims to develop technologies for producing hydrogen with solar power and other renewable energy sources and storing hydrogen for a long periods in order to supply it in stable manner.
"We can show our technological strength to visitors from around the world by supplying hydrogen to the Olympic village and competition venues," said Hiroyuki Ota, a member of the Toshiba project team.
Kawasaki Heavy Industries Ltd., based in Minato Ward, Tokyo, is developing technologies to produce hydrogen in Australia and ship it long distances in container ships. Chiyoda Corp. of Yokohama has been working to commercialize technology for transporting hydrogen in a tanker under normal pressure and temperature.
Tokyo University of Science Prof. Takeo Kikkawa, an expert in energy, said, "The Olympics will be a perfect opportunity for Tokyo to receive the spotlight as a 'hydrogen-using city' ahead of other cities in the world."