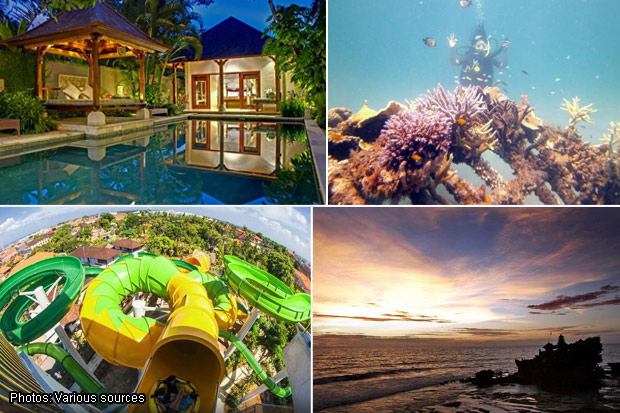 This article was originally published on the flight comparison site Skyscanner.
In a fast-paced city like Singapore, finding time to spend with our family has become increasingly difficult. However, nothing beats an escape from the monotonous city to a beautiful beach with your family. From luxury villas and resorts to affordable accommodation by the beach, Bali is the perfect destination for you to enjoy some family-bonding time. If you're still clueless, Skyscanner has some recommendations on what you can enjoy as a family in Bali:
1. Snorkelling
No one comes to this island to stay away from the sea! Head down to Menjangan Island (in Bali Barat National Park) for one of the best snorkelling sites in Bali. You will find plenty of marine life in this area which includes live corals and a variety of fishes. If you are feeling a little more adventurous, check out the "Japanese Wreck" at Amed or the "USS Liberty Wreck" at Tulamben. If you are into scuba diving, be sure to head off the coast of Nusa Lembongan and try to the spot the heaviest known bony fish in the world - the Ocean Sunfish (otherwise known as mola mola).
2. Sacred Monkey Forest Ubud Sanctuary
Owned by the village of Padangtegal, the Sacred Monkey Forest Ubud Sanctuary (or more intimately known as Mandala Wisata Wenara Wana) have seen the number of visitors increase exponentially over recent years. The forest sanctuary houses three holy temples within it and is inhabited by Balinese macaques. Purchase some bananas to feed the hungry macaques but watch out for your belongings! These playful macaques are notoriously known for taking things that do not belong to them, so keep your belongings out of plain sight.
3. Waterbom Bali
Waterbom Bali is located along the famous Kuta stretch, featuring many exciting rides and attractions. Spend a day at Waterbom Bali riding the exhilarating water slides or dine at one of the restaurants. There is something for everyone so you're bound to find something! Depending on your preferences, drift through lush tropical foliages on the Lazy River or scare yourself silly with the famous Green Vipers ride. Ticket are priced at US$33 for adults and US$21 for children aged 2 to 11, children under 12 must be accompanied by an adult. Take note though, towels are not provided for free but are available for rental.
4. Pura Tanah Lot (Tanah Lot Temple)
Literally translated from 'Land in the Sea', Tanah Lot is one of Bali's most visited attractions. The pilgrimage temple on top of Tanah Lot is only accessible during low tide, so be sure to time your visit well if you wish to enter the temple. At high tide, indulge in a little visual feast as you watch the strong waves crash upon the surrounding rocks from afar. There are a total of seven known Balinese sea temples built to honour the gods of the sea.
5. Stay in your resort/villa
Last but certainly not the least, nothing beats the feeling of sleeping in and spending quality time in your very own villa or resort. Take advantage of the facilities in the resort, spend some time reading your favourite magazine or book on the private beach or simply take a dip (or two) in your personal plunge pool. If you intend to spend plenty of time in your room, it may be a good idea to indulge in a suite (instead of two rooms if you are travelling with children) since it may work out to be cheaper! Search for hotels with Skyscanner to find great accommodation deals.
If you are looking for a place to clear your head and to focus on what is most important - family and friends - then look no further! Bali offers a great (and reasonably priced) escape from the hustle and bustle of this city.
Click here for the original article or visit the flight comparison site Skyscanner for more.