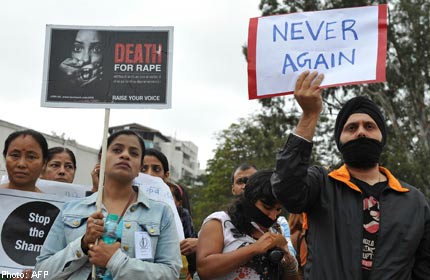 NEW DELHI - India's top federal police officer apologised Wednesday after being condemned by women's rights group for making a clumsy rape analogy during a public appearance.
Ranjit Sinha, director of the federal Central Bureau of Investigation (CBI), was arguing Tuesday that the state should overturn its ban on betting because it was not enforceable.
Speaking in halting English, which is his second language, he appeared to then acknowledge that this argument could not be made for all crimes. "It is very easy to say if you can't enforce it...it is like, 'If you can't prevent rape, you enjoy it'," he said.
For betting, "it is better to have something, legalise it and earn some revenue, rather than throwing your hands up and let things happen," he continued.
The reference to enjoying rape, seized on by the local media, led to condemnations from women's rights campaigners, leading Sinha to apologise on Thursday.
"I regret any hurt caused as the same was unintended and inadvertent. I reiterate my deep sense of regard and respect for women and commitment to gender issues," Sinha said.
Sinha added he was seeking to say that betting should be legalised and "laws cannot be enforced. That does not mean that laws should not be made."
India has become hugely sensitive to gender issues since the fatal gangrape of a student in New Delhi last December stirred nationwide protests about violence to women and prompted calls for profound changes in social attitudes.
"Such an irresponsible and insensitive comment is simply inexcusable," tweeted Indian drug company Biocon's female chief executive Kiran Mazumdar Shaw, saying Sinha had "rendered himself unfit to hold this office".
Communist leader Brinda Karat went further, urging prosecution of the CBI director, saying trivialisation of such a crime as rape sends "a very wrong message. He has no right to continue in office".