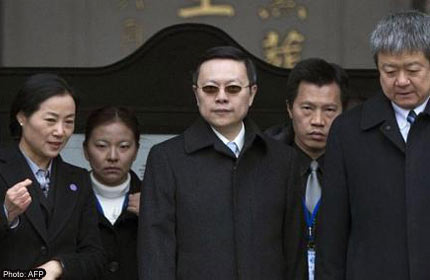 TAIWAN'S official in charge of mainland affairs went on a charm offensive in Nanjing, extolling Taiwan's society, culture and democratic system to a mainland audience of students and teachers.
From its mountains and seas to the people's warmth and "human compassion", Taiwan has much to offer, said Mr Wang Yu-chi, so much so that mainland students studying there "may find themselves not wanting to leave".
More pointedly, he stressed that Taiwanese are deeply proud of their democratic system and civil liberties.
Speaking at Nanjing University on Wednesday, he told an audience of about 190 that as chairman of Taiwan's Mainland Affairs Council, he is under a lot of pressure from both the media and legislators.
"But this is the essence of democracy, and so, officials are scrutinised and cannot abuse their power or commit fraud. This is something we are proud of."
It is within this principle of human rights that Mr Wang raised the issue of visitation rights for Taiwanese prisoners on the mainland, which Taiwan is angling for.
It is also why, he added, Taiwan hopes to help out alongside China in combating global disasters or epidemics - a possible pitch for the island to have more international space such as a seat on the World Health Organisation.
To a student who expressed puzzlement at a protest in Taipei over textbook revisions referring to China as "mainland China" - a change that irks those who are pro-independence - Mr Wang explained that Taiwan is a society with multiple voices, and that everyone is treated with respect.
"You may feel uneasy but our people are used to a diversity of opinions. This is how we are in Taiwan," he said.
Mr Wang, the first Taiwan government official to make an official trip to China, began his speech by recounting how in 1990, he was part of a National Taiwan University team facing a team from Nanjing University in the finals of a varsity debate held in Singapore. The motion: Mankind co-existing in peace is an ideal that can be realised.
He recalled that his team argued this was not possible because though people yearned for peace, there were still conflicts because they did not learn.
"But I'm more optimistic that with our wisdom, we can learn from the past," he said.
He traced the cross-strait relationship over the past 65 years, which hit its nadir in the mid- 1990s when Chinese missiles were lobbed into waters near Taiwan. But it has recovered, culminating in this week's historic trip because of "sincerity on both sides". Now, said Mr Wang, "I am here to look for the possibility of cross-strait peace" - and to prove that "mankind co-existing in peace is possible".
Young people on both sides of the Taiwan Strait are key in moving ties forward. Taiwan liberalised rules in 2009 to allow mainland students to study there.
One reason is that "genuine friendships forged will bridge differences and there will be permanent peace", said Mr Wang.
He noted there "are still many differences between the two sides, in terms of culture, thinking and systems".
But the new generation will carry less historical baggage.
"For both to increase understanding, we need creative energy, generosity and wisdom to untangle the knots one by one," he said, adding: "This is my hope."
Professor Tung Chen-yuan from the National Chengchi University said allowing Mr Wang to make a speech that trumpets Taiwan's democratic system reflects China's own confidence.
"But we will have to see if mainland media covers it comprehensively," he added.
Mr Wang visited the Sun Yat- sen Mausoleum, where the body of the founding father of modern China lies. Dr Sun is revered by both the Kuomintang and communists for his role in leading the revolution against the Qing Dynasty.
Bowing thrice to his statue, Mr Wang said that in the past, Taipei could only gaze at the mausoleum from afar. Now, he was there to represent Taiwan in paying respects. He said he believed Dr Sun would be gratified to know that his "Three Principles of the People" philosophy - nationalism, democracy and the welfare of people - is being practised in Taiwan.
Mr Wang leaves today for Shanghai, where he will meet his mainland counterpart Zhang Zhijun again after their first meeting on Tuesday.
The United States on Tuesday welcomed the first formal meeting between the two sides.
"We welcome the steps both sides of the Taiwan Strait have taken to reduce tensions and improve relations between Beijing and Taipei," said a US State Department spokesman.
xueying@sph.com.sg

Get a copy of The Straits Times or go to straitstimes.com for more stories.