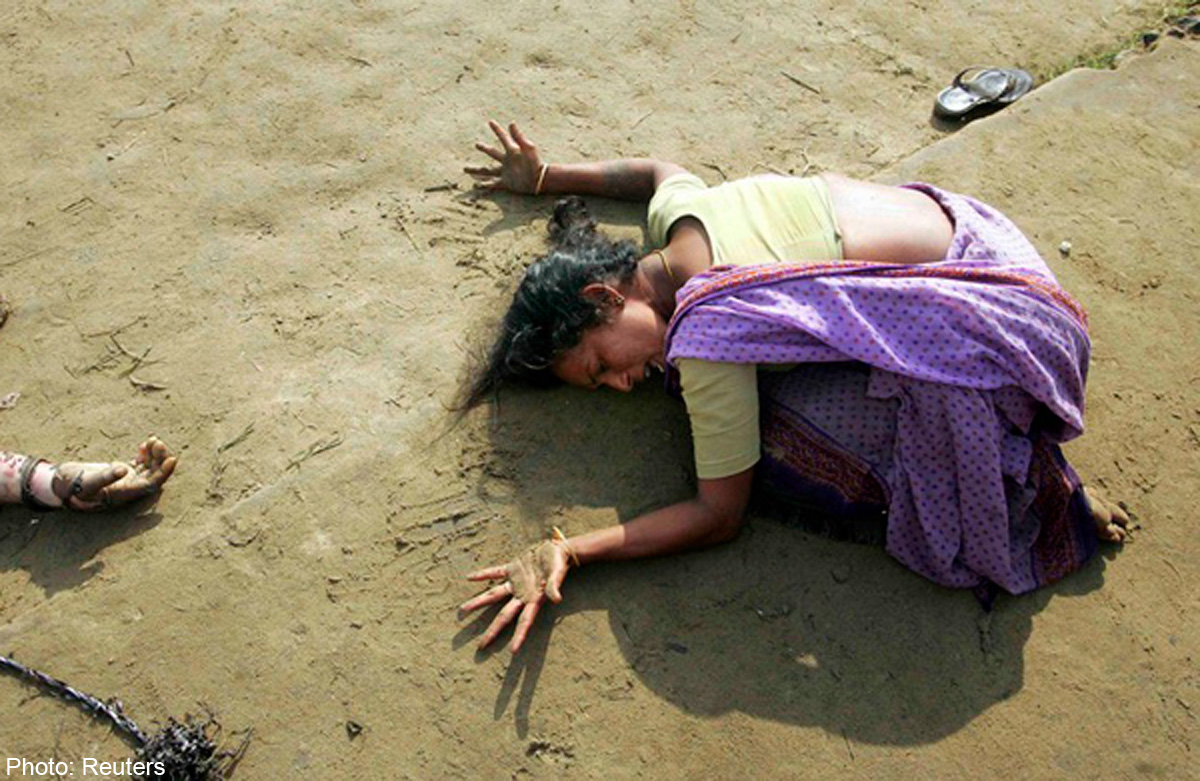 RAGGED with exhaustion and grief, Ms M. Indira was unaware that someone was taking a picture of her sprawled helplessly on the beach next to the body of her sister-in-law Maheswari 10 years ago. For three days, she had stumbled through the rubble left by the tsunami that hit the Tamil Nadu coast on the clear blue sky morning after Christmas in December 2004.
Off shore, bodies occasionally floated by. Many were bodies of children. Her own three children had survived but she had been away at the market well inland and endured a day and night of agony before she found them.
With them safe, she had set out to find other family members. Maheswari's body was already decomposing by the time Indira located it and collapsed on the beach, wailing with grief and banging her forehead on the hard wet sand near the young woman's outstretched hand.
Arka Datta, then a Reuters photographer, captured that moment. The picture was published all over the world, and won that year's World Press Photo of the Year award.
Today, Ms Indira owns a cement house in her own name, compliments of the government's massive effort to provide proper housing for hundreds of thousands who had been living in vulnerable clay and thatch houses on that awful day on the disaster-prone coast which was also battered in 2011 by Cyclone Thane. It is a big improvement over the flimsy dwelling that was partially damaged in the tsunami that destroyed most of her few possessions.
But apart from that, the fame the photograph brought has not made her better off. She was poor to begin with, and now in debt and more or less alone; her husband had abandoned her and their family years before the tsunami.
Aside from the twist of the picture, Ms Indira's story is not unusual. South of Pondicherry, down Tamil Nadu state's fabled Coromandel Coast from Cuddalore to Nagapattinam, fishing villages that were on the shore and were struck by the tsunami were wiped out. More than 16,000 people died on the coast; the fishing communities were the worst hit.
Tens of thousands of houses have been built for those who lost their homes, mostly in places further from the shore. Up to 80,000 boats were damaged or destroyed and new ones given to all of their owners.
But in some of these communities, there remains a sense of dislocation. The tsunami altered not just this region's physical contours, but its social and psychological landscape too.
Money poured in - from aid organisations, the government, the United Nations, the World Bank, the Asian Development Bank and an array of non-governmental organisations (NGOs) - and it brought relief and hope.
Today, the spinoffs continue. For example, one remote rural school in Nambikkai in Cuddalore district, set up for tsunami orphans with Italian aid, now provides schooling for orphans in general, as well as children from dysfunctional families. Italian university students take turns to teach there.
The Irula tribe, once semi-nomadic and who until the 1970s made a living from catching snakes and supplying the snakeskin market, also benefited. The tribe lost homes and possessions and livestock in the tsunami, but being largely situated well back from the beach, no lives were lost.
The community of 65 families in Thottithopu, Cuddalore, have been able to rebuild their homes and lives with assistance from the state and from NGOs which, among other things, have paid for new school facilities.
Before the tsunami, few of the children in the affected districts went to school and fewer still completed their schooling; today, all go to school. Even some of the older, illiterate women have learnt to sign their own names.
Girls, who once routinely dropped out of school on reaching puberty, stay in school longer today. Some are training to become nurses. Ms S. Vijayalakshmi, 29, who is now a qualified teacher, describes herself as a "creation of the tsunami" because of the opportunities the disaster opened up in its wake as aid and attention poured in. "Education was given priority only after the tsunami."
But there are exceptions. In many communities, the aid and rebuilding have not addressed fundamental problems. For example, houses have toilets - but it is a struggle to teach some communities, who have for generations just used the surrounding countryside, how to use them. In some places, ground water became saline; in one resettled village, residents have to pay two rupees (four Singapore cents) for a 5-litre container of fresh water from a private water truck.
The state government is trying to eliminate the factors that contribute to making disasters worse, says Mr Suresh Kumar, the District Collector - the top official - of Cuddalore. In an interview, he says: "We are converting more and more temporary houses into full-fledged houses; we are in the process of constructing 80,000 such houses." Under another scheme, 100,000 houses had been built, he says.
"The government played an excellent role," says Mr Arul Selvam, an independent environmental and social activist who helped coordinate rescue and relief efforts after the tsunami.
But the trauma still runs deep, he says. "Can you imagine the impact on the fishing communities? Usually when you lose a family member, it is a big loss. In some families, several were killed. How do you fill the void?"
Mr C. Malarvannan, another Cuddalore-based activist who trains village teams in disaster response, tells The Straits Times: "The tsunami left many mentally disabled. Children saw their parents die. Old people saw their children die."
The avalanche of money has also changed people, say activists who work closely with communities. Some of the activists view aid organisations with scepticism.
At the famed shrine to the Sufi saint Hazrat Shahul Hamid at Nagore in Nagapattinam district, resident Abdul Hamid Sahib shows me the mass grave of some 400 tsunami victims of all faiths.
"Money poured in," he says. "It was eaten up by people who were helping the tsunami victims. The survivors paid the price for their prosperity. They got houses, and 100,000 rupees from the government. But who prospered and who did not, is up to that person's capabilities."
Ms P. Vanaja, who arrived in Nagapattinam district on the day of the tsunami and has run part of the operations of the Indian NGO Sneha there ever since, says the 10 years that followed the disaster had been a mixed experience.
"A consortium of NGOs and the government were able to use the money to construct houses, but many don't have basic facilities like water connections, and some don't have weatherproof roofs. And up to 3,000 families still don't have houses," she says.
And she echoes the views of many of the other activists who spoke with The Straits Times, who say the nature of communities has been disrupted.
While communities once were together, some have been split up by the relocation and re-housing projects. More change looms. The coast between Pondicherry and Nagapattinam is now pocked with the soaring towers of heavy industries under construction - power plants, an oil refinery, ports and chemical plants. The districts of Cuddalore and Nagapattinam are considered "backward" and the state government wants to industrialise them and create jobs.
"The fishing community has been told they shouldn't be within 500m of the high-tide line," says Ms Vanaja. "But the state government is giving the land to power plants and hotels, so it seems like a hidden agenda."
In Cuddalore, Ms Indira speaks volubly for two hours about her memories, her life and her travails. She shows me receipts for the few bits of jewellery she has pawned. Her two daughters are married, and her brother is able to help her only occasionally. Her son, now 18, goes out fishing all night and does little to help her, she says. A tall wiry lad with an earring, he walks in only briefly while we are speaking and then disappears.
Fainting spells led her to give up cooking food for a pavement stall she used to run. She is just 42, she estimates, but already in failing health; her left foot hurts, and she has to hobble. During the interview, she coughs, then goes outside and retches.
Her accidental fame attracted lots of visitors. Droves of media people, government officials and NGO workers have been to see her, thanks to the award-winning picture. But they left only empty promises, she says.
From the bare, stained and pitted concrete walls, the cardboard that serves as a blind in the window, the absence of a fridge, it is obvious she lives virtually from hand to mouth. Yet she senses the jealousy of muttering neighbours who assume she is being showered with money. "Just wait, after you have gone, they will come round and ask how much you have given me," she tells me.
Under a government programme for female heads of households who do not have support - usually that is a man - she was granted a monthly pension of 1,000 rupees last year, but claims the payouts stopped after six months and she is trying to find out why.
Before I leave, she produces a pouch and shows me her government ration card which has the names of her children on it. With it are clippings of the fateful picture, one of them from the cover of the prominent news magazine India Today in January 2006.
And standing at the entrance of her house to see me off, she finally laughs as she says: "Why do you want to take another picture of me again? There are thousands all over the place."
nirmal@sph.com.sg
This article was first published on December 20, 2014. Get a copy of The Straits Times or go to straitstimes.com for more stories.