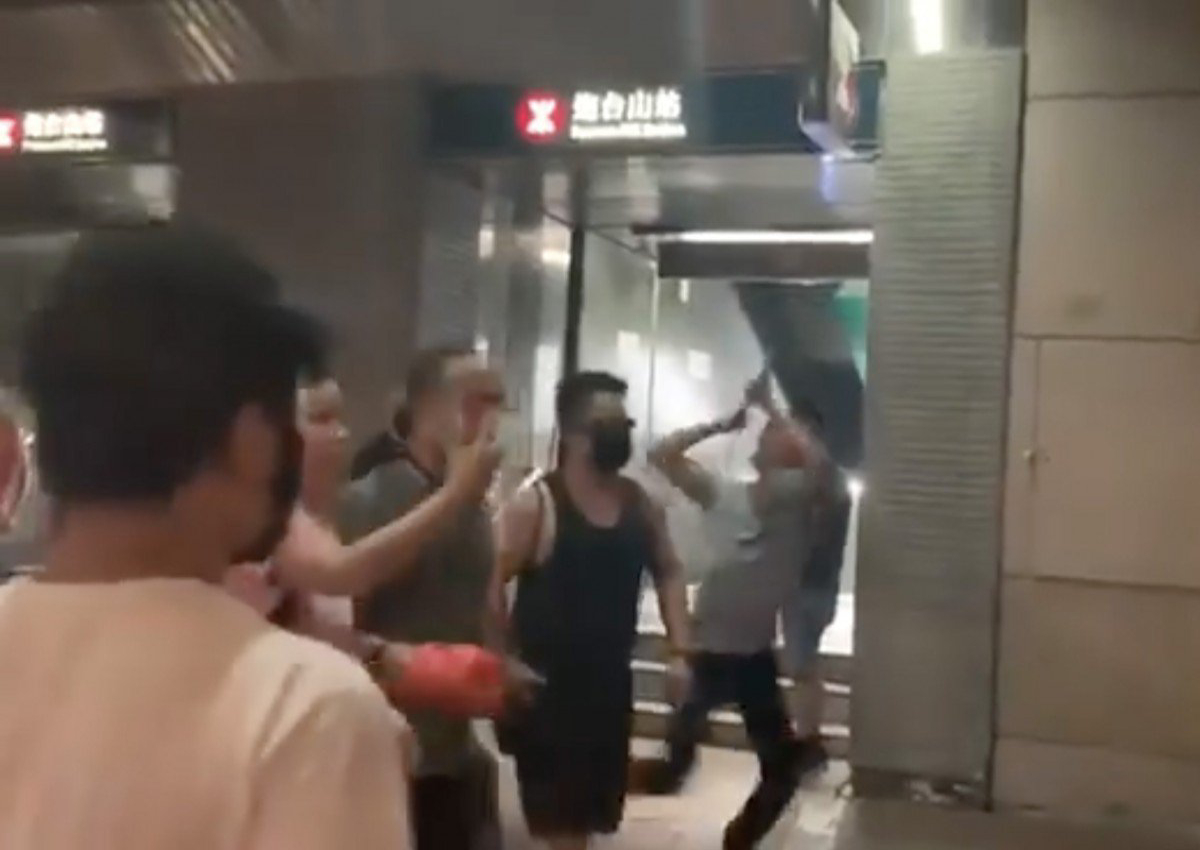 Fights erupted outside a Hong Kong MTR station in the early hours of Sunday, reportedly over a nearby "Lennon Wall", leaving at least two men injured.
The escalating tension in the city also resulted in the beating of at least two government supporters, including a woman, on Friday and Saturday, when they clashed with protesters.
Local media footage of the incident outside Fortress Hill station showed a scuffle between two groups of people just after midnight, which happened after several men removed posters from a Lennon Wall there.
The walls, where protesters post supportive messages for each other, have sprung up all over Hong Kong in the past couple of months.
Two men in the group that tried to remove posters from the wall were holding a pipe-like object and a long stick, and assaulted people who argued with them. Another man from the group also punched a person from the opposite side.
Someone who tried to stop the assault sprayed an unknown substance on the man with the pipe-like object, who had attempted to attack him with it.
Police said they received two reports of assault outside the station at 12.24am and 12.40am, involving injuries to a 29-year-old man and a 31-year-old man. Police said the pair, who were of opposing political views, were sent to Ruttonjee Hospital in Wan Chai for treatment.
As of lunchtime on Sunday, no one had been arrested over the incident.
Meanwhile, a man was reported to have been beaten up during a rally in Tamar Park on Saturday night, at an event marking the fifth anniversary of the Occupy movement.
In a video posted on the Facebook page of state-run news agency Xinhua, the man, who was in a white top, was shouting "Hong Kong is forever part of China".
He was beaten up by a few people in black, and had blood all over his face.
Police said they received an assault report at 8.13pm from Lung Wo Road, where a man who suffered head and hand injuries was said to have been beaten up.
But it was unclear if the man was the same as the one involved in the Xinhua report.
On Friday night, a woman was reportedly assaulted by anti-government protesters after she took down posters inside a pedestrian tunnel near Edinburgh Place in Central.
Thousands of people were attending a rally in the public square at the time, to raise concerns over San Uk Ling Holding Centre, where arrested anti-government protesters had been detained.
Police said a 51-year-old woman had reportedly been attacked at around 10pm that night, and sprayed with paint. The victim suffered injuries to her head, hands and legs, but refused to be sent to hospital for treatment, police said.
This article was first published in South China Morning Post.