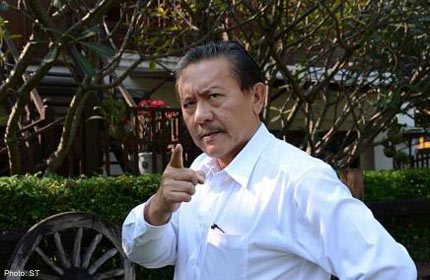 MR CHUWIT Kamolvisit, 53, a massage parlour tycoon-turned-politician, is known for his colourful and often controversial remarks.
This time, he has a deadly serious message to share: Thailand will plunge into civil war if its neutral majority does not emerge soon to condemn recent violence and force conflicting sides to compromise.
The country's political crisis, four months old now and with 200 dead and more than 700 injured, is not a "normal" conflict, said Mr Chuwit. "In a normal situation, they protest in the streets for a couple of months and then they start to negotiate. This is something more," he said in an interview with The Straits Times at the headquarters of his Rak Prathet Thai (Love Thailand) party in central Bangkok.
Since early December, Thailand has been in limbo after Members of Parliament from the main opposition Democrat Party quit en masse and took to the streets to demand that caretaker Premier Yingluck Shinawatra step down.
Protest leader Suthep Thaugsuban wants Ms Yingluck to make way for an unelected "people's council", as part of an amorphous plan to fight corruption and rid Thailand of the influence of Ms Yingluck's brother, former premier Thaksin Shinawatra.
Protesters have blocked Bangkok's key intersections, hounded civil servants out of government buildings, and this month disrupted Thailand's general election. Meanwhile, unknown individuals have staged increasingly violent attacks near rally sites.
Mr Chuwit is himself a self-styled anti-corruption crusader, but he is no lover of Suthep.
The tall, broad-shouldered man burst into public consciousness in 2004 by publicising the bribes he paid to the police. Brash and disarmingly candid, the father of seven said he went into the massage business because he "wanted to be Hugh Hefner", the founder of Playboy magazine.
At the peak of his massage business more than 15 years ago, he was making 1 million baht in cash every day. When people called him a pimp, he replied: "I'm not a pimp, I'm a super pimp."
He has since sold off his massage outlets and owns the upmarket Davis hotel in Bangkok's exclusive Sukhumvit Soi 24. But years in the massage business have left him with enough street smarts to see through the fog of Thai politics.
"Someone is behind Suthep and that someone is very strong and powerful. I cannot mention who. But I believe so, like many Thai people believe so."
Asked to elaborate, he gave the analogy of a house with ailing parents, whose siblings were fighting over inheritance. "Let the people judge," he said.
When Mr Chuwit first ran his political campaign, he said, he asked poor people if they would vote for a party if they were given 500 baht. They would agree. Then he went to rich people, and asked if they would sell their votes for five million baht. They agreed.
"So they say Suthep is less corrupt and Thaksin more corrupt," he said.
"But if Suthep is as powerful as Thaksin, maybe Suthep might be more corrupt than Thaksin. Who knows?"
The problem is that Suthep has so far refused to negotiate.
"We need to force the one behind Suthep to talk. If they don't talk... the fire will burn the whole house down."
tanhy@sph.com.sg

Get a copy of The Straits Times or go to straitstimes.com for more stories.