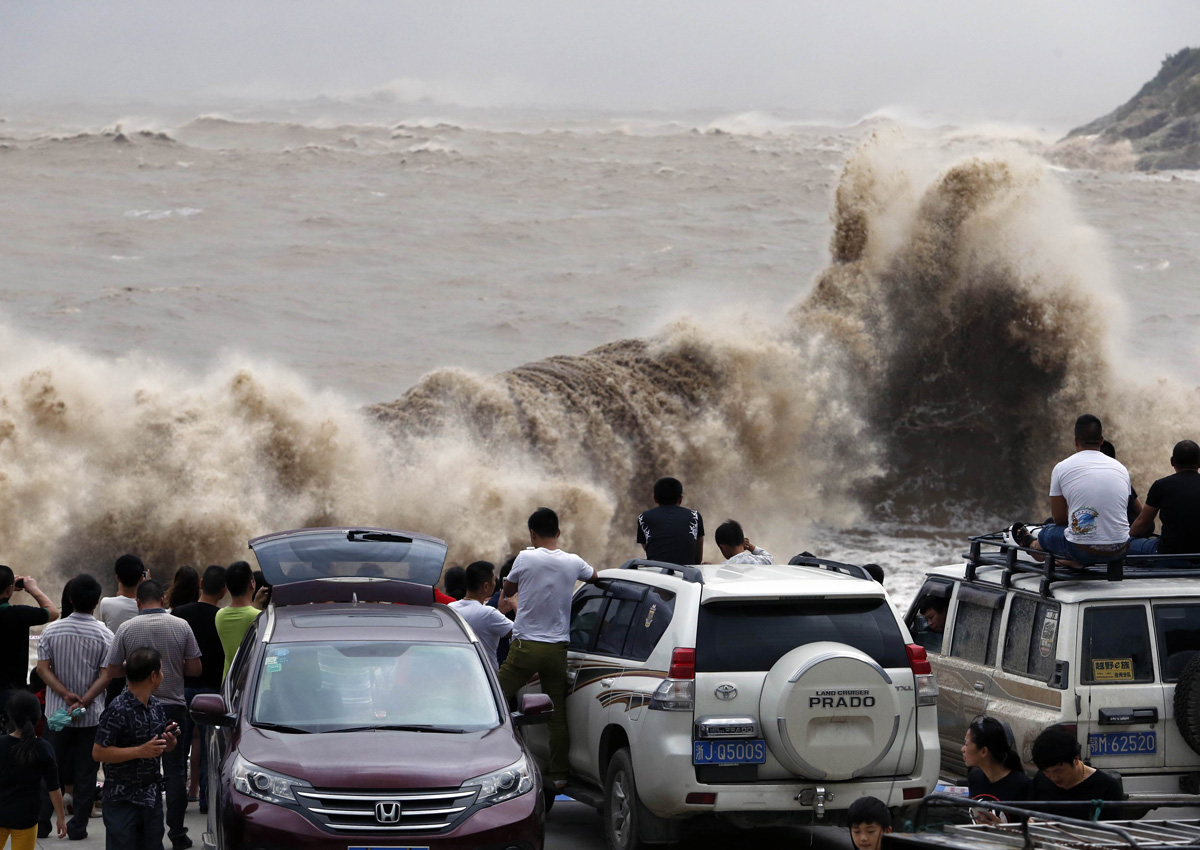 SHANGHAI - Typhoon Chan-hom paralysed transport links and devastated farmland on China's eastern coast near Shanghai on Saturday, after nearly a million people fled the approaching storm, the government and state media said.
No casualties have been reported so far, the official Xinhua news agency reported.
China's National Meteorological Center (NMC) said the typhoon could make landfall later on Saturday in Zhejiang province near the port of Ningbo, home to almost six million people.
The severe typhoon could be the strongest to hit Zhejiang in any July since 1949, it previously said.
But Hu Yaowen, deputy head of Zhejiang's flood control and drought prevention headquarters, said it might narrowly pass by the province and veer north, Xinhua reported.
At 3pm (3am Sunday Singapore time) on Saturday, the storm was around 50 kilometres from the Zhejiang coast and packing winds of up to 162 km per hour, said the NMC, which maintained its highest red alert for the typhoon despite downgrading it from "super" to "strong".
Zhejiang has evacuated around 960,000 people and called its entire fishing fleet back to port, state media said. Provincial authorities said earlier that nearly 30,000 vessels had moored safely.
Typhoon winds blew down trees and street signs across Zhejiang and knocked down an unoccupied building in the city of Cixi, provincial television reported.
In Zhejiang's Sanmen county, local television showed dozens of melons floating in a flooded field, as a farmer lamented his lost harvest. "There might be no crop this year," he said.
Some parts of Zhejiang were deluged with more than 30 centimetres of rain in the 24 hours before Saturday morning, the local government said. In Taizhou city, rain triggered a landslide which briefly blocked a road.
More than 600 flights at four airports in Zhejiang were cancelled, Xinhua said.
Shanghai residents told to stay home
In Shanghai, the city government maintained its second most serious typhoon alert, urging people to stay home and cancelling several public events as rain picked up towards midday.
"We recommend everyone does their best to use 'squatting at home' tactics to welcome the typhoon," the Shanghai government said in a posting on its official microblog.
More than 400 flights at the city's two airports were cancelled, along with 330 long-distance bus journeys and several trains, according to reports.
Traffic thinned in Shanghai, though enterprising taxi drivers still cruised the streets looking for fares despite the storm, which blew branches off trees.
Chan-hom is forecast to affect a wide swathe of China, also bringing heavy rain to the eastern provinces of Fujian and Jiangsu, the NMC said. Fujian, south of Zhejiang, has evacuated more than 30,000 people and Jiangsu another 10,000.
The typhoon is the second storm to hit China in days after severe tropical storm Linfa made landfall on the coast of Guangdong province further south.
The US government's Joint Typhoon Warning Center forecast that after hitting China, Chan-hom would head towards the Korean peninsula, bringing "gale-force" winds to the west coast of South Korea.
The storm left five people dead in the Philippines earlier in the week and injured more than 20 people in Japan on Friday as strong winds uprooted trees and battered buildings, the Tokyo Broadcasting System broadcaster reported.
Four people were also injured by falling trees in Taiwan when the storm buffeted the island on Friday.