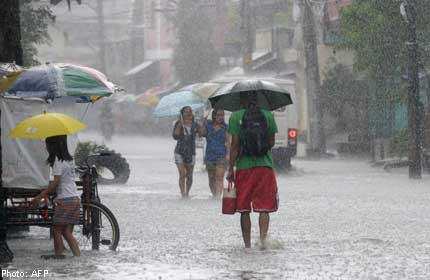 MANILA - The confirmed death toll from Typhoon Utor rose to eight in the Philippines Thursday as the storm swept across southern China, where thousands had fled its path.
Utor left tens of thousands displaced and whole towns badly damaged when it raked across the north of the main Philippine island of Luzon on Monday, the National Disaster Risk Reduction and Management Council said.
But the death toll was much lower than in past typhoons which killed hundreds, and council spokesman Reynaldo Balido said Filipinos were learning how to cope with about 20 storms that hit the country each year.
"People are aware of the danger and the risks of this kind of typhoon now, so they were able to conduct pre-emptive evacuations," he said.
Nevertheless, two men were swept away by a flash flood while two fishermen were killed as the typhoon smashed their boat that they had taken ashore to shelter from the cyclone, Balido said.
A man drowned while trying to save his water buffalo from being carried away by an overflowing river, another man drowned while rescuing relatives from floodwaters, and a man was crushed by a landslide.
A woman was swept away while standing on the roof of a house as rescue teams and neighbours watched helplessly, he said.
The government reported four other people missing, mostly fishermen who went to sea before the storm hit.
Although Utor was the strongest typhoon to hit the Philippines this year, packing gusts of 200 kilometres (124 miles) an hour, Balido said it was unlikely the death toll would go sharply higher as all the affected areas had reported in.
More than 83,000 people still need assistance, including thousands who lost their homes, he added.
Utor ripped the roofs off houses, government buildings and churches as it flattened crops and toppled trees in parts of the Philippines before heading out to the South China Sea.
Packing winds of up to 150 kilometers per hour at its centre, it brushed past Hong Kong, where it forced the closure of financial markets, schools and businesses and disrupted hundreds of flights.
It also caused a 190-metre-long cargo ship to sink off Hong Kong Wednesday before making landfall in mainland China in the southern city of Yangjiang.
At least one person was confirmed dead and five were missing in southern China, state media said Thursday, as Utor dumped torrential rain on the area.
More than 88,000 residents of Maoming in Guangdong province were evacuated, the official Xinhua news agency said, but the victims were caught in flooding and mountain torrents.
By Thursday the typhoon had weakened to a tropical depression as it moved northwards towards Hunan province, the Hong Kong Observatory said.
The Philippines is one of the world's most vulnerable countries to typhoons, as it is where storms often make landfall after they emerge from the Pacific Ocean and move west.
Over a thousand people were killed when Typhoon Bopha hit the southern Philippines in December, the deadliest storm in the world in 2012.