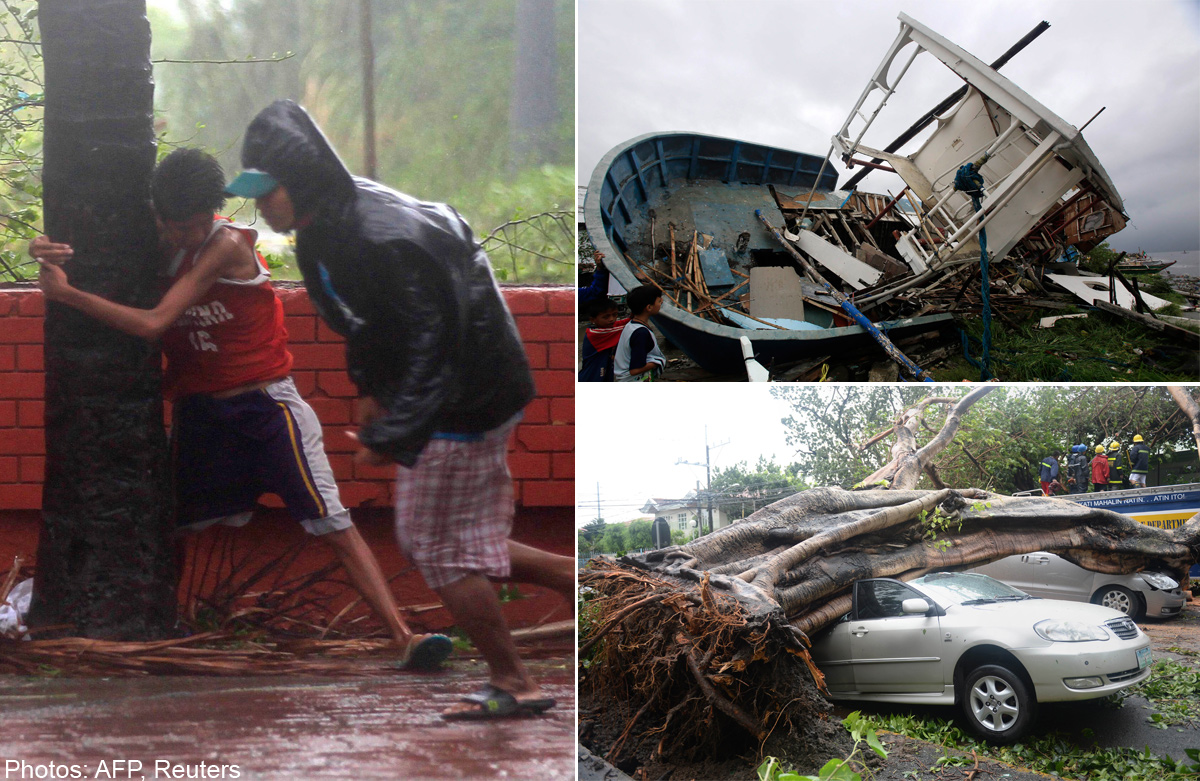 MANILA - The death toll from the first typhoon of the Philippines' rainy season climbed to at least 38 on Thursday, authorities said, as millions in the capital and elsewhere endured a second day without power.
Ferocious winds from Typhoon Rammasun tore roofs off houses, overturned cars and ripped down electricity lines in the megacity of Manila, as well as remote fishing villages hundreds of kilometres away.
"I thought I was going to die. I went out to look for gasoline in case we needed to evacuate, but it was a mistake," said tricycle driver Pedro Rojas, 35, as he nursed a cut head while sheltering at a town hall on the outskirts of Manila.
"My tricycle rolled over twice after I slammed into sheets of rain. It was like hitting a wall... huge tin roofings were flying everywhere."
Rammasun, which in Thai means "God of Thunder", tore in from the Pacific Ocean with wind gusts of about 250 kilometres an hour and smashed into poor fishing communities in the east of the archipelago on Tuesday night.
It weakened slightly as it cut across the main island of Luzon and exited into the South China Sea on Wednesday afternoon. Weather forecasters warned it may pick up strength again as it tracks towards southern China.
The eye of the storm just missed Manila, home to more than 12 million people, but the huge winds and bursts of heavy rain brought the city to a virtual standstill.
Power in Manila and neighbouring provinces was cut in the morning as branches were torn off trees and electricity lines snapped.
Manila's power distributor, Meralco, said 5.3 million homes had lost electricity in the capital and surrounding provinces, and that it could be days before services were restored to some areas.
Energy Secretary Jericho Petilla urged people to buy generators and stock up on fuel, as millions of people faced a hot and humid night without fans or air-conditioners.
"The extent of the damage is huge," Petilla said.
The winds also tore down shanty homes in slum areas where hundreds of thousands of people live along Manila Bay.
"Our house was destroyed and we lost many of our belongings," housewife Dayang Bansuan said as she rested in a school that had been turned into an evacuation centre for people living in the coastal Manila slums.
"We fled our home just before dawn when the water started rising up to our ankles. I was really frightened, they (neighbours) were saying the winds were getting stronger. They were telling us to evacuate."
Across the country, about 350,000 people fled their homes and sheltered in evacuation centres, according to the disaster management council.
The head of the National Disaster Risk Reduction and Management Council, Alexander Pama, said that his agency had confirmed 20 fatalities as of late Wednesday, but he expected the death toll to rise with more reports coming in.
One of those was a rescue worker who died in the capital when a government building collapsed on him, while falling trees killed two elderly people in rural areas of a province neighbouring Manila.
"Most of the deaths were hit by falling trees, primarily by debris," Pama told ABS-CBN television.
The council listed five people missing and seven injured.
Governors of provinces outside Manila said they had recorded seven other deaths not yet on the council's total.
The Philippines is hit by about 20 major storms a year, many of them deadly. The Southeast Asian archipelago is often the first major landmass to be struck after storms build above the warm Pacific Ocean waters.
Rammasun was the first typhoon to make landfall since this year's rainy season began in June.
It was also the first major storm since Super Typhoon Haiyan devastated the eastern islands of Samar and Leyte in November last year, killing up to 7,300 people in one of the Philippines' worst natural disasters.
Those areas felt only light rain and winds on Tuesday and Wednesday, but that was enough to send panic through some Haiyan survivors who are still struggling to rebuild their communities.
"I feared we were going to relive our nightmare, when we had to swim for our lives," said fisherman Alfredo Cojas, 49, who left his shanty home in the Leyte capital of Tacloban on Tuesday for an evacuation centre.
"This typhoon wasn't that strong, but we have a phobia about these things now."