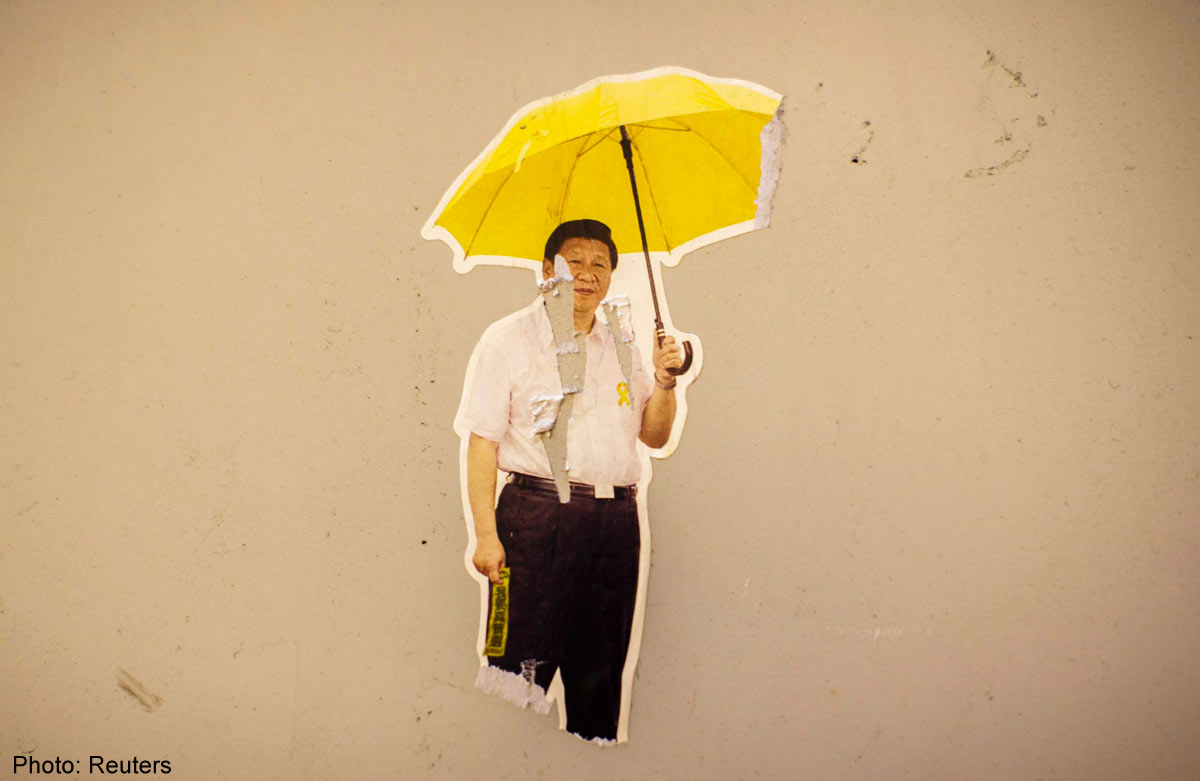 MACAU, Macau - President Xi Jinping visited a drizzly Macau on Friday for the 15th anniversary of the gambling hub's return to Chinese rule, with onlookers barred from using umbrellas -- the emblem of democracy protests in nearby Hong Kong.
The two-day trip to the former Portuguese enclave comes just days after Hong Kong police cleared the last of three camps where protesters had spent nearly three months demanding free leadership elections for the city.
Xi's visit is an opportunity to drive home the message that the semi-autonomous territory needs to diversify away from casinos, which have seen revenues dive owing to a national anti-corruption drive and a stuttering economy.
But in the spirit of Hong Kong's Occupy movement which gripped the city from late September, hundreds of pro-democracy protesters are planning a march Saturday from Macau's historic city centre.
Authorities were on guard Friday for signs of dissent, with reporters on the airport tarmac waiting for Xi not allowed to hold umbrellas, and handed raincoats instead.
"They said you couldn't open umbrellas at the airport because it would affect the flights," a Hong Kong-based reporter who was among up to 40 journalists at the scene told AFP.
Another reporter said airport authorities had explained it was too windy to safely unfurl an umbrella -- a symbol of the Hong Kong democracy movement after protesters used them to shield themselves from police pepper spray.
And despite the light rain, no one in the official receiving party used them either.
However, dozens of enthusiastic elementary school pupils braved the cold weather to wave Chinese and Macau flags, and posies of flowers, to greet Xi.
"I believe that under the one country two systems and the Basic Law, Macau definitely will be increasingly stable and better as time passes," the leader told reporters after stepping off the plane, referring to the territory's semi-autonomous status.
Several Hong Kong activists including veteran lawmaker Leung Kwok-hung were reportedly turned back at Macau's ferry terminal as they held up yellow umbrellas and a large yellow banner which read "I want real universal suffrage, have you received the message, Xi Jinping?"
Graft crackdown hits high rollers
Macau is the only part of China where casino gambling is legal, and after the sector was opened up to foreign competition in 2002 it became a paradise for high rollers, overtaking Las Vegas as the world's gaming capital in terms of revenue.
But casinos saw their worst drop ever in October, plunging 23 per cent to 28.025 billion patacas ($3.51 billion) compared to the same month last year, as China's big spenders are hit by the graft crackdown, as well as a slumping mainland economy.
Earlier this month a top Chinese official for Hong Kong and Macau, Li Fei, warned the territory to reconsider its dependence on gambling in the interests of the nation.
Xi's message would be that the territory must not rely on casinos "which have become safe havens for corrupt mainland officials", said Hong Kong-based political analyst Sonny Lo.
Beijing is already clamping down on illicit funds channelled from the mainland through Macau's casinos, according to reports.
China's Ministry of Public Security will be given access to all transfers through the state-backed China UnionPay bank payment card to identify suspicious transactions, the South China Morning Post said this week, citing unnamed sources.
Veiled warning
Macau's current chief executive Fernando Chui -- like Hong Kong's leader, chosen by a pro-Beijing committee -- will be officially inaugurated by Xi at a Saturday ceremony after being selected for a second term in August.
One Macau pro-democracy leader told AFP that he had been tailed by unidentified men ahead of the visit.
Senior Beijing officials have recently praised Macau as a shining example of "one country, two systems", in comments seen as a veiled warning against Hong Kong-style civil disobedience.
Xi's visit will "send a message indirectly to Hong Kong that the Macau model of political development is to be followed," said Lo.