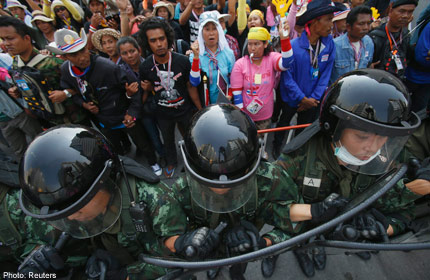 BANGKOK - Thailand's protest-plagued elections have ushered in a new chapter of political uncertainty that experts say leaves the embattled government increasingly vulnerable to court intervention or a military coup.
Millions were denied the opportunity to cast ballots on Sunday, with blockades by protesters seeking to prevent the re-election of Prime Minister Yingluck Shinawatra causing the closure of some 10 per cent of polling stations.
Hundreds of anti-government demonstrators took to the streets again on Monday for a new protest march through the capital although their numbers were down sharply compared with before the election.
Election officials said that nearly 46 per cent of eligible voters had cast ballots in an election boycotted by the main opposition party. But facing possible vote reruns in nearly a fifth of constituencies, they dampened expectations of a quick result.
That has raised the spectre of weeks of uncertainty in a country where the military and the judiciary have a history of reshaping the political landscape.
Without enough MPs to convene the legislature, even if Yingluck wins she will remain in a caretaker role with limited power over government policy until elections are held in the problem areas.
"She will be untenable as a caretaker who doesn't have the authority to really run the country," said Thitinan Pongsudhirak, director of the Institute of Security and International Studies at Bangkok's Chulalongkorn University, adding that Yingluck would become "more vulnerable to some kind of ouster".
"The longer Yingluck is a weakening caretaker prime minister the greater the likelihood that we will see a decision from the independent agencies to break the deadlock," he said.
Such bodies include the Election Commission and the National Anti-Corruption Commission, which is investigating Yingluck for possible neglect of duty over a controversial rice subsidy scheme. If found guilty she could face impeachment.
Loved and loathed
Thailand has appeared trapped in a feedback loop of street unrest and political upheaval since a military coup deposed Yingluck's brother Thaksin from power more than seven years ago.
The billionaire tycoon-turned-politician has lived abroad to avoid a jail term for graft since 2008, but his absence has failed to heal the nation's divisions.
The former premier and his allies have won every democratic vote since 2001, riding a wave of popularity in his north and northeastern heartlands for policies like cheap healthcare and rice subsidy schemes.
But Thaksin's electoral strength and leadership style has been decried as tyrannical and corrupt by his foes, backed by the kingdom's powerful establishment forces.
Yingluck's Labour Minister Chalerm Yubamrung predicted Monday that Puea Thai would claim at least 265 out of 500 seats in the lower house.
The main opposition Democrat Party -- which has not won an elected majority in some two decades -- refused to take part in Sunday's election, instead throwing its support behind protesters largely made up of the Bangkok middle classes and southerners.
The party on Sunday said it was preparing to petition the Constitutional Court to annul the election.
Such a move "could prolong the protests on the streets of Bangkok and create a situation leading to intervention from the military or the judges," said Pavin Chachavalpongpun, associate professor at the Centre for Southeast Asian Studies at Japan's Kyoto University.


Fears of protracted civil violence
The political uncertainty hanging over one of Southeast Asia's biggest economies, coupled with recent political violence that has left at least 10 dead, have dented investor confidence and caused tourists to shy away.
"Foreign investors are increasingly worried about the mounting political risks in Thailand, with no political solution in sight," said Rajiv Biswas, Asia-Pacific chief economist at IHS Global Insight, which has cut its Thai economic growth forecast to 3.2 per cent for 2014, from 3.9 per cent previously.
He said the seemingly intractable political divisions heightened fears over "protracted violent civil unrest" coupled with "a gradual erosion of Thailand's previously sound macroeconomic environment".
The unrest is the worst since mass protests by the largely pro-Thaksin "Red Shirts" against a Democrat-led government in 2010 sparked clashes and a bloody military crackdown that left more than 90 people dead.
The latest rallies were initially sparked by an attempted amnesty that could have allowed Thaksin to return.
But they morphed into an attempt to replace the government with an unelected "people's council" to run the country and implement vaguely-defined reforms before elections in a year or more.
Thailand-based scholar and author David Streckfuss said the opposition missed an opportunity to demonstrate the level of support for their campaign with a tally of 'no' votes.
He said demonstrators were aiming to help create the pretext for the military to step in to remove Yingluck, but were likely to "underestimate" the backlash from the Red Shirts.
"Sooner or later there is going to be a very sharp response."