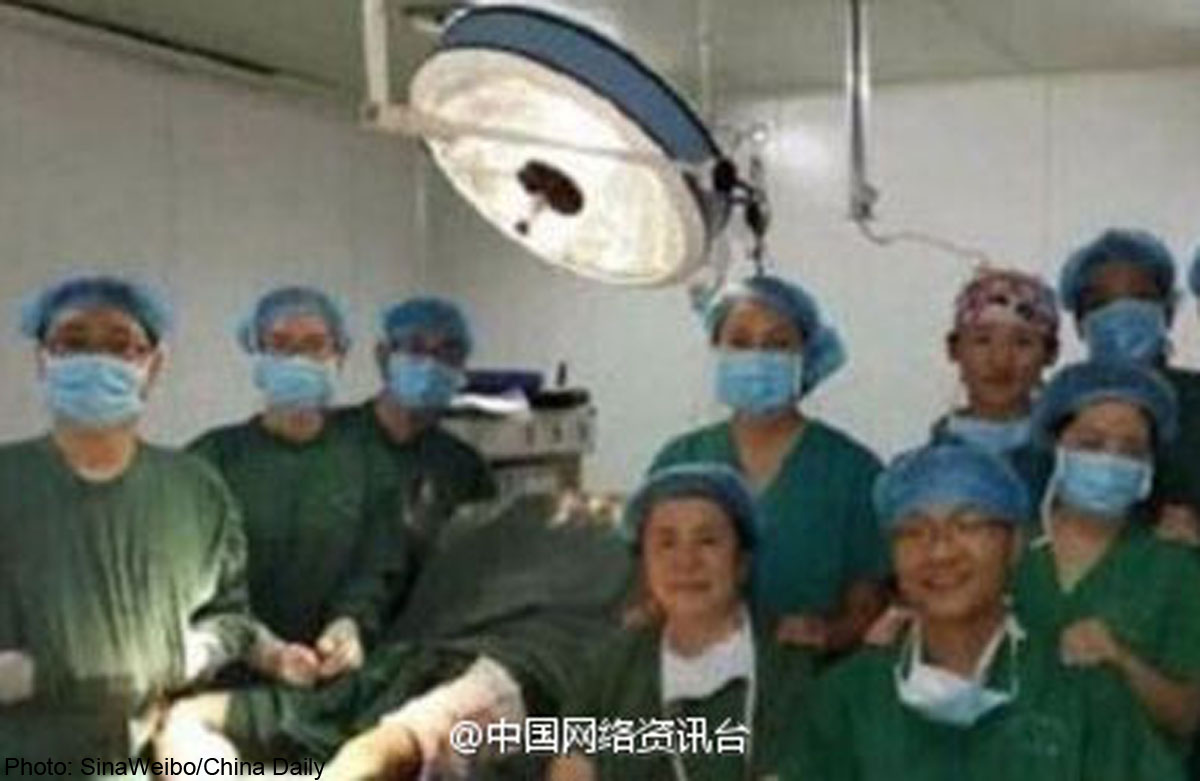 XI'AN, China - Three hospital officials in China have been removed from their posts, after a set of selfies - taken next to a patient undergoing surgery in a Xi'an hospital - went viral online and sparked a storm of criticism.
The three are the deputy president, dean and head nurse of the Xi'an Fengcheng Hospital's anaesthesiology department.
The executive president and all the medical workers in the photos have also been given a demerit in their record, an administrative punishment in China.
According to the city's health bureau, the photos were taken on Aug 15 in an operating theatre that would no longer be in use at the private hospital. The staff took the photos as a remembrance.
The selfies were posted on Sina Weibo, the Chinese equivalent of Twitter, on Saturday by a user who claimed to be a friend of one of the doctors. The photos show the doctors smiling and posing in front of an unconscious patient lying on the operating table.
"What are you medical workers doing during the operation? No wonder there are so many medical disputes with patients," the user said in his post.
Though he deleted the post later, the photos were soon circulated on social media and became one of the hot topics during the weekend.
As of 2pm yesterday, the photos had been viewed 9.9 million times and generated more than 12,000 comments.
Some Weibo users were furious at the doctors' lack of professionalism.
"What's wrong is wrong," fumed a user named Youma. "Whether the photos were taken before or after surgery, the patient had not woken up and the doctors were already celebrating, ignoring the patient's privacy."
Another user, Lin'an Chuyu, asked: "Where are the professional ethics of these medical workers?"
However, some users, including many insiders, were more sympathetic.
Baiyishanmao, a user identified as a surgeon by Sina, said that after successfully finishing a challenging operation, the doctors would be happier than the patient, and it would be fine to take photos by the side of the operating table.
His comment got more than 10,000 likes.
"It is understandable if they were celebrating the success of the operation. It's just like we take photos of the happy moments," said Weibo user Lu-Y.
Still, some felt that it would have been more acceptable if the medical staff had waited until the patient had been moved from the operating threatre.
Doctor-patient disputes have long been a hot topic in China, with a series of incidents emerging in recent years. Some disputes have even led to attacks on doctors.