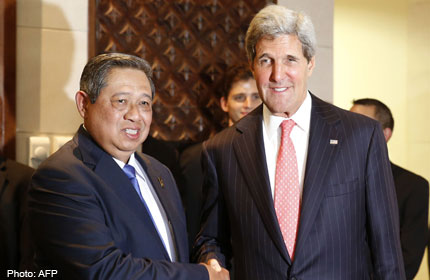 US - The United States stepped up efforts to shore up its economic clout in the Asia-Pacific at a regional leaders' summit in Indonesia yesterday, as an increasingly bold China voiced concern.
The Asia-Pacific Economic Cooperation (Apec) event at a five-star resort on the tropical island of Bali was aimed at breaking down trade barriers among all 21 member economies.
In closing comments to the leaders following two days of talks, Indonesian President Susilo Bambang Yudhoyono said the summit had achieved goals that also focused on more sustainable development.
"I am pleased to say that our summit went on successfully, and was indeed very productive," Dr Yudhoyono said.
But clashing agendas of the United States and China overshadowed the gathering of leaders, as well as preceding meetings by their trade chiefs.
US President Barack Obama had to pull out of the Apec summit because of the deepening political and financial crisis in Washington.
But, filling in for Mr Obama, Secretary of State John Kerry pressed on with a full-court lobbying effort to secure agreement on the far-reaching Trans-Pacific Partnership (TPP) grouping 12 Apec nations.
Significantly, the free-trade pact excludes China while Indonesia, South-east Asia's largest economy, has stayed out.
"We need modern rules for a changing road, rules that keep pace with the speed of today's markets," Mr Kerry said in a speech to Apec business leaders on Monday .
He convened a meeting of leaders of the 11 other nations involved in the TPP yesterday afternoon after the Apec summit finished, in a bid to hit an against-the-odds deadline for a deal by the end of this year.
But China, and even some developing nations included in the TPP, have expressed concern that it will lay down trade rules mainly benefiting the richest countries and most powerful firms.
"China will commit itself to building a trans-Pacific regional cooperation framework that benefits all parties," President Xi Jinping said.
Indonesia and China are involved in plans for a rival free-trade pact involving 16 countries around the region which is being spearheaded by ASEAN. Negotiations for that pact, which excludes the US, are expected to be discussed at an East Asia Summit in Brunei tomorrow.